Updated April 20, 12:40 p.m.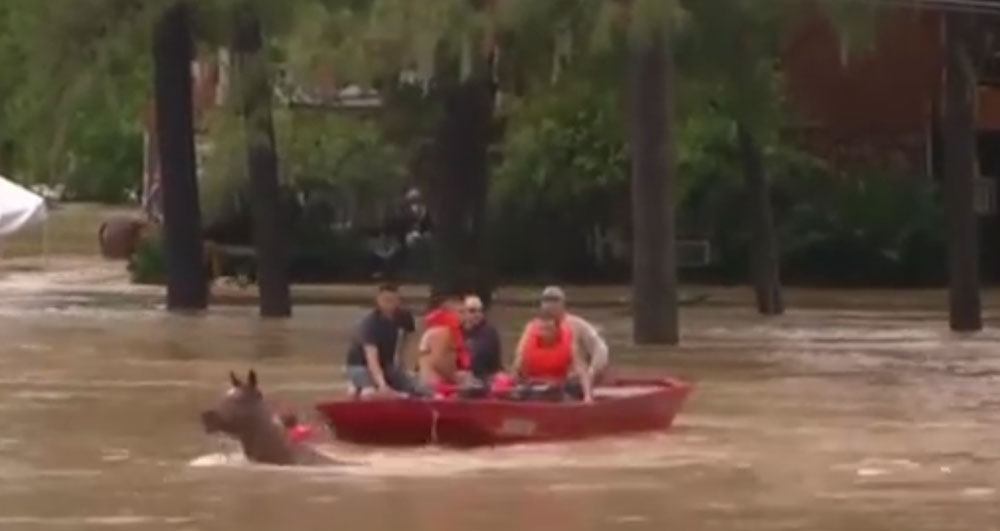 After some of the worst flooding in history hit north of Houston, Texas, this week, video began circulating of harrowing rescue attempts of dozens of horses caught in the floodwaters.
A live video posted on Monday, April 18 by Spring Happenings, a media outlet from Spring, Texas, shows horses caught in the floodwaters at Cypress Trails Equestrian Center, a trail riding and boarding stable in the town of Humble. Some appeared to be stuck in fences or otherwise trapped.
The situation appeared grave at times during the 30-minute video, but reports are that the nearly all of the horses were all rescued or found their way to higher ground. Harris County Judge Ed Emmett posted on his Facebook page that the horses had been moved out of imminent danger.
Approximately 50 of the Cypress Trails horses were herded to nearby Sovereign Farm, although most have since been relocated to a field near the George Bush Intercontinental Airport in Houston that was designated as an evacuation location for horses, according to Brandi Moore, a boarder at Sovereign Farm who has been helping to care for the horses.
"Cypress Trails is right on the edge of Cypress Creek in a very low-lying floodplain," Moore explained. "The house on the property is built on stilts; any time we have hard rains, it floods. Most of the issue is that they didn't follow any of the evacuation plans when we'd been warned over and over."
Moore adds that this isn't the first time that horses have been lost in the flood-prone area. For now, caretakers at Sovereign Farm are working to help some of the rescued horses.
"There are still eight horses at Sovereign," says Moore. "They have horrible lacerations and things like that. Many of them were under water and we're worried about them developing pneumonia."
Cisco's Salsa Company is currently accepting donations of grain at their restaurant location (209 Commerce St Tomball, Tx) and are taking it directly to Sovereign Farm. They are also planning a fundraiser event to help all of the horses displaced by the floods.

Monetary donations directly for the care of the injured at Sovereign Farms can go to paypal.me/Knox2016.
HorseChannel has reached out to Cypress Trails' owner, Darolyn Butler, and we have not yet heard back.
"Most of the horses that were evacuated to the south got to a neighboring farm safely," Butler told ABC News on Tuesday. "Most of what you see [in the videos] were horses in the barn we were trying to move across the currents with boats … or [horses] we thought had gone to a neighboring ranch [but were] trying to get back home, which is normal with horses."
According to Houston Press and other reports, there were approximately 80 horses in the floodwaters and one confirmed equine death. A few horses are still not accounted for.
More News from the Floods
A YouCaring crowdfunding page has been created to help care for 22 horses at A Place for Peanut sanctuary, which was also completely flooded.
YouTube user Adam Dallas posted drone footage he recorded Monday showing people attempting to lead horses out of flooded farms along a completely submerged road.
Additional NBC News video from the area shows an unidentified woman rescuing a panicked horse named Boomer, who she says is blind in one eye, from the floods.
"You have to convince them that your idea is the best," said the woman when asked how to rescue a spooked horse. "This one's real stubborn… He thought he could get us out of there the best and I thought I could get us out of there the best… Eventually we both started fighting for the shore and we figured it out together."