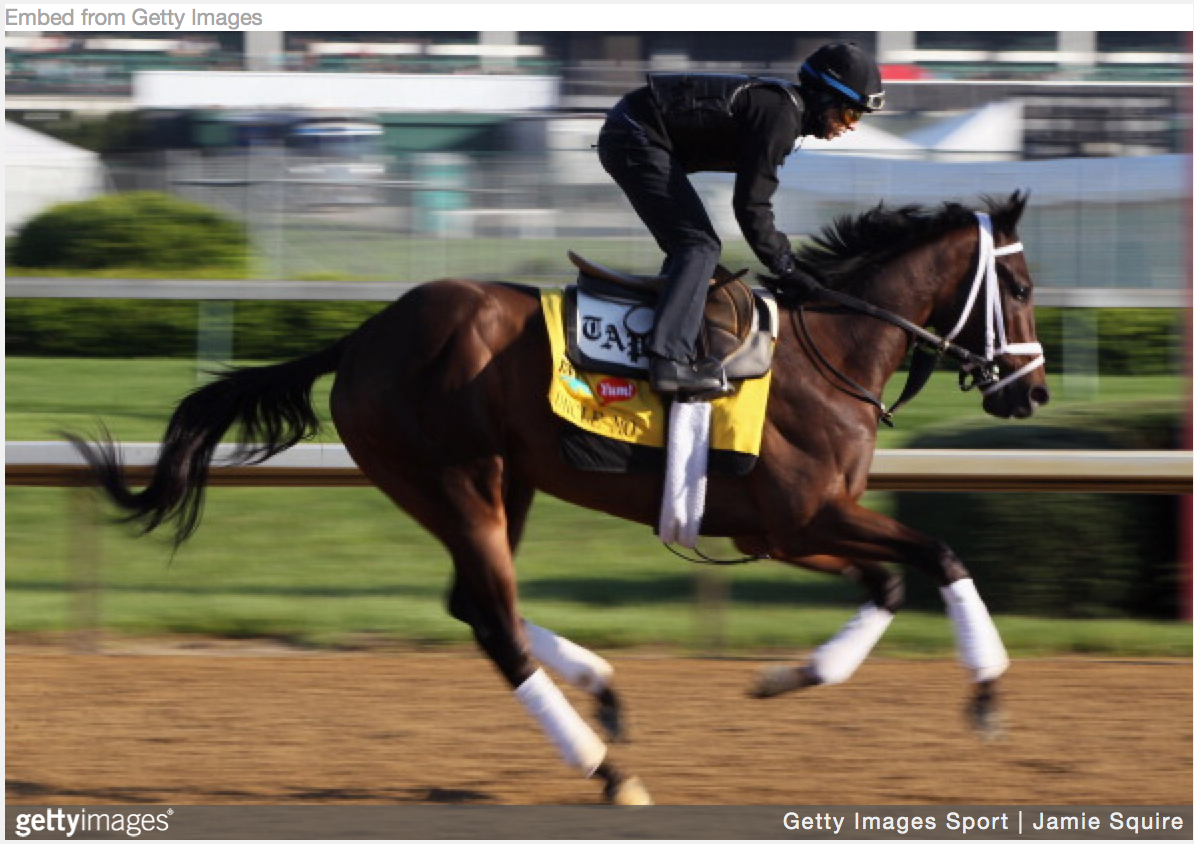 Five years ago, in early 2011, many fans and experts in Thoroughbred horse racing believed that an undefeated three-year-old colt named Uncle Mo was a superstar in the making; a successor to Affirmed and the horse that would finally end the "Triple Crown drought" by winning the Kentucky Derby, Preakness, and Belmont Stakes in the span of five weeks.
Unfortunately, an illness prevented Uncle Mo from running in any of the Triple Crown races, but the now eight-year-old stallion seems poised to leave his mark on the Triple Crown through the achievements of his talented kids. It's not every day that a single stallion has more than two foals running in a major race; three is even more unusual. But Uncle Mo's first colts are so fast and so talented that four of them—an unprecedented number!—will be running in the Preakness Stakes at Pimlico racetrack on Saturday, May 21st.
Leading the way is the undefeated Nyquist, who won the Kentucky Derby (gr. I) on May 7th in decisive fashion. A brilliant and versatile runner with a lot of speed, Nyquist is the kind of horse that can be positioned wherever his jockey feels is best, a valuable characteristic that has enabled him to win eight straight races. He's not as flashy a performer as American Pharoah, who won the Triple Crown in 2015, but Nyquist's competitive spirit and get-the-job-done demeanor has many people predicting that a Triple Crown sweep will be a mere formality for Nyquist. Of course, the next step is to win the Preakness, and to do so, he'll have to beat some very good horses, including Kentucky Derby runner-up Exaggerator. But given his accomplishments so far, a ninth consecutive victory for Nyquist would come as no surprise.
In addition to Nyquist, Uncle Mo is the sire of Preakness starters Uncle Lino, Abiding Star, and Laoban, three colts that bring vastly different records into the race. Uncle Lino was a possible Kentucky Derby starter until his owner and trainer decided he wasn't ready for such a huge race; instead, Uncle Lino won the California Chrome Stakes on April 30th, a race that should serve as a perfect prep for the Preakness.
Abiding Star has yet to face the fastest horses of his generation, but has won five straight races in impressive fashion, and being based on the Mid-Atlantic circuit of racetracks that includes Pimlico, he has the home town advantage.
In contrast to Abiding Star's win streak is Laoban's losing streak—although a very talented horse, Laoban has yet to win a single race, and will thus enter the Preakness as a "maiden." But he has held his own against some very good horses and almost qualified to the Kentucky Derby, making him a worthy contender for the Preakness Stakes.
The Preakness will be broadcast live on NBC starting at 5:00 p.m. EDT on May 21st. In addition, NBC Sports Network will cover additional races at Pimlico starting at 2:30 p.m. on May 21st, and will also broadcast four races starting at 3:00 p.m. on May 20th, including the Black-Eyed Susan Stakes for three-year-old fillies. Be sure to tune in and cheer for your favorite horses!
J. Keeler Johnson is a writer, blogger, videographer, and racing enthusiast who considers Zenyatta to be his all-time favorite racehorse. He is the founder of the horse racing website TheTurfBoard.com and writes for the Bloodhorse.com blog Unlocking Winners.