Remember Lily, the Arabian pony cross who was shot by more than 130 paintballs and abandoned at the New Holland Sales Stables? She now has a pretty great forever home.
Tracey Stewart, author and wife of former Daily Show host Jon Stewart, is a longtime advocate for animals. When Jon retired last year, the couple devoted their lives to operating a sanctuary that houses rescued farm animals in New Jersey. Lily is the latest rescue to make her home there.
Besides being shot by paintballs, Lily was underweight, mostly blind and in severe pain when she was discovered at the New Holland auction in March of this year. She had not been checked in as a sale horse; it seemed she had simply been abandoned. The approximately 20-year-old mare was put in the care of the University of Pennsylvania's School of Veterinary Medicine's New Bolton Center where she recovered.
After moving to a private rehabilitation facility, Lily became friends with another blind rescue horse, a Paint mare named Anita. The Stewarts have adopted Lily and Anita together.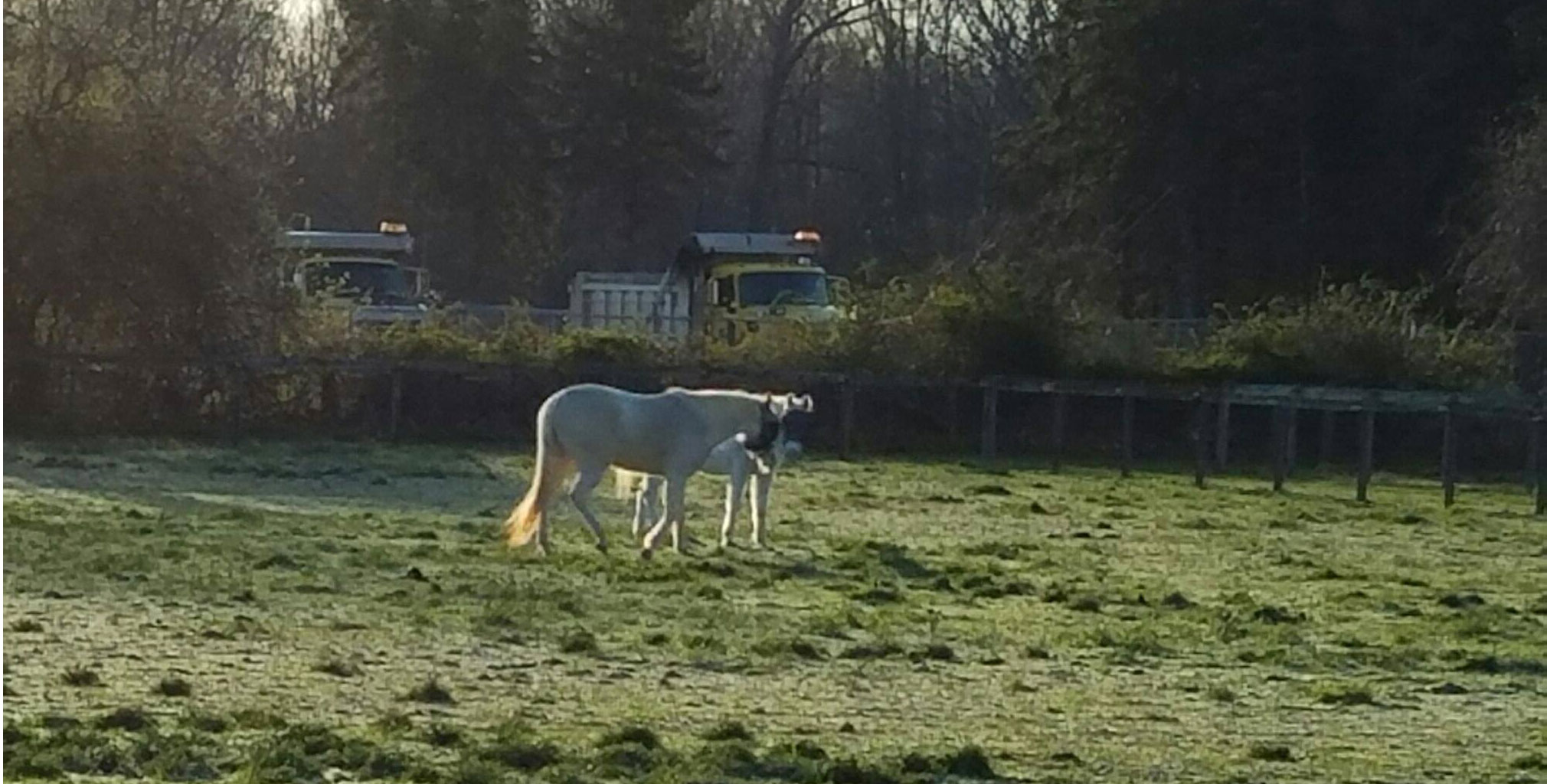 Lily's origins remain murky. A Rhode Island horse dealer, Phillip Price, was convincted of animal cruelty for transporting the pony while she was unfit for travel and abandoning her at New Holland. He was not believed to be involved in Lily's injuries or condition.
Pennlive.com reports that Sue Martin of the Lancaster County SPCA traced Lily's origins to Smoke Hollow Farm, a lesson and show barn in New Jersey. Martin reports that farm owner Doreen Weston gave the pony to Price to "dispose of her." Weston denies that Lily was her pony; however, she admitted to Pennlive.com that Price did take a 34-year-old Arabian from her farm on March 14. That pony had paint on her coat from having been finger painted during a birthday party.
That elderly equine was no longer able to work as a lesson horse due to her vision problems and had been retired from the program.
"I had her out with the other horses and she would get beat up and pushed around and run into trees," Weston said of the Arabian who left her farm. "It wasn't a safe environment anymore. I wanted to send her to someone who could take care of her better."
She says she believed Price was taking the horse to a retirement facility. Because Lily has been said to be an Arabian/Appaloosa cross, Weston says she couldn't have been the same horse. Hers was a purebred Arab.

Regardless of Lily's origin, its clear that her future is brighter than her recent past as she moves to the Stewarts' sanctuary, best friend Anita at her side.