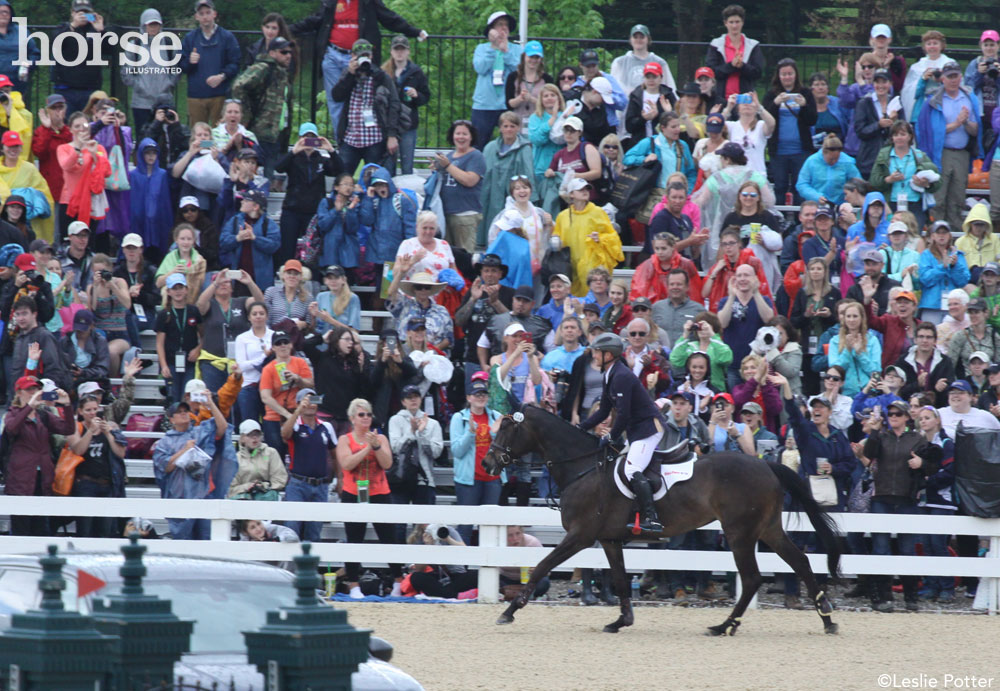 Michael Jung and Fischerrocana FST take a victory gallop in between rain showers after winning the 2016 Rolex Kentucky Three-Day Event.
The Rolex Kentucky Three-Day Event isn't great for underdog stories. Despite the many variables that play into the sport of eventing, at the top level, the favorites are usually favorites for a reason. This was true in a big way at 2016's Rolex.
Michael Jung of Germany didn't surprise anyone when he won the 2015 event, although the foregone conclusion was that he'd win it with La Biothesque Sam, the horse he rode to individual gold at the same venue at the 2010 Alltech FEI World Equestrian Games. Instead, Sam was third and Jung won with his other top mount, Fischerrocana FST, a then-10-year-old German Sporthorse mare.
Michael Jung and Fischerrocana FST
When Jung returned to Kentucky this year, Sam stayed in Europe—he'll be competing at the Badminton Horse Trials next weekend—and Jung had only Fischerrocana to focus on. This pair was far and away the favorite to win, and to no one's surprise, they took the lead from their dressage ride and held it through to the end.
Even if you love a good underdog story you can't be mad about Jung and his mare winning again. Besides being an obviously skilled rider, he just seems like a good guy. No one could blame the reigning Olympic champion for having a bit of an ego, but when it comes to his horses, he remains grounded.
Lauren Kieffer and Veronica
"I always think the same thing when I go to a championship," said Jung. "I say to myself, 'this is a normal competition,' and don't put too much pressure on the horse. It's important to win, but it's important that you have a good feeling for the horse and that you have a nice round together."
Maya Black and Doesn't Play Fair
Rails were flying in today's stadium jumping and very few competitors went clear. Even Jung had one rail, but with three in hand, he was able to maintain his lead. One of those few clear rounds was turned in by Lauren Kieffer and Veronica of the United States, who added only one time fault today and moved up to second from their sixth place standing after cross-country. This is the pair's third Rolex and their second time being both second place overall and top finishing Americans, earning the USEF National Championship.
Phillip Dutton and Mighty Nice
Kieffer says Veronica likes the Rolex experience.
"Veronica is much better the more atmosphere there is," Kieffer explained. "She lights up and tries that much harder.
"It was certainly a goal from the beginning to have a good performance. Last time [we finished second] was a bit of a pleasant surprise…I'd like to win but I guess I've got to shave 10 points off my dressage score," Kieffer said, laughing. "I couldn't be happier with her, for sure."
Phillip Dutton and Fernhill Fugitive
American rider Maya Black with Doesn't Play Fair (known to his friends as Cody) started today in fourth place. Fellow American Phillip Dutton was sitting in third place with Mighty Nice. However, Dutton had two jumping faults to add eight points to his score while Black had just one rail, allowing her to move to the podium. This horse-and-rider team came to Rolex for the first time in 2015 where they finished 22nd.
Boyd Martin and Blackfoot Mystery
"I've had Cody for about five or six years now and I've brought him up the levels," said Black of her 11-year-old Holsteiner gelding. "He's a great little horse. He's been a pleasure to bring along. He's not a pleasure to deal with in the barn, but he comes to work every day and he's been enjoyable to train and travel around the country with."
When asked what she planned to do next after her top-three finish at Rolex, Black said, "I don't know, that was only like an hour ago! We're just going to see what comes next."
Mark Todd and NZB Campino
American riders dominated the top 10 this year, taking all but that top spot and the 7th place finish, which went to the legendary Mark Todd of New Zealand. With a team for this summer's Rio Olympics to build, the U.S. team selectors will have plenty of talent to choose from.
Elisa Wallace and Simply Priceless
Catch up on all of our Rolex coverage at HorseChannel.com/Rolex2016. To watch replays of all three phases, visit USEFNetwork.com. Find full results at rk3de.org.
Top Ten Finishers at the 2016 Rolex Kentucky Three–Day Event:
Fischerrocana FST / Michael Jung (GER) 39.2
Veronica / Lauren Kieffer (USA) 52.5
Doesn't Play Fair / Maya Black (USA) 53.9
Mighty Nice / Phillip Dutton (USA) 57.8
Fernhill Cubalawn / Phillip Dutton (USA) 59.4
Blackfoot Mystery / Boyd Martin (USA) 59.6
NZB Campino / Mark Todd (NZL) 60.4
Simply Priceless / Elisa Wallace (USA) 60.6
Petite Flower / Buck Davidson (USA) 61.9
Manoir de Carneville / Sinead Halpin (USA) 64.4
Buck Davidson and Petite Flower
Sinead Halpin and Manoir de Carneville
Laine Ashker and Anthony Patch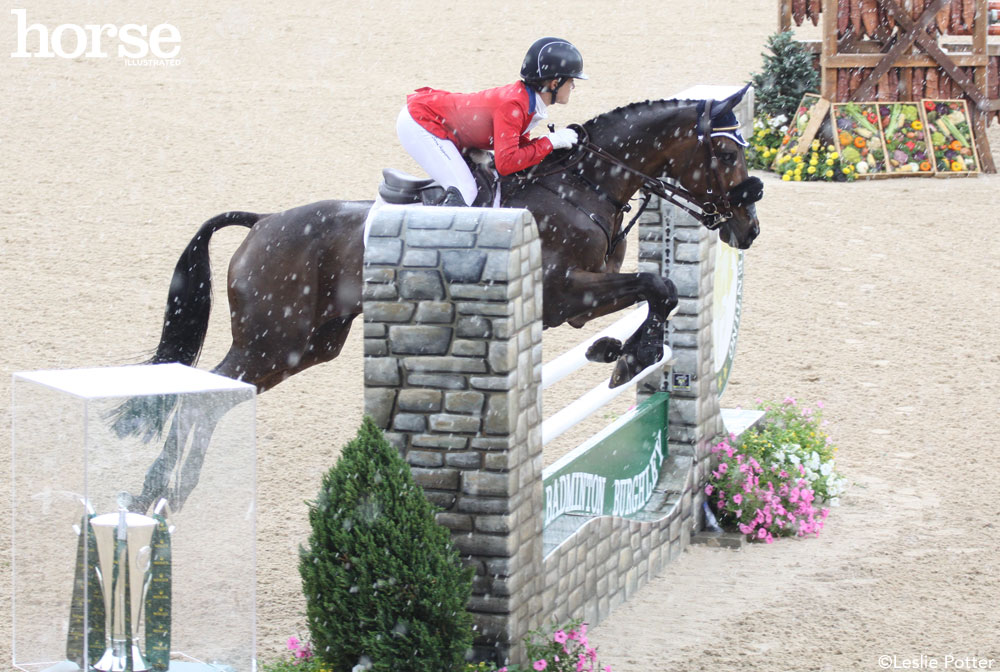 Lynn Symanksy and Donner
---
Leslie Potter is Managing Editor of HorseChannel.com.