Last week, we watched Germany's Michael Jung ride his mare, Fischerrocana FST to the pair's second consecutive victory at the Rolex Kentucky Three-Day Event. But that big win was more than a standalone triumph for Jung, who flew back to Europe after Rolex with his sights set on England's Badminton Horse Trials.
Fischerrocana got some rest. Jung rode La Biosthetique Sam FBW, his 16-year-old Baden-Württemberger gelding, at Badminton. Sam and Jung have had a very long and successful partnership that includes individual gold at the 2010 Alltech FEI World Equestrian Games along with individual and team gold from the 2012 Olympics in London.
So it wasn't a surprise when Jung and Sam won. They do quite a lot of that. But because of his win at Rolex and at last fall's Burghley Horse Trials, Jung won the coveted Rolex Grand Slam of Eventing. He's the first male rider to do so and only the second rider in history; Pippa Funnell of Great Britain has been alone in the Grand Slam club since she won it back in 2003. The prize for winning the grand slam? $350,000. That's a lot of carrots.
As usual, Jung gives the credit for his Badminton win to his horse.

"For me, this is the best horse in the world," Jung said of Sam, according to the BBC. "It is a wonderful feeling to ride such a good horse…That horse is really amazing. He always listens to me and trusts in me."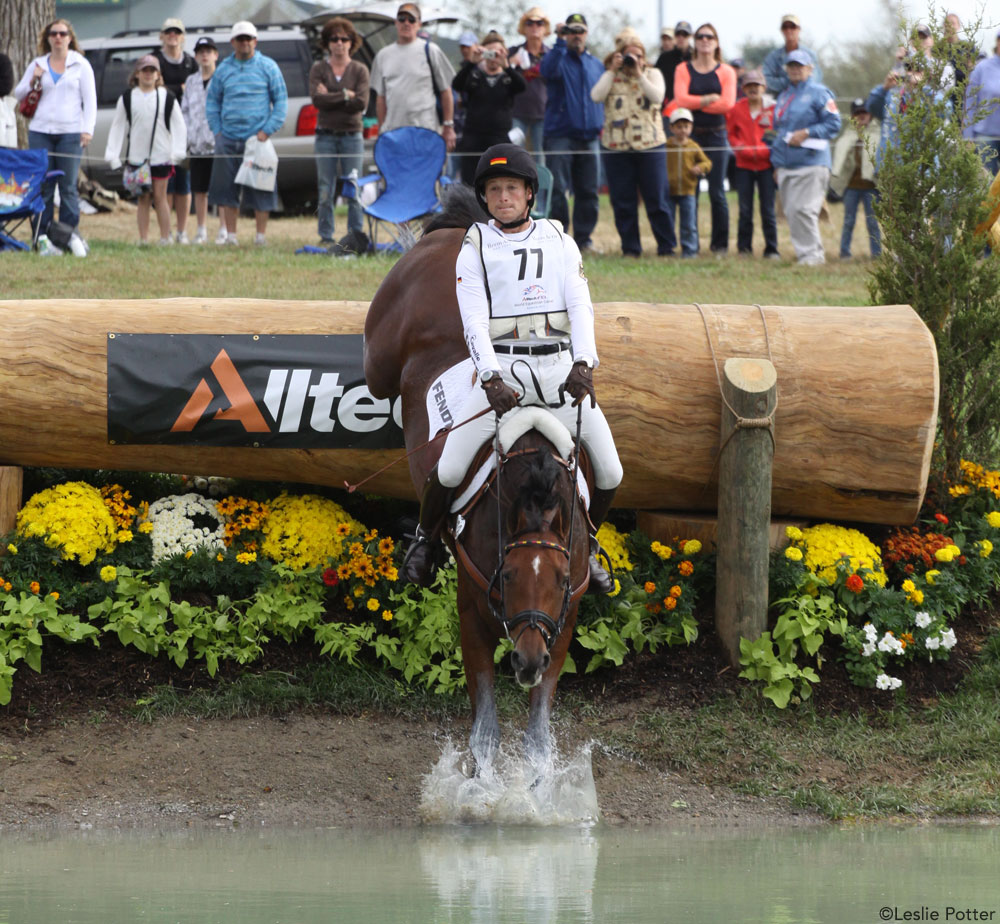 Germany's Michael Jung and La Biosthetique Sam FBW added the Grand Slam of Eventing to their impressive resume, which includes an individual gold medal at the 2010 Alltech FEI World Equestrian Games (shown here.)
Of course, Jung and Sam couldn't have done it alone. One of the reasons the Grand Slam is such an elusive prize is that it requires at least two highly competitive four-star horses, and the resources to send at least one of them overseas. Rolex is held in the U.S. just one week before Badminton each year. It's not possible to send a horse across the Atlantic after the end of Rolex on Sunday and be ready for the first horse inspection at Badminton just three days later.
Fortunately, Jung has two great horses in his stable that he has skillfully brought up the levels to the top of the sport, and they didn't let him down. A look at the scoreboard shows why Jung and his horses have a reputation for being nearly unbeatable: Jung and Sam finished nine points ahead of fellow German rider Andreas Ostholt with So Is Et at Badminton. With Fischerrocana, Jung was 13.3 points ahead of second place finishers, Lauren Kieffer and Veronica of the U.S., at Rolex.
Jung is likely now focused on this summer's Olympic Games in Rio de Janeiro, Brazil. After winning individual gold and leading the Germans to team gold in 2012, there's no question that Jung will be on the team. The only question is, which of his wonderful horses will he take?
---
Leslie Potter is Managing Editor of HorseChannel.com. Follow her on Twitter: @LeslieInLex.