Earlier this month, three-day eventer Phillipa Humphreys suffered a rotational fall at a table jump on the cross-country course of the Jersey Fresh International Three-Day Event at the Horse Park of New Jersey in Allentown, N.J. A rotational fall is one in which the horse's front legs or chest hit the fence, the animal's body somersaults over the obstacle and the rider is thrown out of the saddle and over the fence before the horse. Humphreys was taken to a nearby trauma center where efforts to revive her failed. She later died as a result of her injury.
Humphreys' horse Rich N Famous was unhurt. But in another incident at the same venue, another horse, Inoui Van Bos belonging to eventer Skyler Decker was euthanized after falling at a different spot on the course. Decker was unhurt.
Humphreys' death and the equine fatality resurrected the recurrent debate over the safety of three-day eventing and of the cross-country phase in particular. And while some studies reveal that all equestrian activities carry an element of danger, eventing in particular has earned a poor reputation for safety.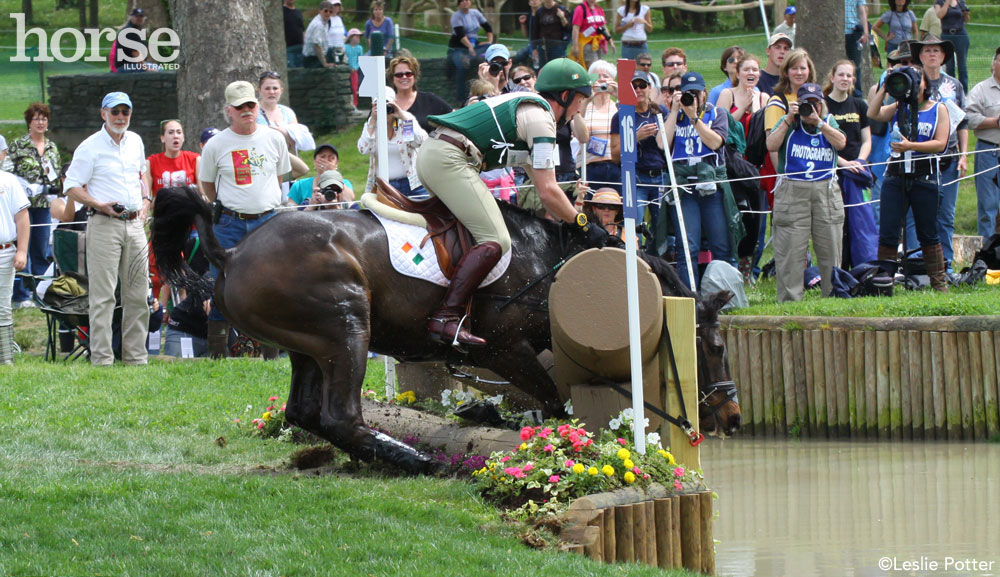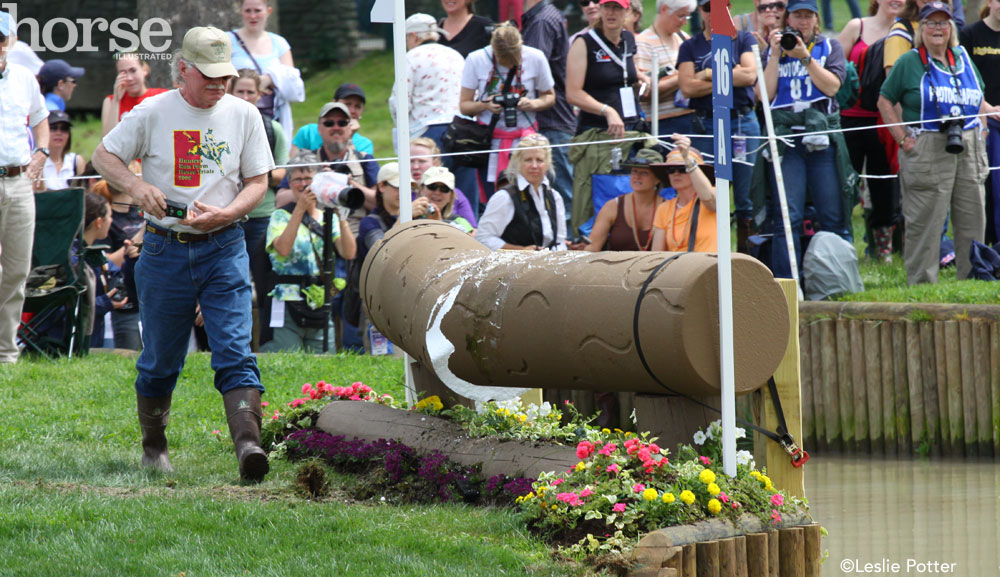 Irish rider Geoff Curran and his horse, Jump Jet, break a foam log on the cross-country course at the 2010 Rolex Kentucky Three-Day Event, possibly avoiding what could have been a rotational fall. Deformable logs and frangible pins are among the changes to cross-country course construction in recent years that the FEI says have reduced the occurrence of the most dangerous types of falls.
A Look at the Statistics
According to the often cited 2007 study conducted by a team of trauma surgeons and an occupational therapists from the University of Calgary in Canada, the hospital admission rate for injured equestrians surpassed those of downhill skiers, football players or motorcyclists. The study revealed that according to a previous study, 151 people were severely injured while horseback riding during a 10 year period, with 45% of them requiring surgery. That study also revealed that the hospital admission rate associated with equestrian activity is .49 per 1000 hour of riding as opposed to .14 per 1000 hours of motorcycling.
However, statistics from the Fédération Equestre Internationale (FEI), the international governing body of equestrian sports, reveal a promising sign of improved safety. According to the FEI, the incidence of rotational falls has decreased from 1 in every 197 starts in 2004 to 1 in every 445 starts in 2013.
Researchers and event managers credit better course designs such as shorter format courses, and the installation of frangible (break-away) pins on jump obstacles, along with the widespread rider use of safety equipment including break away stirrups, regulation helmets and inflatable vests, with boosting safety statistics.
But while course and equipment designers continue to seek ways to improve safety, equestrian sports psychologist Dr. Janet Edgette, PsyD., LLC believes that eventing sports will continue to appeal to a certain kind of equestrian.
Extreme Equestrian Sports
According to Edgette, who is a show jumper, there's plenty of difference between jumping a round of stadium fences and covering a cross-country course.
"When you show jump, there's a risk involved in the speed and the height of the jump – we have a little bit of an edge, but all the energy is behind you," Edgette says. "But in eventing, the energy is right there – the energy is in front of you, not behind the scenes."
At the same time, riders who participate in upper levels of eventing competitions are most at risk, she says.
"Most injuries take place at a higher level because when you compete at a high level, the courses are tougher and the jumps are higher," Edgette says. "You are riding at the upper edges of the horse's ability." Edgette says.
As a result, Edgette believes that the eventing is most appealing to riders to enjoy pushing themselves and their horses to the limit. That's why she says many riders who compete in eventing have specific temperamental differences from their non-eventing counterparts.
"I've had a lot of clients who do [three-day] events and as a group, eventers are people who like a higher adrenaline reaction," Edgette says. "They are also people who are willing to accept the consequences of equestrian sports."
At the same time, eventers take special pride in participating in the sport.
"There's a pride in being able to say 'I do this,'" Edgette says.
A Calculated Risk
That's not to say that event riders necessarily court danger, says Erika Erlandson, MD, assistant professor of physical medicine and rehabilitation at the College of Medicine at the University of Kentucky.
A former dressage rider, Erlandson began participating in eventing competitions three years ago, "when I got a horse that really liked to jump," she recalls. Today she competes in eventing at the Novice level.
As a physician who routinely treats patients with muscle, bone or nervous system injuries, Erlandson says she's aware that the risks connected with eventing competitions are very real.
"In eventing, when you make a mistake at the lower levels there is usually room for your horse to help jump you out of it; the higher you go (in the sport) the more technical it becomes and there is less room for error," Erlandson says.
Even so, Erlandson believes that in recent years, incidence of injuries have given eventing a bad name. And while she cannot speak directly to why injuries happen, she can say that certain factors can contribute to them.
"The most dangerous part about riding may be riding above your skill level," she said.
Even while the dangers continue to exist, Erlandson believes that rider use of helmets, inflatable vests and break away stirrups has made the sport safer.
"I feel that the use of safety equipment won't hurt me and can only protect me," Erlandson says. "So I'm all for it."
Despite this year's high-profile incidents, FEI statistics say that rotational falls decreased by 57 percent last year. At the same time, riders and course designers continue to do what they can to minimize risks.
While they do, enjoying the sport remains key, Erlandson says.
"Any time you're sitting on top of a live being with your head 9 feet off the ground, there is going to be some risk," she says. "My goal is to have a lot of fun at the lower levels."