UPDATE 8/11/16: Tod "Doc" Mishler has been charged with animal cruelty due to the condition of his horses and rejected a plea deal this week that would have given him a lesser charge of disorderly conduct. The plea deal would have prevented him from owning horses in New York state for two years.
According to the New York Daily News
, Mishler's horses were suffering from lameness and open sores. Mishler would not speak about the case following his rejection of the plea deal, but the Daily News reports that he had earlier stated, "Animals were given to man by God for their use, but people have turned it into where they care more about animals than people."
Original Story:
The Outerbridge Crossing connects the city of Perth Amboy, New Jersey, with Staten Island, New York. According to the Port Authority of New York and New Jersey, approximately 30 million vehicles cross the bridge in a year. This year, they can add two horses to that number.
80-year-old Tod Mishler, who goes by "Doc," rode what appears to be an Appaloosa and ponied a Haflingeresque pack horse across the busy commuter bridge at 11:15 on Monday morning. Bemused motorists called police, who escorted the trio to the other side. According to CBS2, Port Authority Police issued Mishler criminal court summonses for trespass and impeding traffic.
Port Authority rules state that animals are only permitted on the bridge at the discretion of the manager and at a charge of one dollar per animal. Mishler, evidently, did not have that permission.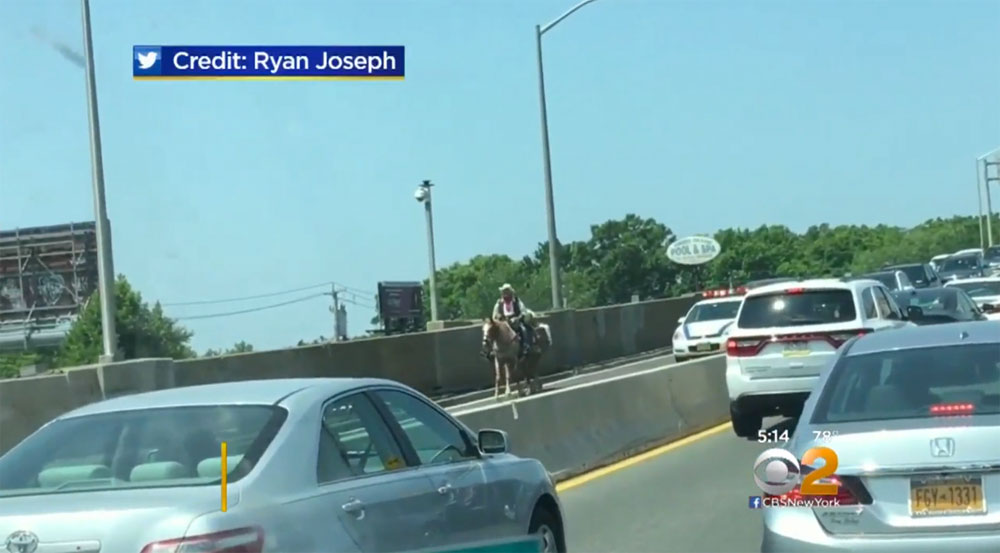 When asked by a reporter if he'd been arrested, he seemed surprised at the idea.
"No! The police are always here to serve and protect across the land," he exclaimed.
Mishler hails from Ulster Park, New York, about 100 miles up the Hudson River from Staten Island. But his journeys have reportedly taken him much farther.
According to an article in the blog The Campfire Chronicles, Mishler holds a Ph.D. from Michigan State University (thus the nickname) and taught logic and critical thinking at Western Michigan University in the 1990s. His life took a turn in 1996 when he was diagnosed with a serious form of cancer that would require immediate aggressive treatment. Instead of facing treatment, he decided to make the most of whatever time he had left, turning to his Christian faith and moving to Montana to recapture his childhood dream of becoming a cowboy.
By 1998, doctors said his cancer was gone. He took it as a sign.
Now, Mishler rides across the country, raising awareness for Church Communities International, also known as The Bruderhof.
"I've been across the US three times," he told the New York Post. "I've tried to let people know that there is enough food to feed all the hungry children in this country."
However, Mishler's journey isn't a feel-good story for everyone. A recently created Facebook group called Stop Doc Mishler chronicles evidence of alleged neglect of the horses in his care, including photos of an emaciated gray horse that the group says Mishler left behind in Maryland when he was told the horse could no longer handle the physical stress of the journey.There are also photos of open girth sores on a horse that is said to be the same Appaloosa seen in the videos from the Outerbridge Crossing on Monday.

According to the group's description:
[Mishler] has been on this mission since 2002, but does not carry feed or water for these horses. People put him up in places and give him money, that goes to feeding himself. When he stops, the horses have a chance to graze if there is grass available. We need to have him stopped and he does not need to be able to own horses any longer….he needs a bicycle. Very few see what's under these horses saddles.
For now, Doc's travels continue.
---
Leslie Potter is Managing Editor of HorseChannel.com. Follow her on Twitter: @LeslieInLex.