The following athlete-and-horse combinations will compose the Team (in alphabetical order):


Allison Brock and Rosevelt

Allison Brock (Loxahatchee, Fla.) with Claudine and Fritz Kundrun's Rosevelt, a 2002 Hanoverian stallion
Hailing from Hawaii, Allison Brock has been pursuing her dressage goals for 20 years. Although Rio will be her first major international competition representing the U.S., she's no stranger to the scene. Brock attended the 2002 World Equestrian Games as a working student for competitor and Olympian Sue Blinks.
Now the head trainer at DeerMeadow Farms in Florida, Brock has chalked up an impressive resume with Rosevelt, including wins at the Adequan Global Dressage Festival in 2015 and 2016 and at Dressage at Devon in 2014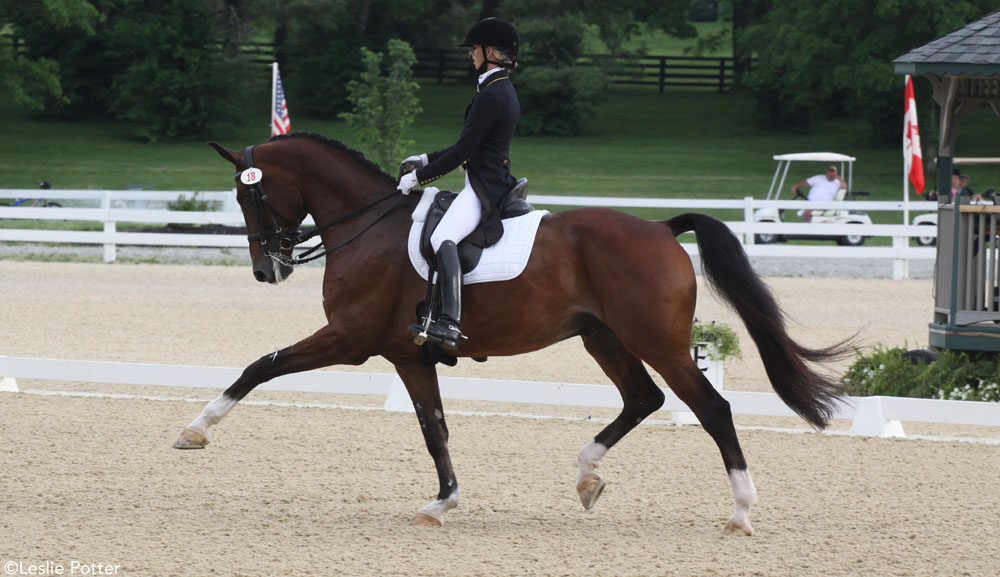 Laura Graves and Verdades

Laura Graves (Geneva, Fla.) and her own Verdades, a 2002 KWPN gelding
Laura Graves and "Diddy" have become a popular pair on the U.S. dressage scene, especially since their outstanding performance at the 2014 World Equestrian Games in France. The pair placed fifth in the freestyle there and have been in the spotlight ever since. With wins at the Adequan Global Dressage Festival in 2015 and 2016, and PanAm team gold and individual silver to their credit, they are easily one of the top pairs currently competing.
However, more than their accomplishments, their backstory has been inspiring to equestrians everywhere. Diddy was a notoriously challenging youngster. Graves had all but given up on making it as a pro and was trying to train him as an amateur in between day jobs. But ultimately, with guidance from veteran Debbie McDonald, she was able to break through to becoming competitive at the Grand Prix level. The Rio Olympics could be an event worthy of a Disney movie if all goes well for this girl and her horse.
Kasey Perry-Glass (Orangevale, Calif.) with Diane Perry's Dublet, a 2003 Danish Warmblood gelding

Kasey Perry-Glass and Dublet

Californian Perry-Glass got her start in eventing, training with Olympian Gina Miles, among others. After deciding to focus on dressage at age 17, Perry-Glass sought out top trainers in that discipline and eventually made her way to Debbie McDonald, who she currently works and trains with.
Goerklintgaards Dublet is a handsome dark bay Danish Warmblood who Perry-Glass has worked with since 2012. This horse-and-rider duo started 2016 on a high note with second place finishes in the CDI3* and CDI-W at the Global Dressage Festival.
Steffen Peters and Legolas 92

Steffen Peters (San Diego, Calif.) with Four Winds Farm's Legolas 92, a 2002 Westphalian gelding
Direct Reserve

Four Winds Farm's Rosamunde, a 2007 Rheinlander mare
German-born Peters needs no introduction as the most experienced and successful competitor in American dressage at this level. Peters represented the U.S. at the 1996 Atlanta Olympics with the great Udon, winning team bronze. Ten years later, he was part of the bronze-medal winning team at the World Equestrian Games with Floriano. In 2008, he and Ravel narrowly missed the podium at the Beijing Olympics. They came back in 2009 to a huge win at the FEI World Cup and went on to take individual bronze in the Grand Prix Special and Freestyle at the 2010 WEG. They were also the highest-placing Americans at the 2012 London Olympics.
Legolas 92 has been Peters' top mount for several years. His resume includes wins at the Festival of Champions in 2012, 2013, and 2014, team and individual gold at the 2015 Pan-American Games in Toronto and many other wins around the globe. The pair also represented the U.S. at the 2014 World Equestrian Games in France. They'll bring their vast experience to this year's Olympic team.
The following combination has been named as the traveling reserve:
Shelly Francis and Doktor

Shelly Francis (Loxahatchee, Fla.) with Patricia Stempel's Doktor, a 2003 Oldenburg gelding
Shelly Francis is another competitor with a long and impressive history at the international level of dressage competition. A native of Maine, Francis was an alternate for the 1996 Olympic team with the great Pikant. The pair represented the U.S. at the 1998 WEG in Rome.