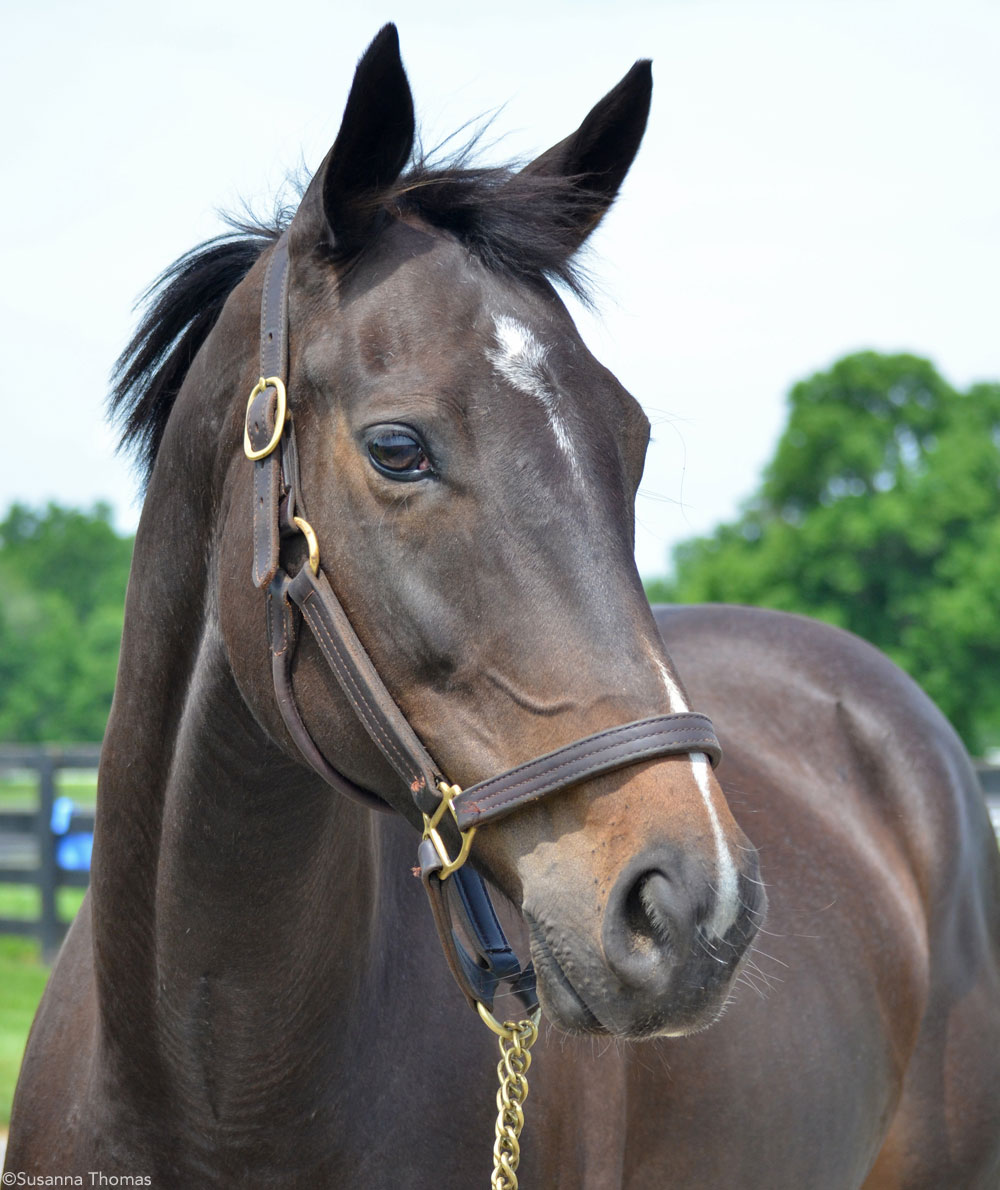 Rena Starlight

For the next few months, HorseChannel.com will be giving readers a behind-the-scenes look at the Maker's Mark Secretariat Center (MMSC) in Lexington, Kentucky. Following multiple horses throughout their time at the center, readers will find out how Thoroughbreds enter the center, the retraining techniques they undergo while learning skill sets necessary for a second career, and more. If you missed the first article in the series, you can catch up here.
Spring has sprung; summer is nigh; and the MMSC is abloom with its 2016 class of retired racehorses. Labeled the "Gold Standard in Thoroughbred reschooling" the MMSC has sent 25 program graduates on to new homes and different careers already this year. This, along with the lengthy waiting list that the MMSC has of potential adopters seeking their perfect match is proof that the Thoroughbred is making a comeback in the show ring!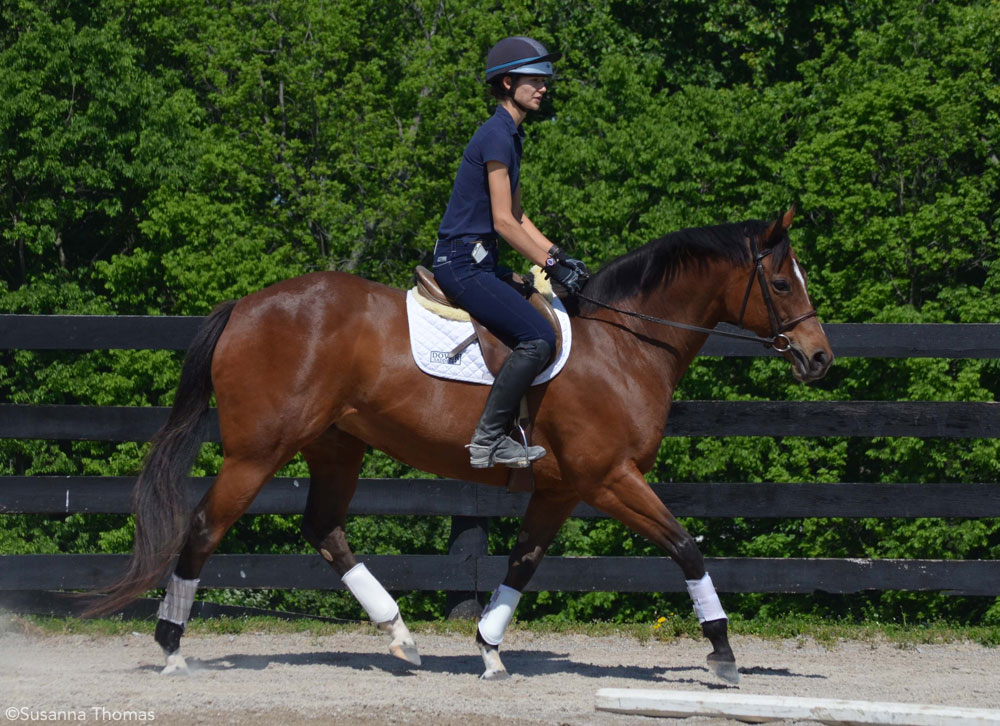 My Rousalka

When out looking at horses recently, we noticed the head and eye of a beautiful mare staring at her through the stall bars. The horse is question was My Rousalka,(2008, 16H, Leroidesanimaux X Musaka) that never raced because her owner/breeder just never got around to it. Later intentions to show the mare fell by the wayside as well. The mare's balanced conformation, chiseled face and abundance of chrome screamed "hunter." So did her toe flicking rhythmic movement. She was an obvious candidate for the MMSC's Horse Centered Reschooling Program?. Nervous on the first day at the MMSC, "Saka" settled in quickly. In record time, she mastered the round pen and obstacle course. Put under the saddle right away, she continued being equally sane and steady and utterly game, despite her plump physique and lack of fitness. All try, no fuss and pretty as a picture, Saka is a natural ambassadress for the breed.
Racing thin and immature when he came to the MMSC at the beginning of the year, Icefield (2012, 15.3h, Street Cry X Burgundy Ice) would have benefited from being put "on ice" for six months, chilling out in a pasture. With an eye as eager as an Eagle Scout's and a striding walk as bold and forward as a marching marine, Icefield had the look and makings of a hero. He hasn't disappointed. No matter what the assignment he has been given at the MMSC, he has embraced all with enthusiasm and performed them with excellence. He is one of those horses that is naturally patient and unbelievably kind—he will get underneath a tilting rider to keep that person safe and on board. Since he came to the MMSC he has battled body soreness and bone bruises, which have caused him to fail a pre-purchase exam. This valiant horse needs a person who believes in him and who will give him time to fulfill his destiny.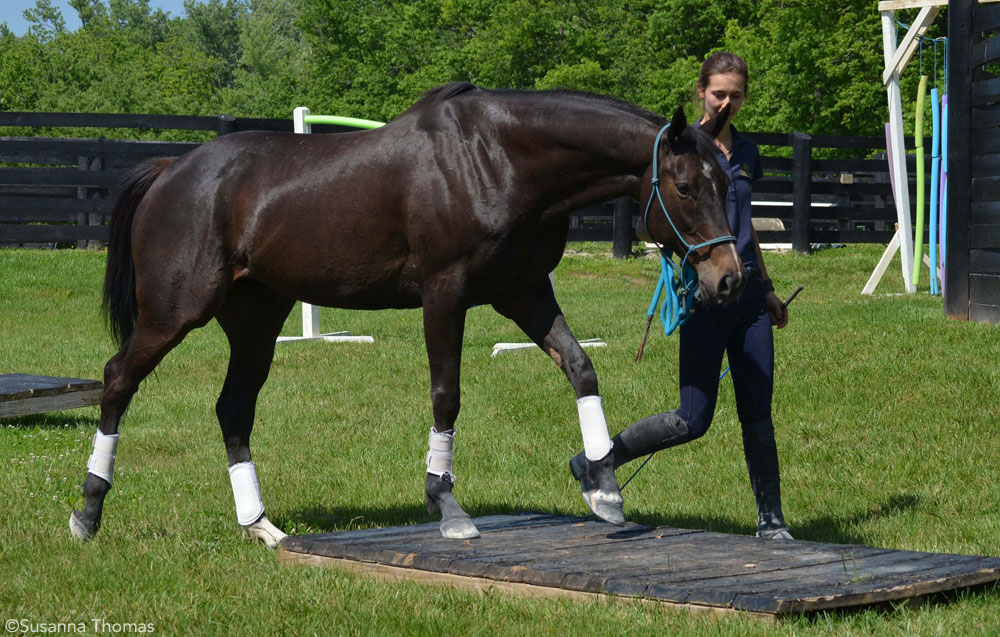 Rena Starlight

Rena Starlight's story begins with a spontaneous detour. Several years ago, New York City resident and film director, Victoria Racimo was passing by Lexington on the interstate, when she decided to take a look at the Horse Capital of the World. A chance meeting with Jeanne Mirabito, founder of the Our Mims sanctuary for ex-race mares, inspired Racimo to write and produce a documentary about Mirabito's work.
Racimo began following the career of a random racehorse, Rena Starlight (2008,16h, Star Dabbler X Sistine Light). Mirabito found a farm where Rena spent several months being let down until she was ready to transition to a new career. Then Mirabito and Racimo together reached out to the MMSC. An elegant, well conformed mare with no injuries, Rena was accepted into the Horse Centered Reschooling Program?. Newly arrived at the MMSC, Rena is currently getting "spa" treatment, doing Natural Horsemanship and groundwork. She is racing stiff, and like Icefield, needs time, but her mind is amazingly flexible! Her intelligence is striking, as is her willowy, graceful body. But there is more to this tale. After looking back through the mare's pedigree, Racimo discovered that Rena is a descendant of Our Mims' sire, Herberger, and resembles him and Mims quite a bit.
Maker's Mark Secretariat Center is a premier reschooling facility and showcase for adoptable Thoroughbreds. Founded in 2004, the MMSC uses its illustrious location in the Kentucky Horse Park to herald the athleticism of this amazing breed by teaching new skill sets to horses of all levels of ability so they can go on to be ambassadors for racehorses in new careers. To learn more, please visit SecretariatCenter.org.