If you grew up in the 1980s or 1990s, you'll immediately recognize the cartoony, rainbow-hued artwork of Lisa Frank. There's a pretty good chance you owned a Trapper Keeper, a notepad, or maybe some stickers featuring Lisa Frank characters. Now, with a new line of clothing from Rage On, you can wear your Lisa Frank love on your sleeve.
Frank's artwork is over-the-top cute. Big-eyed kittens, leopard cubs and teddy bears in front of Technicolor rainbows mark the artist's style. Personally, my favorite was the dolphin. But we're here today to talk about the equine line. And if you'll allow horns and wings, Lisa Frank has always had a lot to offer the horse girls out there. Here are just some of the equine-themed items from the new Lisa Frank clothing line.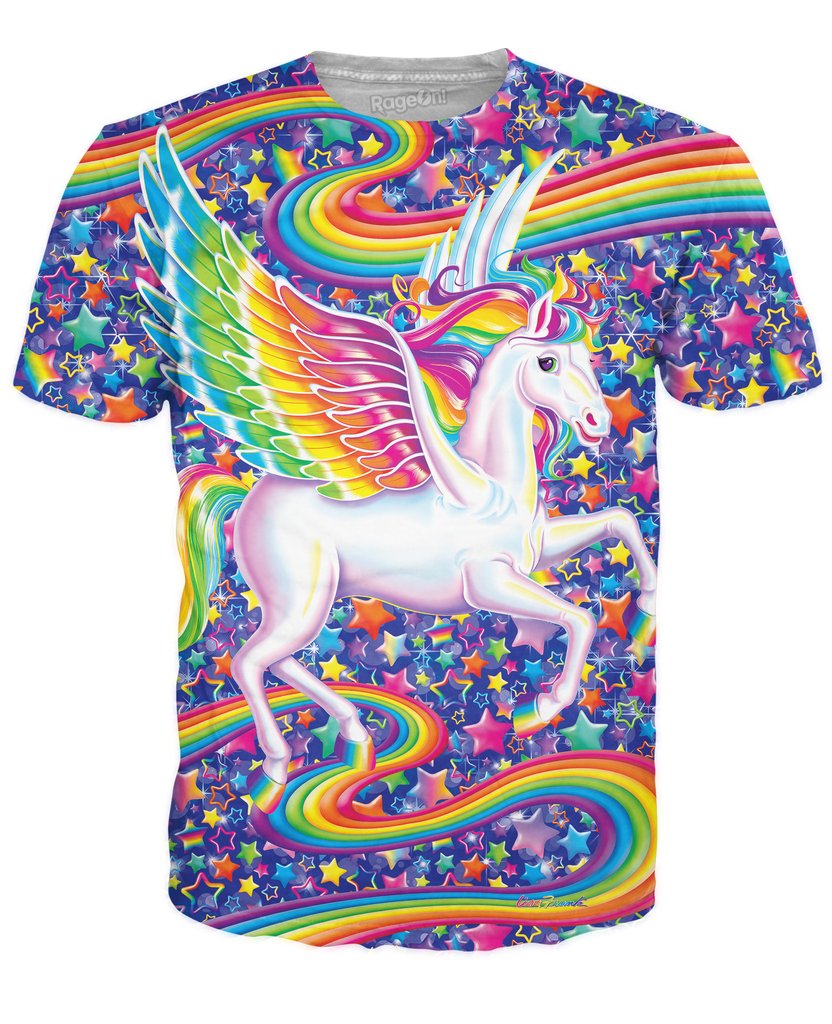 Skye T-Shirt
It turns out that some Lisa Frank characters have names, and this shimmering, rainbow-winged Pegasus is Skye. The rainbow road backdrop alone would have been too subtle, so a crowded galaxy of multicolored stars adds to the design. This is a unisex t-shirt. Buy one for your brother. He'll love it.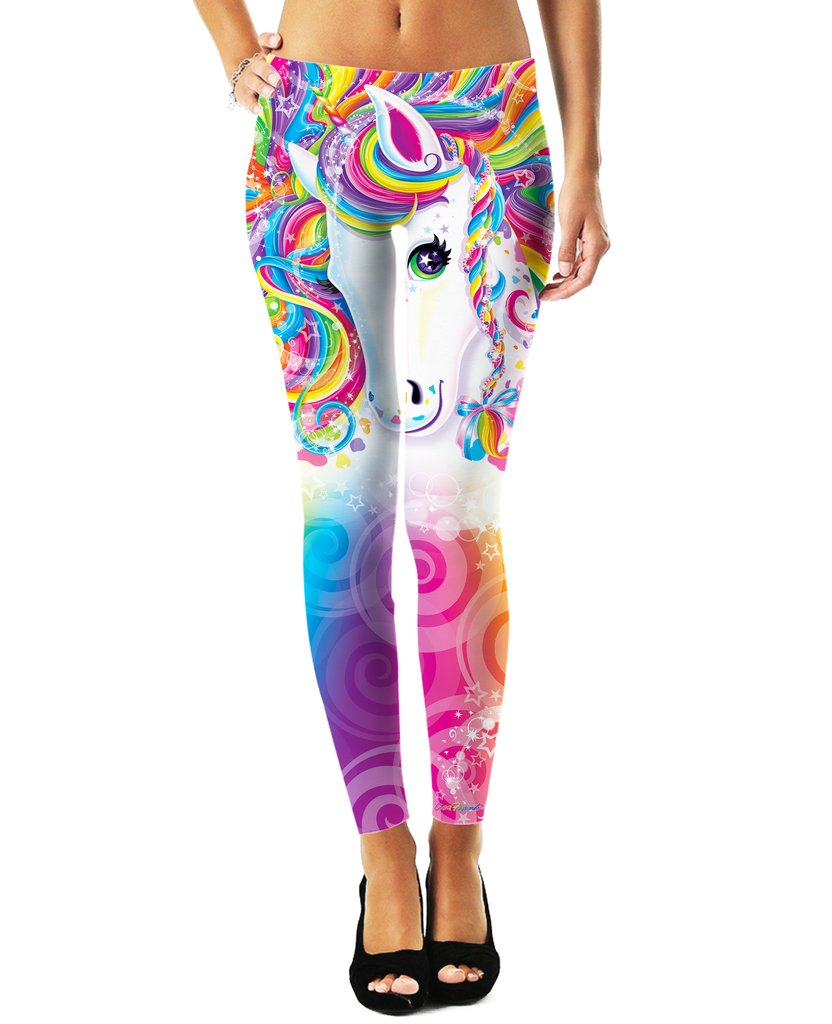 Majesty Leggings
My primary objection to leggings is that they don't have pockets. I used to be opposed to them because I carry the traditional American shame about the shape of my body, and leggings do nothing to hide it. But then it occurred to me that I routinely run errands in breeches without thinking twice. I respect that leggings are part of the uniform of people younger than me, but I think we can all agree that it's a little weird to have a unicorn face across your crotch, right? Maybe even moreso if you're one of those people with a thigh gap, whatever that's like.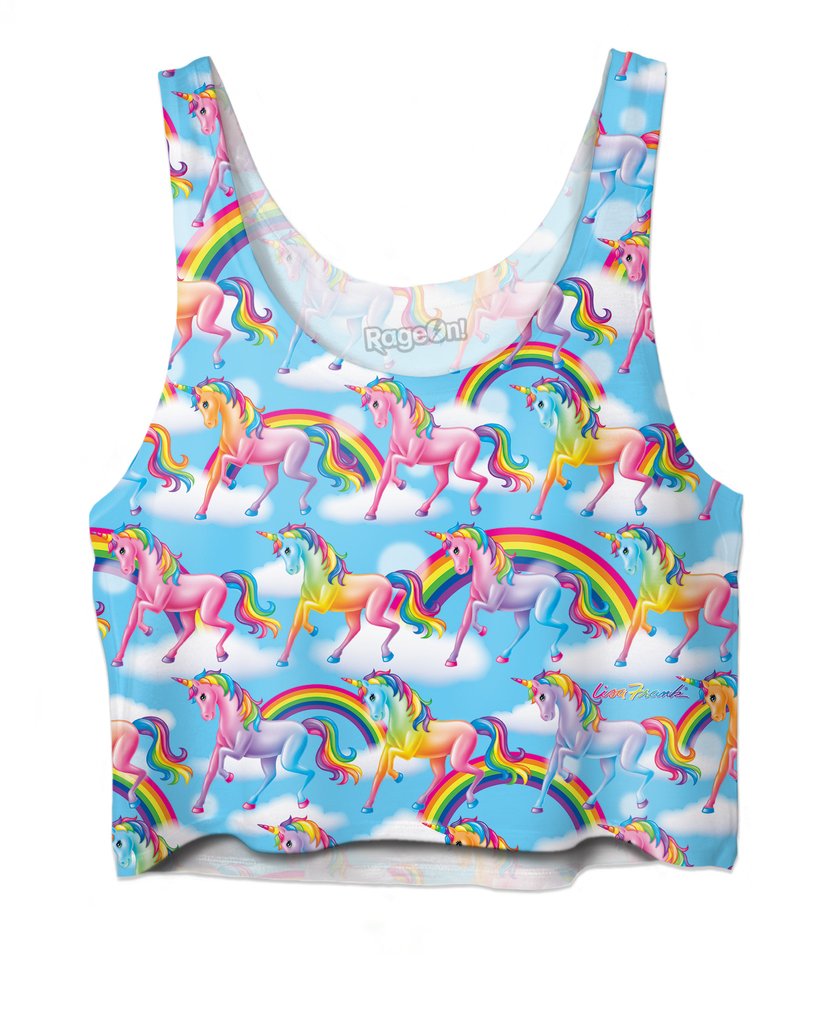 Unicorn Rainbows Crop Top
I'm also not ever going to wear a crop top, but if you're the type of person who might consider it, you may as well go all in and get one with rainbows and unicorns.
Skye Simple Dress
Is there any occasion this dress is not appropriate for? You could wear it to a job interview to show that you're a fun, outside-the-box kinda gal. You could wear it to a wedding to make sure that all eyes are NOT on the bride…unless you're the bride. I can see this doubling as a wedding gown. Personally, I'm thinking of buying it to wear to Lexington's dress-to-impress event: Keeneland's fall race meet.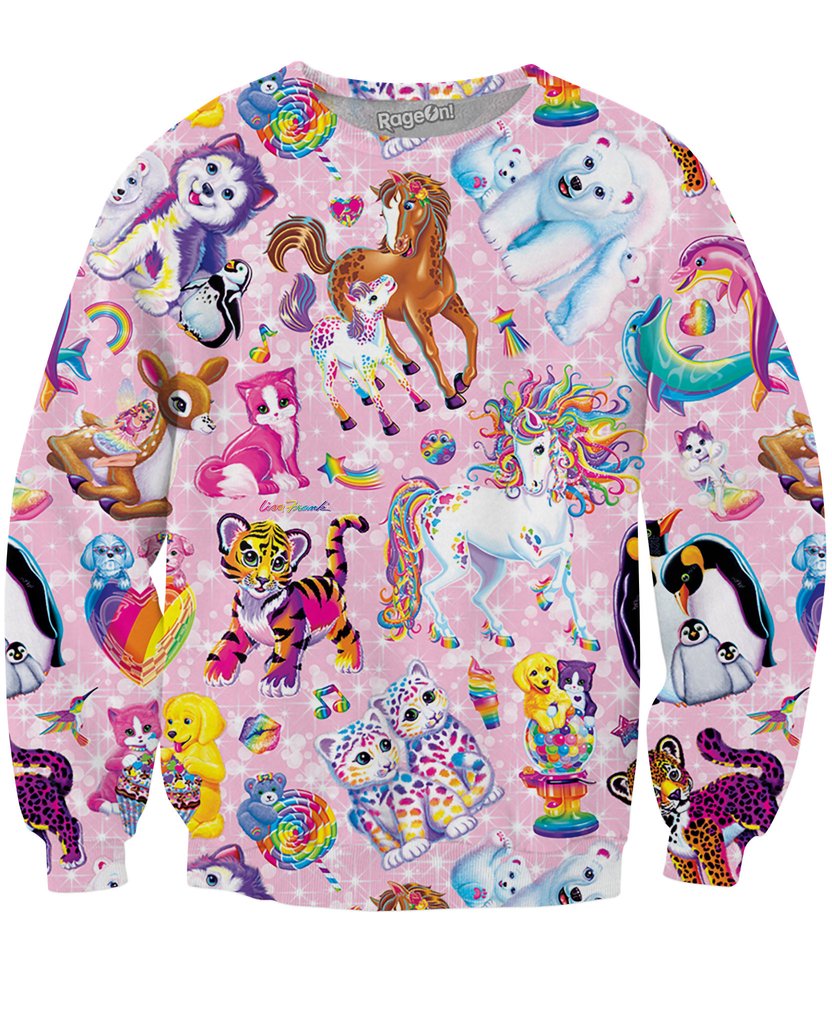 Character Collage Sweatshirt
Maybe it's just me, but as a young horse girl, the rainbow unicorns and pegasi were not my favorite Lisa Frank characters because I wanted horses to be horses. You can't improve on their real-life design by giving them wild colors and accessories. So I appreciate the almost-realistic chestnut mare depicted on this sweatshirt that features many of Lisa Frank's popular characters. The best thing about this sweatshirt, however, is that it appears to be structured authentically like the sweatshirts we used to wear in 1992. Fitted and flattering? Who needs it when you can wear something with all the shape of a garbage bag? And good news, at the time of this writing it's on sale for sixty bucks. Wait, what? The retail on this thing is $79.99? Maybe I'll just buy some stickers.
Back to The Near Side
---
Leslie Potter is Managing Editor of HorseChannel.com. Follow her on Twitter: @LeslieInLex.