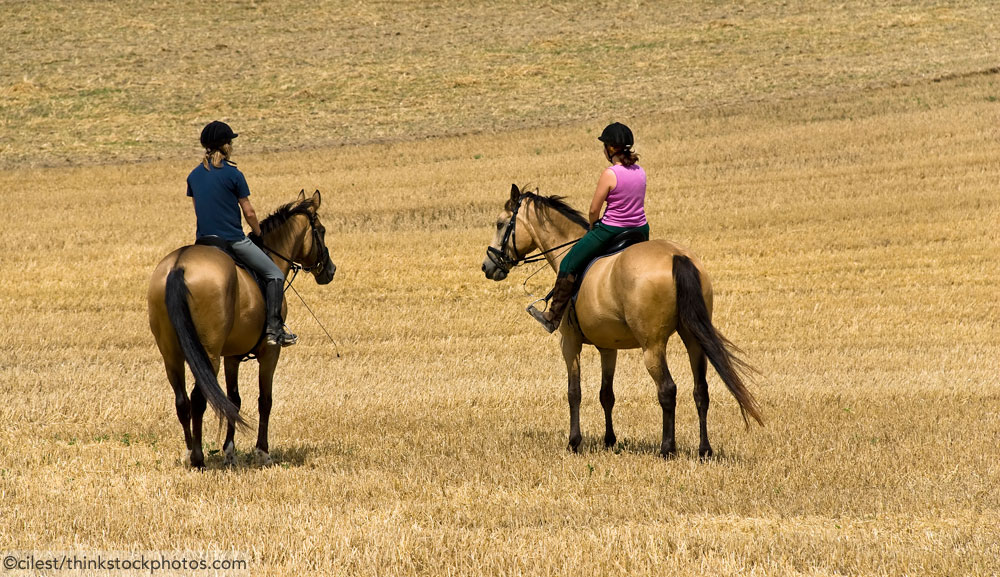 Horse people often get labeled as snobby or elitist. But really, we're some of the most sociable folks around. We're quick to lend a hand to a horse person in need – be it a neighbor or a fellow competitor at a show. And we'll talk to anyone all day long about horses.
Like our horses, we gravitate toward a herd. Strength in numbers. But our herd has been getting smaller, and we need to grow it for the health of our favorite sport and the horse industry as a whole. To do that, we need to show people that riding is fun and more accessible than they may think.
The American Horse Council's Time to Ride initiative is providing some pretty awesome incentives for us all to reach out to non-riders, introduce them to horses and welcome them to our world. The "Pledge to Take a Friend Riding" sweepstakes will take place September 1-30, 2016 and offers the fabulous prize of a luxury dude ranch vacation.
One lucky caring, sharing equestrian taking the pledge will win an all-inclusive, three-night vacation at the Resort at Paws Up in Greenough, Montana. To enter, simply take the pledge to take a friend riding at www.timetoride.com/pledge. Then, grab a non-horsey friend, co-worker or neighbor and bring them along for the ride! Horses love visitors with carrots. And you could use a fresh audience for your horse chat, right? Easy. A win-win situation.
"Equestrian sports are often perceived as exclusive and difficult to break into, but it's time to change that stereotype," said Christie Schulte, Time to Ride marketing manager. "Without the support of family or friends, many of us may not have known where or how to take up riding – and now it's our turn to be that friend who introduces a new rider to horses. Whether it's English or Western, trail riding, driving, or any other equestrian activity, it's our privilege and duty to welcome new people to our beloved sport for the growth and health of our industry."
If you were a horse-crazy kid in a non-horsey family, you remember how much that first pony ride or up-close visit with a horse meant. If you began riding as an adult, you probably recall that feeling of not knowing where to start. By taking part in Time to Ride's "Pledge to Take a Friend Riding" sweepstakes, you can make someone's day, help the horse community and have a chance to win the ranch riding vacation you've always dreamed of.
Find out more at www.timetoride.com.