U.S. Dressage Team on the bronze medal podium, left to right: Allison Brock, Laura Graves, Kasey Perry-Glass and Steffen Peters. Photo by Allen MacMillan/MacMillan Photography

Hello again from South America and the Rio de Janeiro Olympic Games. We are told by folks at home that there was not a lot of television coverage of the dressage in the U.S.A. so here's a quick synopsis of the competition from Rio and a look at everyday life of the residents of Rio (Cariocas). The big news was the super performance of the U.S. Team and the repeat win of the individual gold medal for Great Britain's Charlotte Dujardin and Valegro.

Fifty-nine horse and rider pairs from 25 countries started in the Grand Prix competition. The field was narrowed to 31 for the Grand Prix Special, which combined with the Grand Prix test scores determined the team medals, and then weeded down again for the Freestyle which saw a roster of 18 compete for the individual medals.
We saw lovely performances from many countries in dressage and other than some rain and cool weather on the two Grand Prix competition days, the Olympic dressage in Rio was very enjoyable. Countries not known for dressage superiority in the past are making good progress and the level of competition was intense.
A sad moment in the competition was when long-time partners Adelinde Cornelissen and the 19-year-old Parzival from the Netherlands retired from their Grand Prix test just minutes after starting. Though the judges did not ring them out and there was no obvious lameness detected from the sidelines, Adelinde said that Parzival had been bitten by a spider, or other insect, which caused him to not be at his best and she felt it was unfair to him to continue.
U.S.A. on the Hunt for Team Medals
The U.S. Dressage Team had one veteran in Steffen Peters and three Olympic rookies. The members were:
Allison Brock (Loxahatchee, FL) with Claudine and Fritz Kundrun's Rosevelt, a 2002 Hanoverian stallion;
Laura Graves (Geneva, FL) and her own Verdades, a 2002 KWPN gelding;
Kasey Perry-Glass (Orangevale, CA) with Diane Perry's Dublet, a 2003 Danish Warmblood gelding;
Steffen Peters (San Diego, CA) with Four Winds Farm's Legolas 92, a 2002 Westphalian gelding, and
traveling reserve Shelly Francis (Loxahatchee, FL) with Patricia Stempel's Doktor, a 2003 Oldenburg gelding.
After contesting the Grand Prix and the Grand Prix Special tests, Germany took gold in the team competition with 81.936% followed by Great Britain with the silver with 78.595 %, the U.S.A. with the bronze with 76.667% and The Netherlands fourth with 75.517%.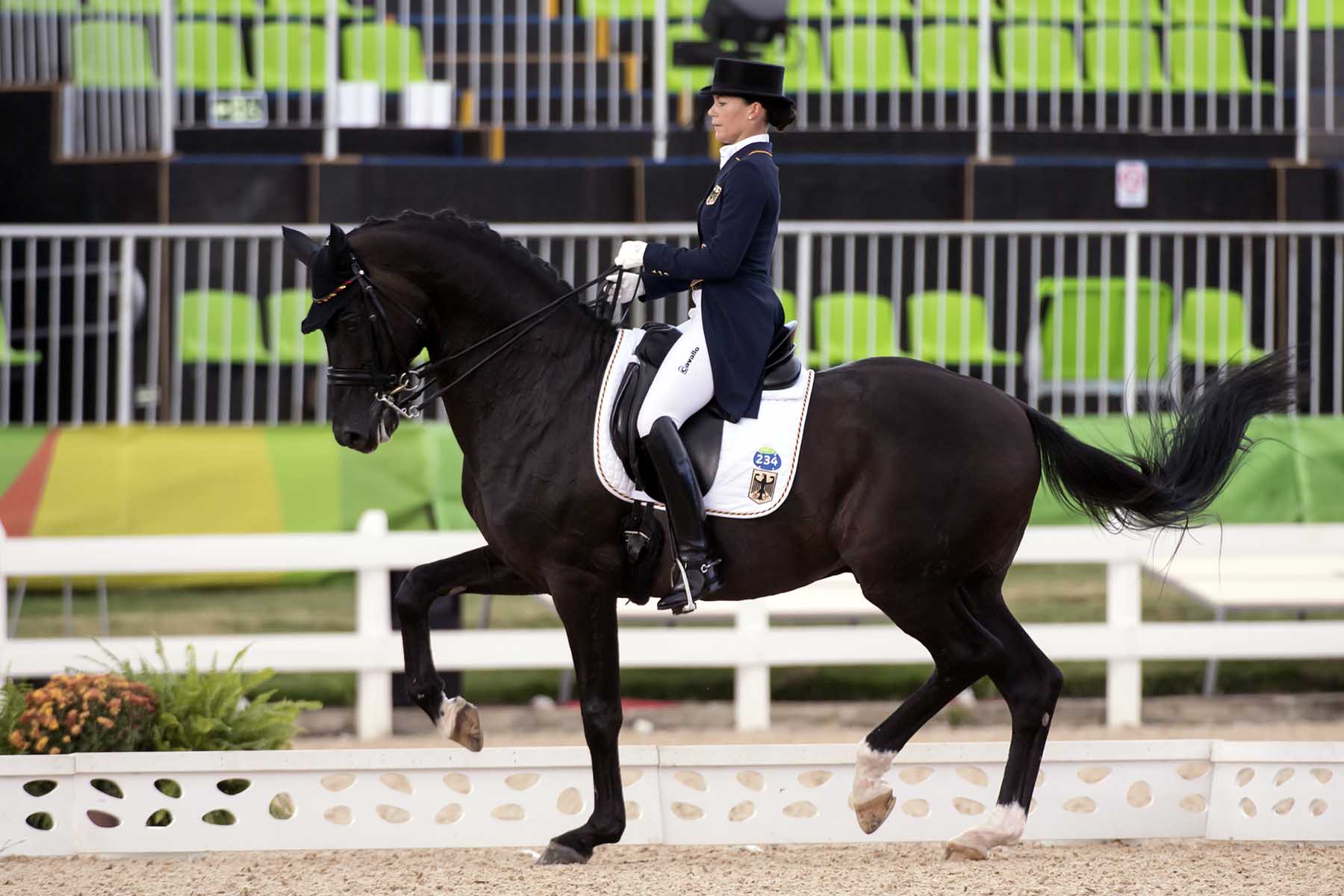 Kristina Bröring-Sprehe from Germany riding the 15-year-old Hanoverian stallion Desperados FRH finished with the bronze medal in Rio. Photo by Allen MacMillan/MacMillan Photography

The U.S. team came on a mission to prove they belong in the spotlight alongside dressage powerhouse countries such as Germany, the Netherlands and Great Britain and they certainly delivered the goods. After missing the medal podium in the previous two Olympic Games, they earned the team bronze this time in a decisive fashion with good rides by all four team members.
U.S. Dressage Team Chef d'equipe Robert Dover talked about support of the U.S. Team in an interview following the team medals.
"Three and a half years ago I was quoted as saying that if I had to drag the entire country kicking and screaming to the medal podium, I would do that," said Dover. "Fortunately it didn't have to occur that way. We've had so much support from our federation, from the USET, from the greatest sponsors and owners in the world…all of the staff are amazing – the veterinarians, the owner of our host stable in Europe, and the USEF staff. We have had so much help. Truly it takes a village. We have accomplished what we came to do."
"I'm looking forward to seeing what happens in the next years," Dover continued. "I think that the depth of up-and-coming Grand Prix horses [in the U.S.] triples what we saw here. I believe in the next two years you'll see America take a higher podium; I don't know which one it will be. And in the next four years I think that they'll give any country in the world a strong vie for the gold."

Laura Graves (Geneva, FL) and her own Verdades, a 2002 KWPN gelding. Photo by Allen MacMillan/MacMillan Photography

The jubilant U.S. riders had much to say in the press conference following the team medals.
"We've captured the elusive 80%. It does exist!" said Laura about her ride in the Special on Verdades, where they were one of only five horse-and-rider pairs to score above that mark. "I knew the test was going well, but you just always hope that your reflections match up with the judges'. I had no idea going into the ring what I needed for a score and to see my teammates so happy and then to achieve my personal best score, it was just icing on our cake today."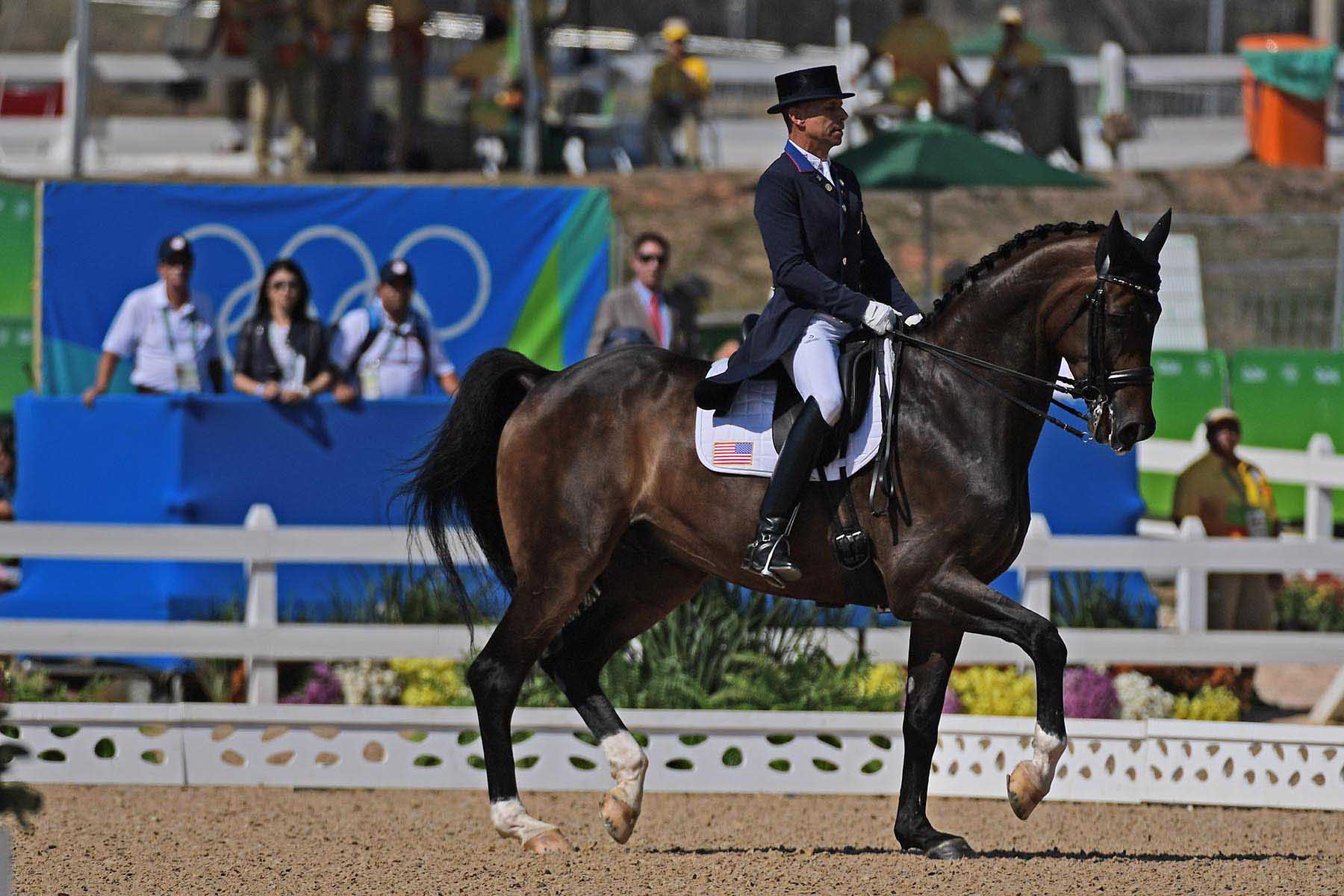 Steffen Peters (San Diego, CA) with Four Winds Farm's Legolas 92 with U.S.A. supporters looking on in the background. Photo by Allen MacMillan/MacMillan Photography

Steffen gave a play-by-play of his Grand Prix Special test on team final day with Legolas. "I'm super happy with Legolas. We delivered for the team, that was my goal and that's what we did. We had a couple of little fumbles…[but] the rest of the test was very clean. He did his changes very nicely, but I knew that after the half-pass fumble that if we had one more mistake in the flying changes then we'd be below the required average score to stay ahead of the Netherlands. I knew going into the ring exactly what score I had to get and I'm super happy that it worked out, but it was close!"
Olympic team rookie Allison and her partner Rosevelt were the first pair for the U.S. each day of the team competition and she was very pleased with how he went in the Special.
"I was really happy with him…He was better than in the Grand Prix and did a clean test. That's what we needed to do to set the stage for my teammates and we did it, so I'm really happy with him. I laughed a little at the end of my test because I said thank you [to Rosevelt] for doing this for me, because it got hot in the ring and I just had to give him a lot of credit. He tried really hard. Bless him."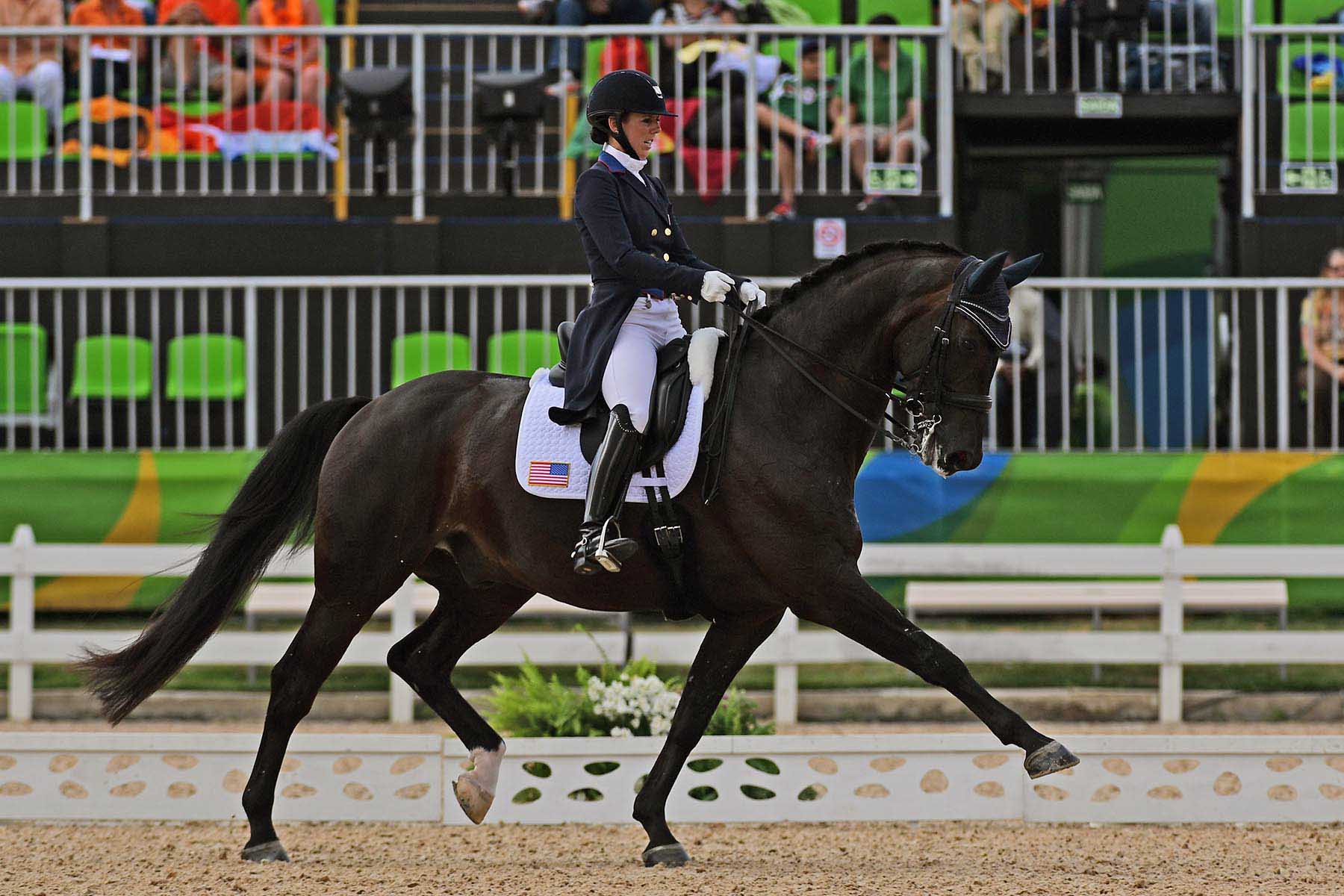 Kasey Perry-Glass (Orangevale, CA) with Diane Perry's Dublet, a 2003 Danish Warmblood gelding. Photo by Allen MacMillan/MacMillan Photography

Kasey and Dublet were also rookies on the U.S. team and new to Grand Prix level. They had a mistake in the Special when going from passage to extended trot, but quickly recovered to score over 73%.
"It wasn't our best, but you know I have to give it to Dublet as he's really trying to stay with me," said Kasey. "We have a couple kinks to work out, but it's our first year and we moved up very fast, so I have to give him credit on that for staying patient and really trusting me in the ring. My plan was just to give him a good experience and also I was thinking about the team. I really wanted to do this for the team, but sometimes it's just not your day."
Steffen, who was the alternate for the last U.S. team to win a medal in 2004, shared what it meant to him and to the team to come back to the podium.
"First of all, a big thank you to Robert Dover, who was also on the team in 2004. Today we knew it had to be above 75% and all four riders and horses are capable of delivering 76-77 %, so we knew we had a chance, but when it actually happened it was amazing! If you wanted to see a 52-year-old guy acting like a 10-year-old boy, you should've seen me in the stands when Laura was coming down centerline; I was crying my eyes out. There are a lot of people who are certainly a big part of this medal."
Charlotte Dujardin and Valegro Are Golden Again
Charlotte and Velegro, a.k.a. "Blueberry," did not disappoint the crowd who came to see them compete in reportedly his final Olympic appearance. On freestyle day, we met a lovely young lady from the U.S, who had come with a contingent from the Make-A-Wish Foundation. She was there to fulfill her dream to see Charlotte and Blueberry compete. Although I did not see her afterward I am sure that their performance scoring a 93.857% was worth the wish.

Charlotte Dujardin and the 14-year-old Dutch Warmblood gelding Valegro, winner of the Olympic individual gold medals in Rio de Janeiro in 2016 and in London in 2012. Photo by Allen MacMillan/MacMillan Photography

Charlotte and Valegro, who is now 14 years old, had an 85.071% which was the high score in the Grand Prix test then had an uncharacteristic mistake in their Special and only scored an 82.983% (which was the second best score of the Special with Germany's Isabell Werth and Weihegold OLD achieving a higher score of 83.711 %.)
When all had given their final salute on centerline, the Individual medalists were: Charlotte Dujardin and Valegro, Great Britain, gold; Isabell Werth and Weihegold OLD, Germany, silver, and Kristina Bröring-Sprehe and Desperados FRH, Germany, bronze. Americans Laura and Verdades finished a close fourth, with Steffen and Legolas 92 in 12th, Allison and Rosevelt in 15th, and Kasey and Dublet in 22nd.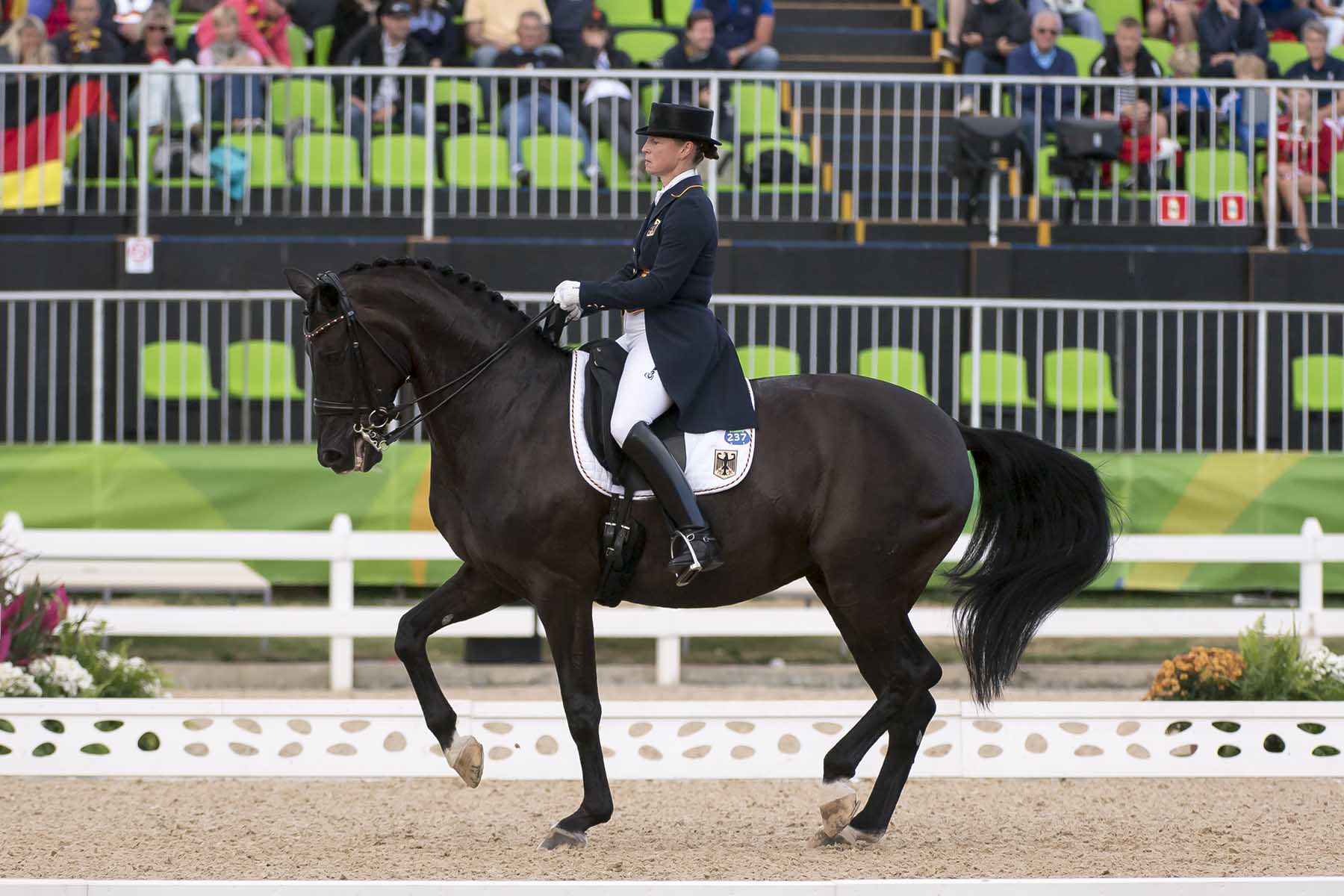 2016 Olympic Silver medalists Isabell Werth from Germany riding the 11-year-old Oldenburg mare Weihegold OLD. Photo by Allen MacMillan/MacMillan Photography

"Going to London, I didn't have any expectations for the individual," said Charlotte. "I just went out there, did my thing and it happened. Coming here, I had to defend that title. I had expectations. I had the pressure and I did feel it a little bit, for the first time ever. As soon as I got in the arena, I trotted around the outside and Valegro gave me the most incredible feeling. It put a smile on my face and I just knew then it was all going to be OK and it was. It was just one of those magical rides where you know you have that partnership, that connection, that bond with your horse."
She also reported that it is likely that Blueberry will retire soon. She and business partner Carl Hester, who is also the owner of Valegro, said that they wanted him to end his career while he was still on top. Charlotte talked about possibly doing exhibition rides with Blueberry and said that they would go home and decide when his official retirement from competition would be.
Laura and Verdades, the high scoring pair for the U.S., had three personal best scores in their three turns around the arena in Rio. They were less than two percentage points out of the bronze medal spot. In their freestyle they executed many high-difficulty moves including two-tempi canter changes on a half circle leading into one-tempi changes to enhance their score. They earned nines from the judges on double canter pirouettes, harmony, degree of difficulty and music.
"I'm thrilled with the score," said Laura, "Because Verdades is really honest, the degree of difficulty is something that I can play with and so you have to highlight those moments. We did them twice, showing that it's not just luck, and the judges obviously rewarded us for it today. I don't feel like I had quite as much horse as I've had over the past couple days. It's very hot and we've been here just over two weeks, so it's been a long time for us to keep our horses going like this, but he was ready. He stayed really honest and I couldn't have asked for more."
A Day in the Life of a Carioca
The goings-on in the equestrian venues create a stark contrast against the surrounding cities. If you've followed the news, you've likely heard about how the economy in Brazil is depressed. Corrupt government leadership has not done much to improve this. One Uber driver we talked with, a young man named Eduardo, had a college degree and had done advanced studies. He spoke nearly perfect English, yet he had lost his telecommunications job five years ago and was still circulating resumes trying to find a job in his field. He said he worked twice as many hours for Uber to make similar pay. Eduardo said that he was glad that the Brazilian President, Dilma Rousseff, had been impeached and was out of office. When we asked him about her successor he said that he was corrupt too, but not as much, so it was an improvement anyway.
As we traveled through Rio de Janeiro we saw the same things we're used to seeing in the U.S.: shopping malls; supermarkets; gas stations; car dealerships; et cetera. There are also many neighborhood convenience stores and walk-up snack stands. Here are some photos of typical stores and housing in Rio, and the smaller village of Deodoro where the equestrian events were held, to give you a look into the everyday life of the citizens there.

Upper-class condominiums in the Barra Tijuca area of Rio de Janeiro, Brazil Photo by Allen MacMillan/MacMillan Photography


A working-class family home in the village of Deodoro where the equestrian events were held Photo by Allen MacMillan/MacMillan Photography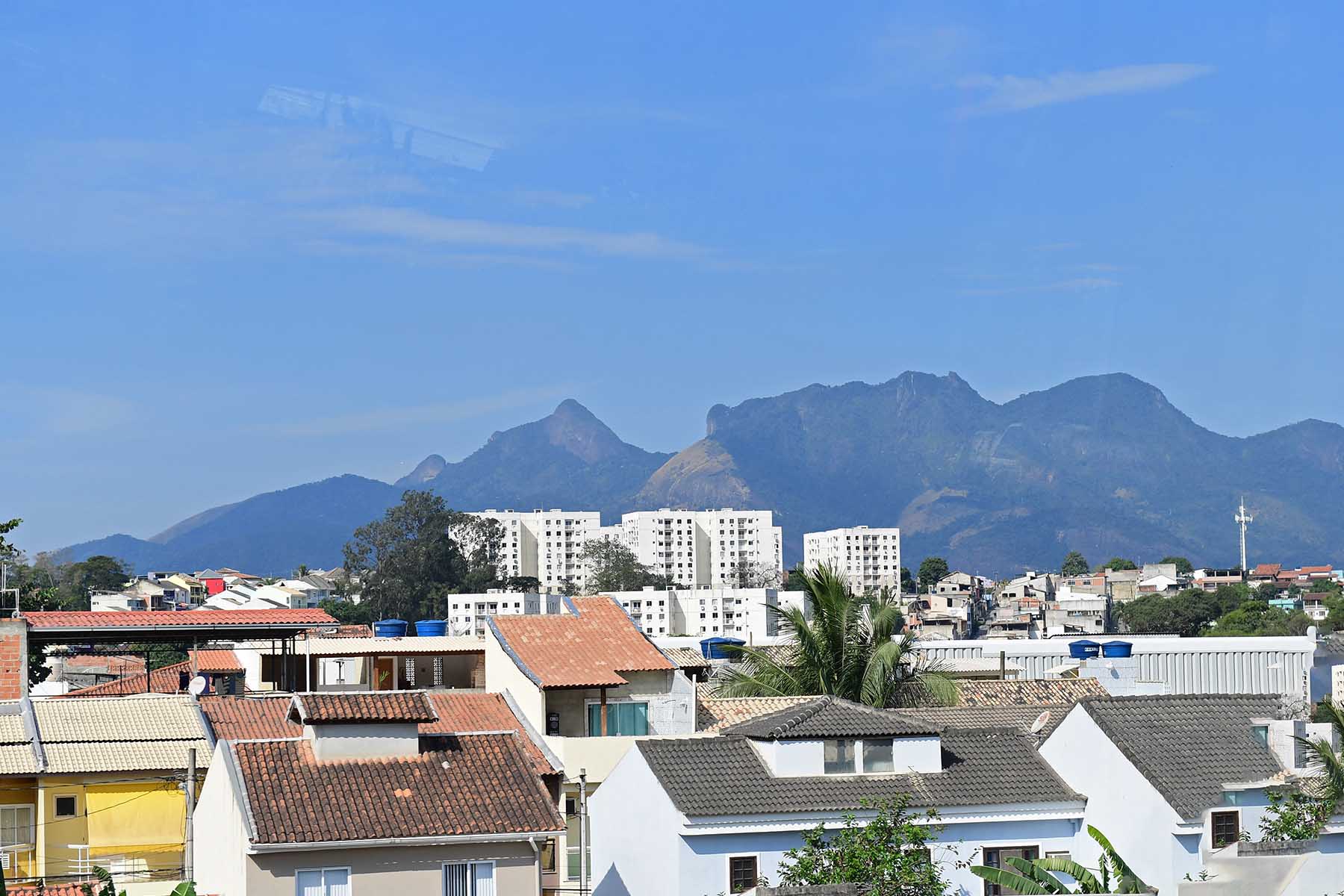 Middle-class housing in front of the granite-based mountains surrounding Rio de Janeiro Photo by Allen MacMillan/MacMillan Photography


Favelas (low-income neighborhoods) on the way to Deodoro from Rio Photo by Allen MacMillan/MacMillan Photography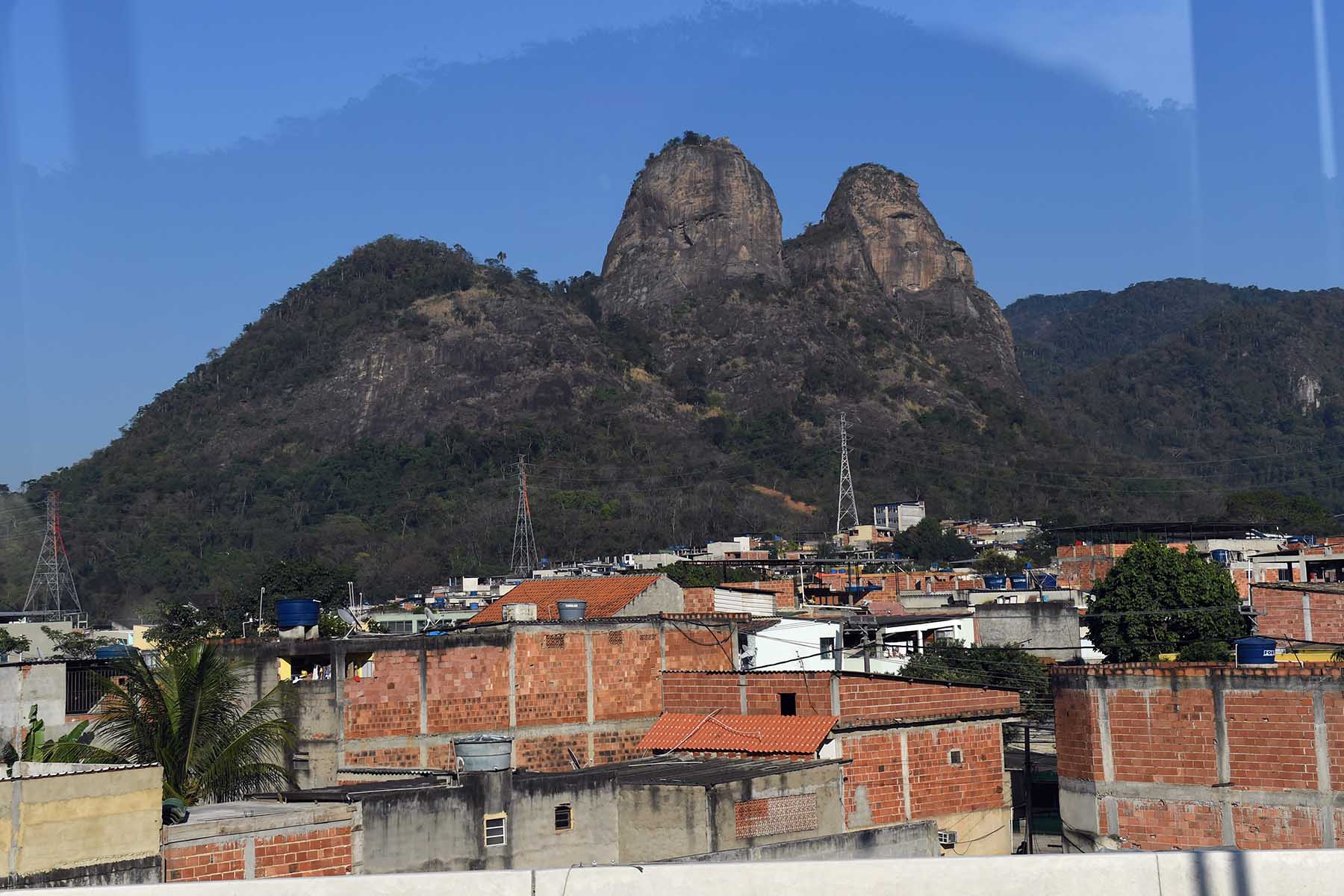 Another view of favela neighborhoods with a unique twin-topped mountain that we saw on our drive to Deodoro each day Photo by Allen MacMillan/MacMillan Photography


Blue water holding tanks were on nearly every rooftop that we saw in Rio and Deodoro. Photo by Allen MacMillan/MacMillan Photography


Grafitti is a way of life in Rio. We saw it everywhere from the most basic to quite artistic. Some graffiti was used as a form of social and political protest. Photo by Allen MacMillan/MacMillan Photography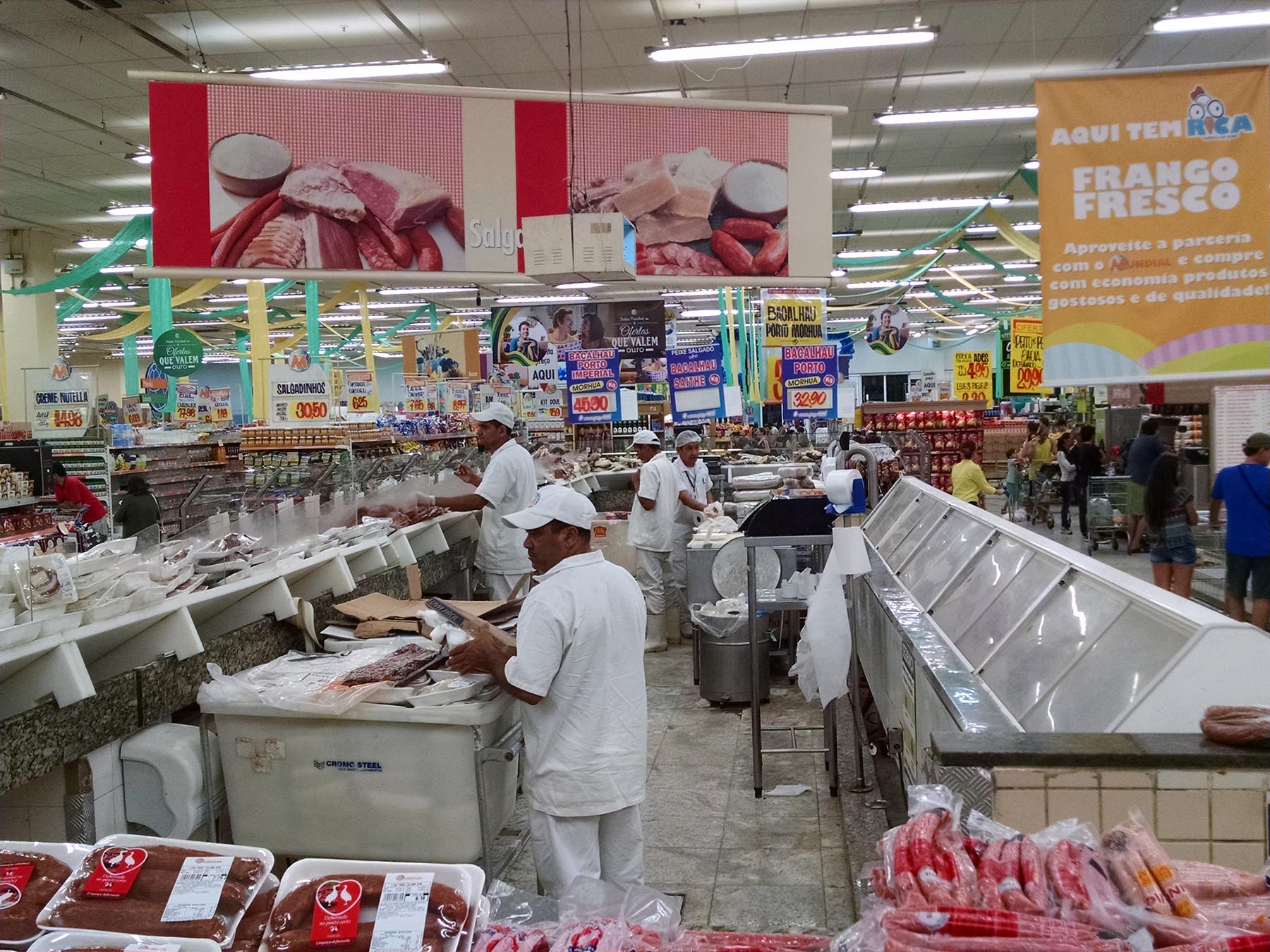 The meat section of the local Mundial supermarket. Photo by Allen MacMillan/MacMillan Photography

Frutmania and Hortifruti were two produce market chains we saw in Rio. Photo by Allen MacMillan/MacMillan Photography


Contractors shooting the breeze at the local construction materials store. Photo by Allen MacMillan/MacMillan Photography.


The local dentist's office in Barra de Tijuca. Photo by Allen MacMillan/MacMillan Photography


An ice cream stand in Deodoro just outside the entrance to the equestrian venue. Photo by Allen MacMillan/MacMillan Photography


Whether a military presence is a normal thing in Rio and Deodoro all the time or whether they were just there to guard the Olympic Games, we do not know, but we certainly saw them on duty all over Rio and Deodoro during our time there. There was a large military base across the street from the equestrian venue. Before and after the Games, the Olympic equestrian venue was the riding school for the military. Photo by Allen MacMillan/MacMillan Photography