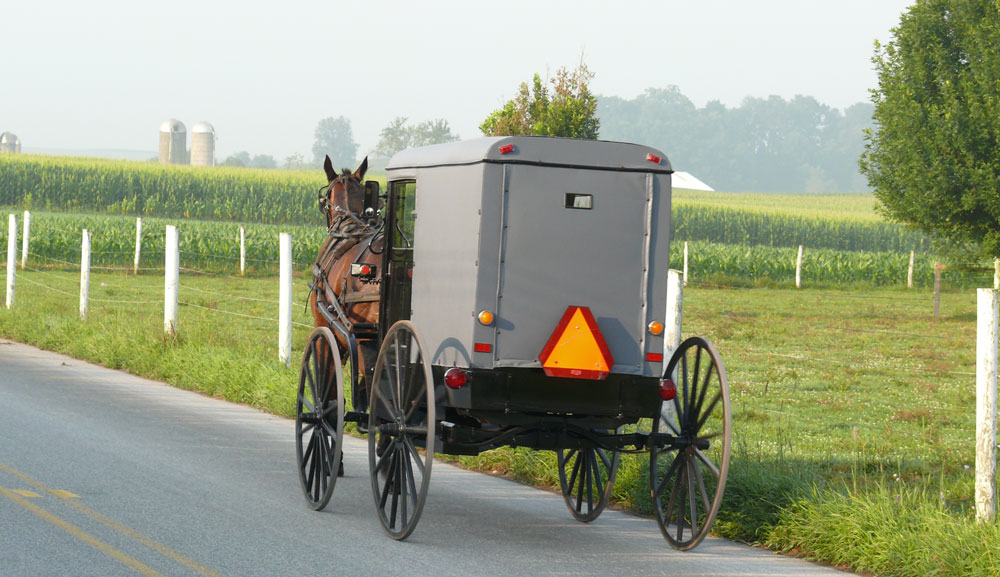 Amish buggy on a road in Lancaster County, Pennsylvania
, by Ad Meskens (Own work) Copyrighted free use,
CC BY-SA 3.0
, via Wikimedia Commons
UPDATE 8/11/16: Marvin Martin Sensenig pleaded guilty to two charges of animal cruelty. He paid a $300 fine for each charge plus $152.50 in court fees, according to the York Daily Record.
Original Story:
A horse in Lancaster County, Pennsylvania, died on Tuesday, and after a witness account of the incident was posted to Facebook, outrage swelled quickly.
The horse, unnamed in news reports, was pulling a cart full of watermelons along with two men along Bethany Road in the rural borough of Ephrata. The horse apparently became exhausted and collapsed. According to the Ephrata Police Department, firefighters arrived at the scene and hosed the horse in order to help cool it down, but ultimately the horse did not recover and was euthanized.
Witness Tawn Crowther posted photos of the incident on Facebook along with a description of what she says happened.
"The horse was unable to pull a wagon full of watermelon and 2 grown men," Crowther wrote. "So the Amish man walked beside the horse and beat it until it fell to the [ground]. At that point he continued to kick, hit, and pull on the poor seemingly dying animal."
Crowther went on to say that she called the police who she says initially were unable to help because the Amish are goverened under different laws. She later updated her post to say that a police officer reached out to her and was trying to help.
Meanwhile, Crowther's post was shared extensively on Facebook and in the local media, with many expressing outrage not just at the driver of the horse, but at the police for not taking immediate action.
The police did investigate, however, and as a result of that investigation, 20-year-old Marvin Sensenig was charged with two counts of cruelty to animals. The investigation ultimately corroborated Crowther's account, finding that Sensenig "unreasonably struck a horse that was overburdened with a heavy load."

The maximum penalty is a $750 fine and 90 days in jail per charge.