Tap the arrows on the side of the image above to scroll through the slideshow.

Show Jumping at the Rio 2016 Olympics continued today with the second individual/first team round. Today's round determines which eight teams will compete for team medals tomorrow, and narrows down the field of individual competitors again to approximately 45 riders to continue on to the next round.
In the first individual round on Sunday, Kent Farrington and Voyeur were the only U.S. pair to go double clear. They were the first to go for the Americans today, and they trailblazed beautifully again with a rare clear round. The 81-second time allowed had been causing a lot of trouble, either because of time faults or jumping faults incurred while trying to avoid time faults. But a potentially risky shortcut turned out to be a good gamble for Farrington, whose fiery Dutch Warmblood gelding was able to pull it off. Farrington is one of just 11 riders who maintained a faultless score over the first two days of show jumping competition.
Lucy Davis and Barron turned in a careful but deceptively fast round, coming in well under the time and with zero faults to maintain the perfect team score for the U.S. Davis carries four faults over from the first round, but the team scores all start with a clean slate today.
Farrington and Davis are both seasoned competitors, but first-time Olympians. By contrast, Rio is McLain Ward's fourth Olympic outing. His horse, Azur, is making her Olympic debut, and after today's round, she made it clear that she's going to be a tough one to beat. Ward skillfully guided her around the tough course, and she cleared every jump with room to spare to maintain the perfect score for the U.S.
Like Ward, Beezie Madden is now a four-time Olympian. Her horse, Cortes 'C', is a big, long horse with a quirky jumping style. He almost always crosses his front legs over the fences. The unorthodox style doesn't typically prevent him from getting the job done—in fact, it's an odd quirk shared by eventer Michael Jung's incomparable top horse, La Biotheque Sam. Today, however, he caught an early rail with a hind leg, adding four faults to the four Madden had carried over from the first individual round. Despite an aggressive ride to the water jump, Cortes just landed on the tape that marks the boundary of the jump, adding another four faults for a total of 12 for Madden individually.
In the individual competition, riders with eight faults or fewer from the first two rounds will continue on. Farrington, Davis and Ward all fall into that category, but Madden missed the cutoff. However, she'll continue as part of the team in their bid for a team medal. Each team has their worst score dropped, and since the first three Americans racked up zero faults today, the U.S. team continues on with a faultless score. Nothing is guaranteed, however, as the teams from the Netherlands, Brazil and Germany also move on with zero faults.
The Dutch and Brazilian teams maintained their perfect team scores despite losing a team member each. Stephan de Freitas Bacha of Brazil was disqualified today for a rule intended to prevent overuse of spurs; his horse, Landpeter do Feroleto, was found to have blood on his flanks. Dutch rider Jur Vrieling was disqualified from individual competition for the same reason on Sunday, though he was allowed to continue as part of the team today since they're considered separate events. However, he and his horse Zirocco Blue were eliminated today after two refusals on course.
Nicola Philippearts of Belgium, competing as an individual, was also disqualified on Sunday for overuse of spurs.
These eight teams will continue on to the final round of Team Show Jumping tomorrow, August 17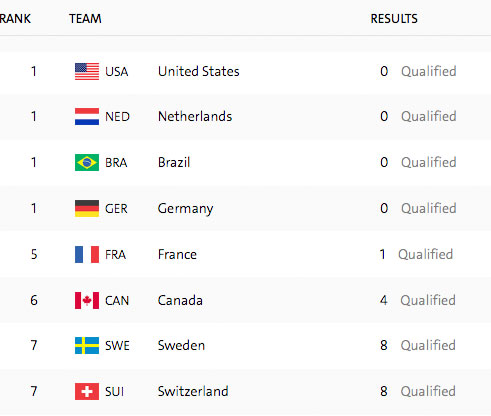 Eight teams and 45 individuals will continue on into the next round with team medals awarded at the conclusion of tomorrow's round. Individual medals will be awarded at the end of the final round of equestrian competition at these Rio Olympics on Thursday, August 19. Here's how to watch the equestrian events from the Rio Olympics.