We often say that the purchase price of a horse, no matter how big it seems, is not the biggest expense you'll incur as a horse owner. The exception is when you buy this very expensive rocking horse. You'll never have to buy hay, pay the vet, get its feet trimmed or even pay a board bill. But it's gonna cost you quite a bit just to bring it home.
The Fernandes Exquisite Creations Crystal Rocking Horse is priced at £98,400 (approximately $122,360 U.S.) If you're going to spend six figures on a horse, normally you'd expect it to be well bred and/or well trained with the talent to get you somewhere in the competitive realm of your chosen equestrian sport. This one? Kind of just stands there with its mouth gaping open. But it does sparkle enticingly thanks to the Swarovski Crystals with which its dapple gray body is encrusted.
The piece is made by Stevenson Brothers, a pair of twins who went into business restoring antique rocking horses and creating new ones, including custom, one-of-a-kind pieces. Their standard models are priced around £1,850-3,200, or $2,300-4,000, which could also get you a pretty nice actual riding horse, but you'd have to feed it.
Crystal, as the sparkling gray is called, will be the centerpiece of the Harrods Private Buyers Department in London during the Christmas season.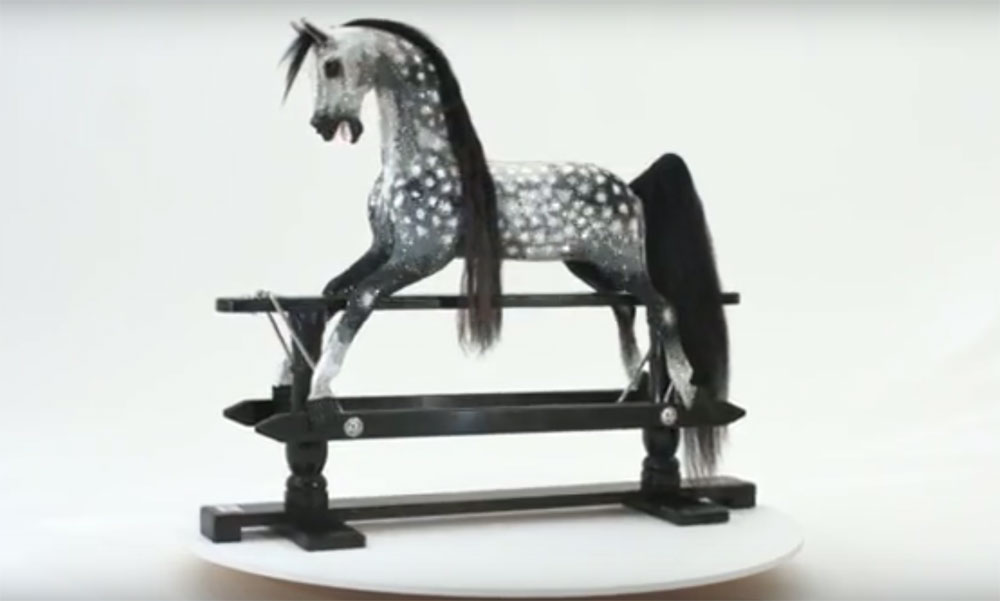 "She can be seen in Stevenson Brothers Showroom in Bethersden Kent, and will be going to Monaco for next weekend" before heading off to Harrods, creator Marc Stevenson explained. He did not elaborate on the horse's weekend plans in Monaco.
All snarking on the costs aside, Stevenson Brothers horses do appear to be impressive works of art. Take a look at the various designs (including a zebra) that they make over on their website, www.stevensonbros.com.