From an outsider's
perspective, the sport of dressage can seem exclusive and elite. If
you only ever saw it during Olympic years, you'd have little reason
to think otherwise as nearly all competitors are mounted on
meticulously bred Warmbloods of Dutch or German lines. But dressage
is more than just Olympic-level competition; the sport is for every
equine, from grade ponies to off-track Thoroughbreds. This is
evidenced by the wide variety of breeds and types that come to
compete at the U.S. Dressage Finals each November.

Heart B Dyna is not
a horse. She's a mule who made a splash at the 2014 U.S. Dressage
Finals when she became the first mule to qualify for and compete in
the event. Dyna and her owner/rider Laura Hermanson made the trip to
Kentucky from their home in California to compete in the Training
Level national championship.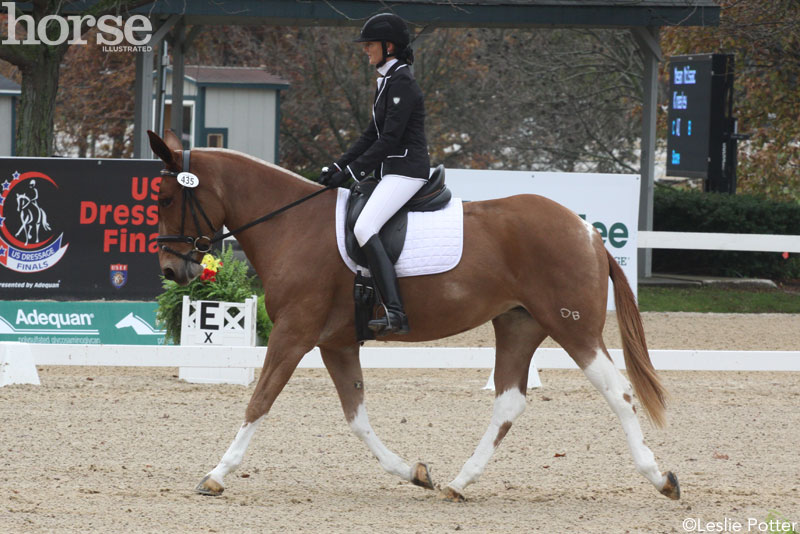 Competing in a big
show is never cheap, especially when it's thousands of miles away
from home base, so Hermanson created a GoFundMe.com campaign which
successfully helped to crowdfund the journey. Word spread about the
dressage mule, and by the time Hermanson and Dyna hit the ring for
their first ride, they already had fans eager to see them go, and the
equine media (including Horse Illustrated) couldn't get enough.
Dyna's journey was
documented by filmmaker Sarah Crowe, and scenes from the mule's
experiences in the dressage world, from the U.S. Dressage Finals and
beyond, will be part of an upcoming documentary titled Dyna Does
Dressage. According to the film's Facebook page, the documentary is
nearly finished and the release is planned for 2017.
In the meantime,
Hermanson returned to the U.S. Dressage Finals in 2016, not with
Dyna, but with another talented mule called Behold the Desert, or
Beasley, owned by Carol Ray Delfino. Beasley earned scores in the
high 60s in his Training Level tests, further proving that mules can
do anything a horse can do.
---
Leslie Potter is a writer and photographer based in Lexington, Kentucky. www.lesliepotterphoto.com