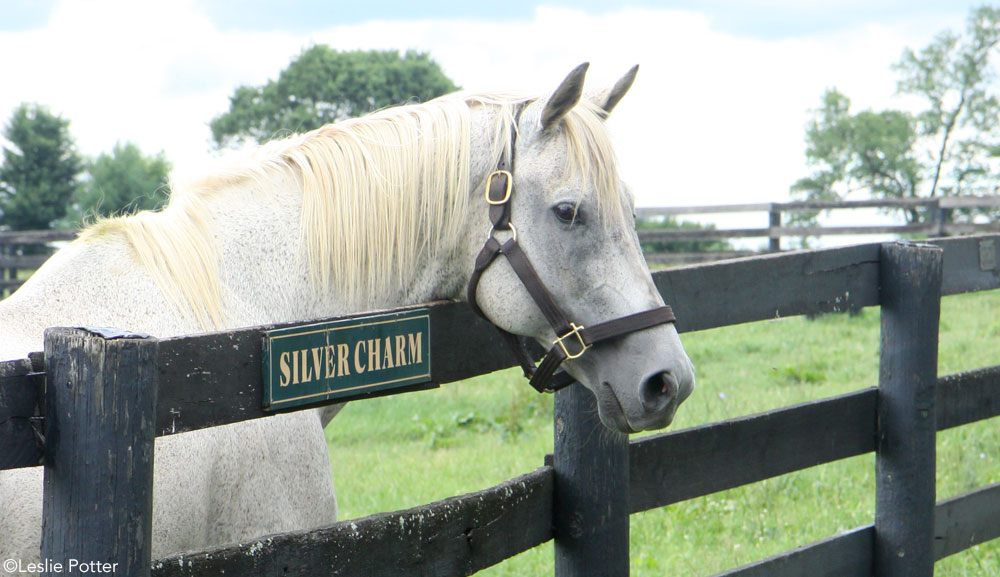 Silver Charm, winner of the 1997 Kentucky Derby and Preakness Stakes, is one of Old Friends Thoroughbred Retirement Farm's famous residents.
Like many prominent racehorses, 1986 Kentucky Derby winner Ferdinand went on to a stud career after his racing days were over. He spent several years as a breeding stallion in the
U.S. before being shipped overseas for stud duty
in other markets. In 2002, the once celebrated horse was killed in a
slaughterhouse in Japan. His breeders and former owners only found
out after the fact, when they looked into bringing him back home.
The tragic incident
shone a spotlight on a scenario that many Americans outside of the racing industry were unaware of.
Racehorses were being treated as commodities, and even notable
winners like Ferdinand were at risk of a callous end when they were
no longer earning money for their owners.
Ferdinand's story
was a catalyst for the creation of Old Friends Thoroughbred
Retirement Center in 2003. Old Friends was created by Michael Blowen,
a film critic with the Boston Globe and a fan of Thoroughbred horses.
The mission of Old Friends is to offer a safe, permanent retirement
home for the horses who had given so much to their owners through
their racing and breeding careers.
Today, Old Friends has two facilities that house notable Thoroughbreds, including many stallions that might not be accepted at other retirement facilities. The organization raises awareness of Thoroughbred aftercare through its visitor-friendly farms, which serve as a living history museum of the Thoroughbred racing industry.
On Tuesday, Dec. 6,
Blowen was recognized by the American Association of Equine
Practitioners (AAEP) for his work in Thoroughbred aftercare. He
received the association's Lavin Cup, an award given to a
non-veterinary organization or individual who has worked to improve
the welfare of horses.
Past Lavin Cup
winners include: Robbie Timmons of CANTER USA, a Thoroughbred
adoption group; the Society for Protection of Animals Abroad, a
charity that helps working animals in poor communities around the
world; and Allan and Kaathleen Schwartz of Days End Farm Horse
Rescue.
The headquarters of
Old Friends is its main farm in Georgetown, Kentucky. A second
facility, Old Friends at Cabin Creek, is located near the Saratoga
Race Course in New York. Both facilities are staffed by volunteers
and are financed by donations. They are also open to the public with
tours available.
Learn more at
oldfriendsequine.org.
---
Leslie Potter is a writer and photographer based in Lexington, Kentucky. www.lesliepotterphoto.com