Knowing exactly how much your horse should weigh and how much you'll need to budget for hay can be challenging. But it's worth finding out, as a horse that's significantly underweight or overweight can lead to extensive and expensive health problems. Faculty at the University of Minnesota Equine Center have developed two practical, user-friendly apps designed to help estimate a horse's ideal body weight and to help owners find affordable ways to feed their horses.
The care and handling of unwanted and neglected horses is a huge problem in the horse industry. Between the years of 2008 and 2010, the number of unwanted horses in Minnesota alone went up 400%. These apps can serve as a preventative tool to help horse owners budget and prepare for feed costs.
The University of Minnesota Extension Horse program provides unbiased, research-based education for horse owners. Krishona Martinson, an Equine Extension Specialist at the University, helped develop the two horse-care apps.
"Feeding is among the most common and complicated issues horse owners face," says Martinson. "We've seen a roller-coaster in hay prices in the last several years, at a time when many horse owners have felt the pinch of the economy."
According to Martinson's findings, when horses are not well cared for, their circumstances are most often linked to the cost of horse ownership, followed by the owner's lack of knowledge, or declining physical and mental health.
The Healthy Horse App
Determining a horse's body weight is important for health and feeding management, as well as administration of medication. Most horse owners do not have access to a horse scale, however. The Healthy Horse App, available for $1.99, enables horse owners and equine professionals to quickly estimate the body weight of a wide variety of horse breeds using equations developed through University research.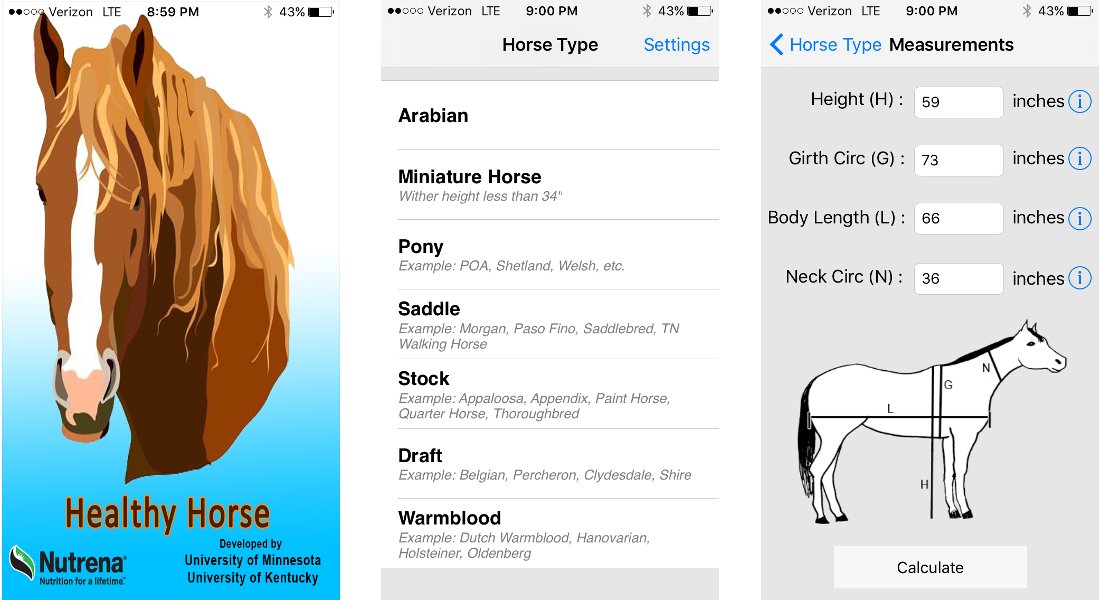 In order to use the app, the horse owner enters the animal's height, body length, neck, and girth circumference into the app, and it then provides an estimate of an equine's body weight. In case the owner is unsure where to measure, the app provides a diagram and instructions for measuring horses.
Martinson and her team are continually adding new breeds and calculations to the app in order to reach as many horse owners as possible. So far, they have personally measured over 600 horses for data collection, from Miniature Horses to Clydesdales.
Get the Healthy Horse App from the iTunes store or Google Play.
Hay Price Calculator
The Hay Price Calculator is the second app researchers have developed at the University, and it's available for 99 cents. Its purpose is to help horse owners estimate the cost of feeding their equines. Researchers found the more economical way to purchase and compare different hay types is to calculate the price per ton. The aim of the Hay Price Calculator app is to assist hay buyers in calculating price per ton and to provide cost comparisons of small square, large round, and large square bales.
Hay buyers simply select the bale type, enter in the bale weight and price per bale, and the Hay Price app calculates price per ton. This enables buyers to compare and choose the most economical hay for their horses.
Over 2,000 people have downloaded the apps since they launched in 2013. Large corporations are also showing interest in the apps and have partnered with the University to use and promote them.
Get the Hay Price Calculator app from the iTunes store or Google Play.
Julia Arnold is a writer living in Minnesota with her husband and two young children. She has always loved horses and is thrilled to have officially rejoined the horse world as an adult. She rides whenever she can at Hardwood Creek Farm in Hugo, Minnesota. You can follow her adventures in riding and parenting on Facebook, Twitter, Instagram, and Pinterest.