Horses are a
highlight of the annual Pasadena Tournament of Roses Parade on New
Year's Day in California, and the horses are traditionally
highlighted in the days ahead of the parade during a show called
EquiFest. But an unfortunate oubreak of Equine Herpes Virus (EHV-1)
at the host venue has caused a cancellation for this year's
EquiFest.
EquiFest is
traditionally held at the Los Angeles Equestrian Center (LAEC) in
Burbank. The LAEC is currently under quarantine due to 13 cases of
EHV-1 beginning last month. According to Pasadena Star News, only one
of the afflicted horses remains under quarantine, but that case does
prevent any horses from coming or going from the center.
EHV-1 is highly
contagious and the most common symptoms are respiratory, including
nasal discharge and coughing. Affected horses will often spike a
fever. The virus is spread via nasal secretions and can be spread
from direct horse-to-horse contact. However, it can also spread on
shared equipment or even on human skin or clothing. That's why,
during an outbreak, anyone who visits multiple equine facilities
throughout the day should change their clothes and footwear and
thoroughly wash their hands in between visits.
Outbreaks can
sometimes lead to the more severe, neurological strain of the virus
called equine herpes myeloencephalopathy (EHM) which may cause
symptoms such as incoordination, weakness, extreme lethargy and an
inability to get up after lying down. The current outbreak at the
LAEC has not included any cases of EHM.
Read more about
EHV-1 and EHM here.
There is a chance
that the quarantine could be lifted before EquiFest's scheduled
date of Dec. 30, but at this time the Tournament of Roses has already
announced that they will not be running the event this year.
Anyone who purchased
tickets for EquiFest through the official ticketing agency, Sharp
Seating, will be refunded automatically; purchasers will not need to
take any action to get a refund.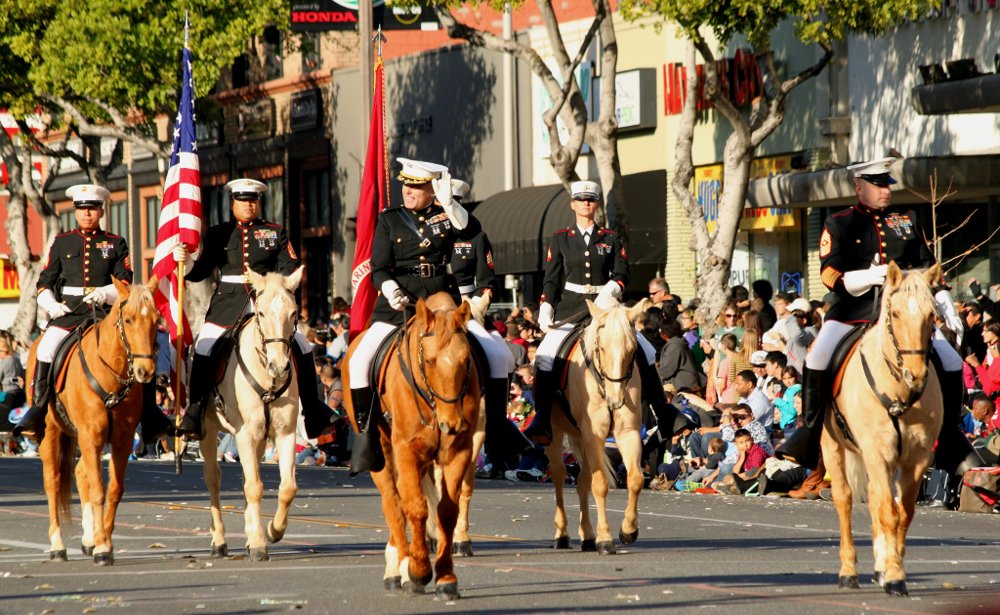 US Marine Corps Mounted Color Guard by Prayitino on flickr.com/CC BY 2.0
The equestrian
entries in the Tournament of Roses Parade will go on as scheduled.
Organizers are currently working to secure alternate boarding
arrangements for participants who may have been planning to stable
their horses at the LAEC before the parade. Participants will be
asked to follow precautions to reduce the risk of infection, namely
by limiting the contact between horses of different groups and using
separate water sources and equipment.
The Rose Parade is
traditionally held on New Year's Day, but will be held on Monday,
January 2 this year due to another longstanding tradition. According
to tournamentofroses.com, the parade has had a "Never on Sunday"
policy dating back to 1893. The policy exists because parade
organizers didn't want to frighten horses hitched outside of
churches during Sunday services. While this particular concern is no
longer relevant, the policy stands.
The Rose Parade
begins at 8:00 a.m. PST on January 2 and will be broadcast on U.S.
television stations including RFD-TV, HGTV, The Hallmark Channel and
various network stations. Check your local listings to find out how
you can watch the parade.
---
Leslie Potter is a writer and photographer based in Lexington, Kentucky. www.lesliepotterphoto.com