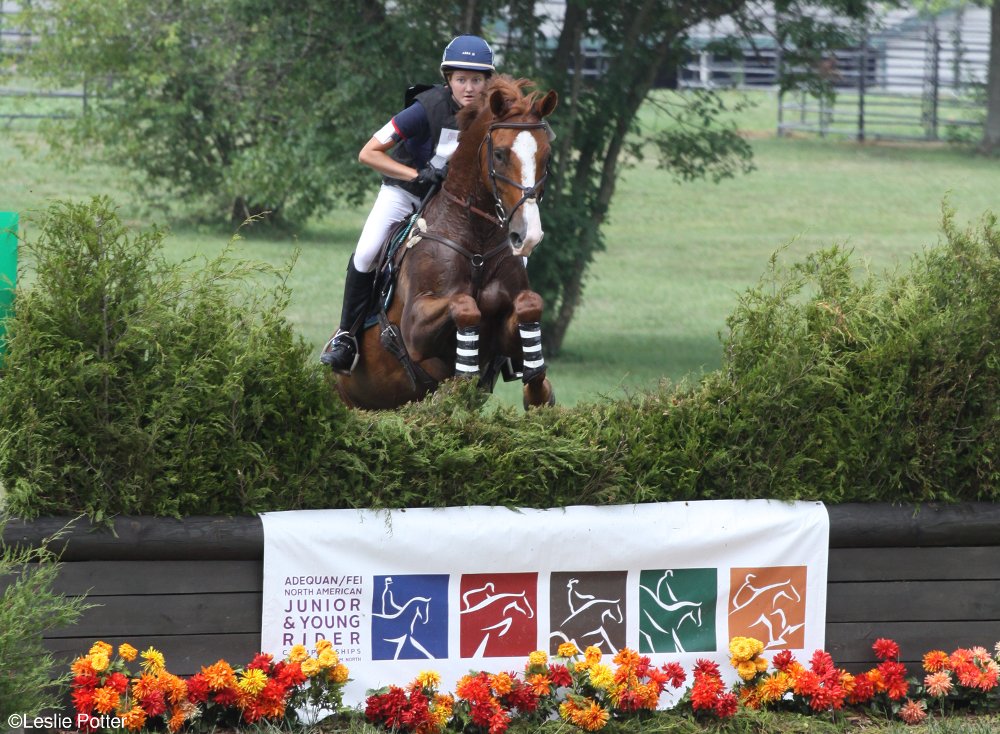 A competitor on the cross-country course at the 2012 North American Junior/Young Rider Championships in Lexington, Kentucky. The NAJYRC for eventing will be held in Montana for the first time in 2017.
In past years, the
North American Junior/Young Rider Championships (NAJYRC) have brought
together multiple equestrian disciplines in a single location. But
with the announcement this week that the three-day eventing venue was
confirmed for Rebecca Farm in Montana, 2017 will break that
single-location tradition.
Last month, the
United States Equestrian Federation announced that Saugerties, New
York, was the proposed location for show jumping, dressage, and
para-dressage. The NAJYRC is an international-level competition, and
so the venues for the event must be approved by the FEI, and the
Saugerties bid is currently awaiting approval.
In 2016, the NAJYRC
was held at the Colorado Horse Park in Parker, Colorado, and included
dressage, jumping, eventing, and para-dressage. It had previously
been held at the Kentucky Horse Park in Lexington from 2009 through
2015 where it also included endurance; reining was also part of the
event until 2013.
There will be no
2017 NAJYRC for endurance; the USEF reported that they did not submit
a proposal to the FEI for endurance because "there was not a
feasible option" for a venue for the event. At the NAJYRC level,
the endurance race is 75 miles and does require a significant amount
of usable land, although endurance rides are often done in shorter
loops, so a full 75 miles of trail isn't necessary.
While in past years
the NAJYRC was a stand alone event, the 2017 competitions will be
held in conjunction with existing competitions. Eventing will
coincide with The Event at Rebecca Farm from July 20 through 23.
Rebecca Farm hosts a CIC3*, which is one of the most prominent
three-day events in the western United States.
If the Saugerties
bid is approved, show jumping, dressage and para-dressage will be
held at HITS-on-the-Hudson, from July 18 through 23.
HITS-on-the-Hudson is a show series that runs from late may through
mid-September.
Since its inception
in 1974 as an eventing competition between the U.S. and Canada, the
NAJYRC has a history of introducing young competitors, age 14-21, to
international and team competition. Prominent Olympians who are
NAJYRC alumni include Karen O'Connor, Lauren Kieffer and Clark
Montgomery in eventing, McLain Ward, Greg Best, Lucy Davis and Reed
Kessler in Show Jumping, Adrienne Lyle and Megan Lane in
dressage, and Sydney Collier
in para-dressage.
Find out more about the NAJYRC at youngriders.org.
---
Leslie Potter is a writer and photographer based in Lexington, Kentucky. www.lesliepotterphoto.com