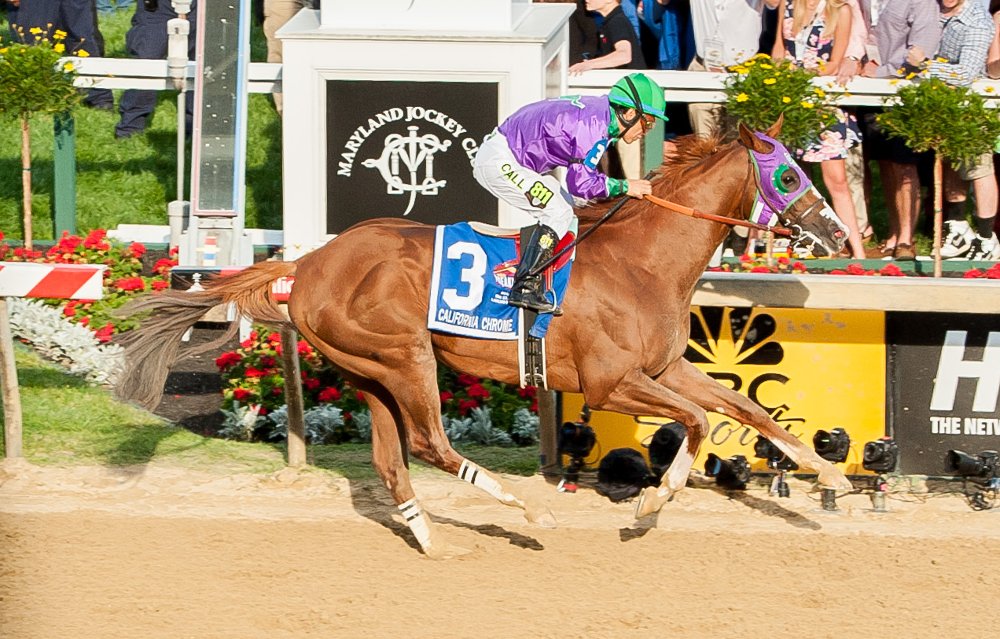 139th Preakness Stakes

by Maryland GovPics on flickr/CC BY 2.0
Until last weekend, only John Henry and Native Dancer had won two nonconsecutive Horse of the Year titles at the Eclipse Awards, the American Thoroughbred racing industry's most prestigious awards gala. Now, California Chrome joins them with that unusual distinction in a sport where careers are short and dominance doesn't usually last long.
Chrome rose to prominence in 2014 when he won the Kentucky Derby and Preakness Stakes. He didn't achieve Triple Crown glory—he was nicked in the heel by another horse at the start of the Belmont and finished in fourth place—but the racing industry recognized him with his first Horse of the Year title at that year's Eclipse Awards.

2015 was a rough season for Chrome, and many owners would have opted to retire a stallion of his caliber to stud duties. Instead, California Chrome got some down time to rest and recover, and in 2016, his five-year-old year, he made an incredible comeback.
Also Read: Sutter the Mustang Named ASPCA Horse of the Year
Under trainer Art Sherman and jockey Victor Espinoza, Chrome won the 2016 Dubai World Cup, and with that win became the top earner in North American Thoroughbred racing history. While the Breeder's Cup Classic remained an elusive prize for Chrome and his people in 2016, he still won the support of the Eclipse Awards voters, a group composed of representatives from the National Turf Writers and Broadcasters and the national Thoroughbred Racing Association. Chrome earned 202 Horse of the Year votes to 2016 Breeder's Cup winner Arrogate's 40.
California Chrome isn't done racing yet. He and Arrogate will have a rematch at the brand new Pegasus World Cup Invitational this Saturday. The race is being held at Florida's Gulfstream Park and has the distinction of being the richest race in the world with a $12 million purse. This is said to be California Chrome's final race before he retires to stud, although his connections have hinted that they aren't ruling out a run at the 2017 Dubai World Cup.
The Pegasus World Cup will be broadcast live on NBC on January 28 from 4:30-6:00 p.m. Eastern Time.
---
Leslie Potter is a writer and photographer based in Lexington, Kentucky. www.lesliepotterphoto.com