By now, there's a good chance you've seen this viral video of a horse playing enthusiastically with a noisy rubber chicken. The toy itself is ridiculous and the sheer joy the horse seems to be experiencing from it is contagious.
The video has been so popular on social media that it has been featured by various news outlets, and when one local news station in Houston, Texas, aired the clip on their January 11 morning broadcast, anchors Samica Knight and Jeff Ehling lost it, laughing so hard they could barely speak, which is not a great position to be in when your job is relaying information to the public on live TV, but we have to imagine the audience was sharing in the hilarity.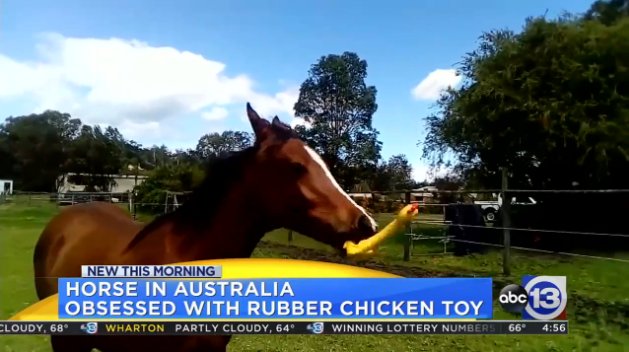 The horse starring in the video is Kruzah, a yearling in Australia who has become an internet sensation thanks to his playful antics. Based on other videos uploaded by Debbie Barber, a friend of Kruzah's owner, the youngster likes to make a game out of anything that isn't nailed to the ground. Here's Kruzah playing with his barrel and a ball and—is that a stick horse?
---
Leslie Potter is a writer and photographer based in Lexington, Kentucky. www.lesliepotterphoto.com