When Bailey loses her eyesight after a riding accident, her life changes forever. To help her adjust, Bailey's parents attempt to find her a guide dog, but she can't seem to connect with any of the canine candidates. Enter Apple, a Mini Horse.
That's the story of a new film called Apple of My Eye, scheduled to be released on Tuesday, January 10, on DVD and digital.
Burt Reynolds plays Charlie, the guide-dog trainer who comes up with a creative solution for Bailey (played by Avery Arendes) when she fails to bond with any of the available dogs, telling Charlie, "I guess I'm more of a horse girl."
Bailey's parents, played by Liam McIntyre and Amy Smart, are skeptical at first, but Apple, no doubt, will win them over by the end.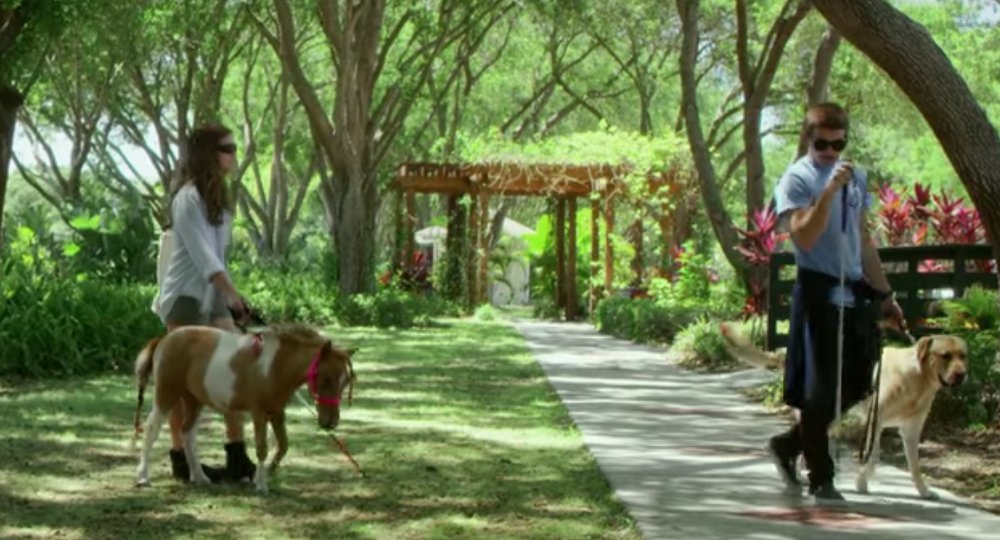 The film is fiction, but guide minis are real. Some people who could benefit from a guide animal can't have a guide dog, due to fear, allergies, religious restrictions, or other reasons. Additionally, horses have a much longer lifespan than dogs, which can be a comfort to people who don't want to go through the emotional pain of losing a companion every 10 or 15 years. Mini horses can be housetrained and can wear special shoes to give them traction and prevent damage to indoor flooring.
There are some downsides. While Mini Horses can be trained to spend time indoors, they are still horses and need outdoor space, which means they aren't suited to living in cities or crowded suburbs. And, like dogs, not every Mini is suited to guide work. They must be steady and focused even in extremely distracting situations.
If the story of a horse-loving girl and the guide Mini who helps her adapt sounds intriguing to you, you can purchase Apple of My Eye on DVD or digital at Amazon.com starting on January 10.
---
Leslie Potter is a writer and photographer based in Lexington, Kentucky. www.lesliepotterphoto.com