If you could have lunch with any celebrity, who would you choose? If California Chrome is on your short list, your opportunity is just a click (and a few thousand dollars) away.
Lexington Catholic High School in Kentucky is currently running an eBay auction for "
Lunch with California Chrome
" as a fund raiser for the school. The winner of the auction will enjoy a catered lunch and cocktails at Taylor Made Farm located in Nicholasville, Kentucky, just south of Lexington. The winner and guests will get a farm tour and have the opportunity to meet California Chrome up close and get photos.
California Chrome is best known for his 2014 wins at the Kentucky Derby and Preakness Stakes, as well as his Horse of the Year honors earned in 2014 and 2016. The striking chestnut stallion also has the distinction of being North American racing's all-time leading money earner. Chrome had a fairly long racing career by modern standards, finding success as a five-year-old with a big win at the Dubai World Cup, among others, in 2016.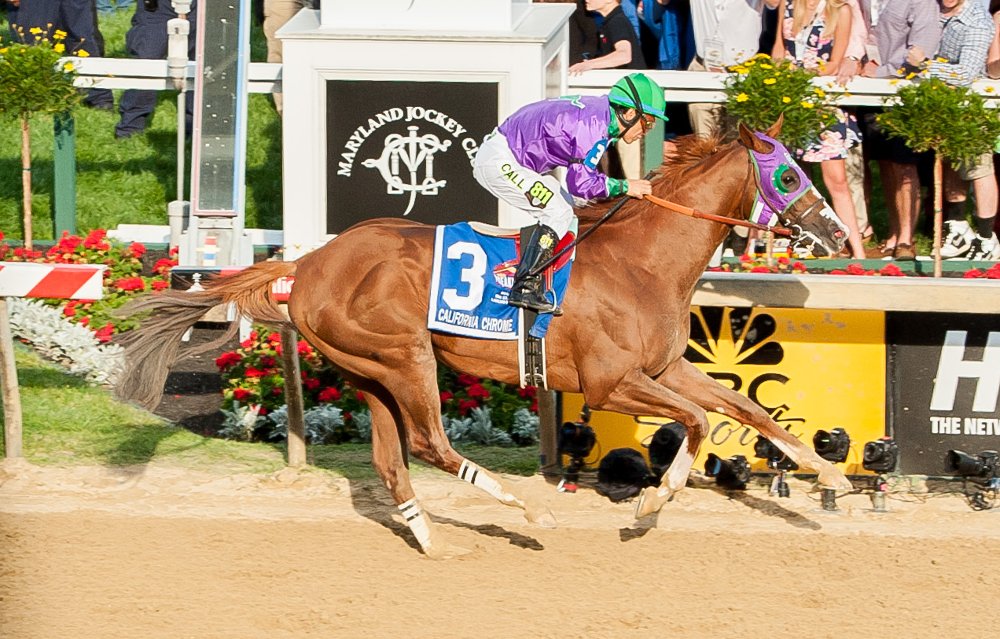 139th Preakness Stakes by Maryland GovPics on flickr/CC BY 2.0
Chrome was set to have one final chance at victory with 2017's inaugural Pegasus World Cup in January. The race had 12 starters, but was essentially seen as a match race between Chrome and the three-year-old Arrogate, who had defeated Chrome in the 2016 Breeder's Cup Classic. However, Chrome finished a disappointing ninth place. Trainer Art Sherman later reported that there was some heat and swelling in his right knee after the race, indicating that he was probably not able to run at 100 percent of his abilities. X-rays taken after he arrived at Taylor Made revealed no injury.
Chrome's well-deserved retirement was very likely after the Pegasus regardless of the outcome, and now his racing days are done and his career as a breeding stallion begins. The charismatic horse earned legions of fans during his years on the track, and he'll undoubtedly get lots of visitors when Taylor Made's schedule allows. The winners of this eBay auction will be among the first with the date of the prize lunch to be set in June or July of this year.

As of this writing, the Lunch with California Chrome auction has received 31 bids and is at just over $3,000. Lexington Catholic is also auctioning off one of California Chrome's leather halters with his nameplate. That item is currently nearing $1,600. Both auctions end next Thursday, February 23.
---
Leslie Potter is a writer and photographer based in Lexington, Kentucky. www.lesliepotterphoto.com