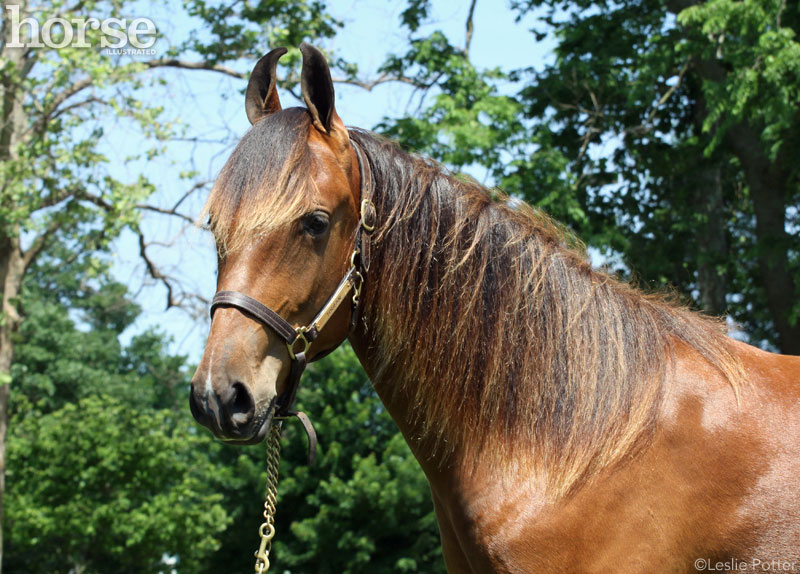 A Marwari horse at the Kentucky Horse Park
It's not too early to plan your summer vacation.
Every year, thousands of fans of real and model horses convene at the Kentucky Horse Park for BreyerFest, a celebration of Breyer's famous model horses and the real-life equines who inspire them. For 2017, the theme of the event will be "Gateway to India," with a focus on the rare
Marwari
breed.
Marwaris are best known by most horse lovers for their distinctive, shapely ears which curve inward, sometimes enough that the tips of the ears touch. Originally bred as mounts for battle, the breed's bravery and athleticism makes it a suitable riding and driving horse for many different sports.
Marwaris are quite rare; there are only a few thousand in India and just 15 in the United States. One of those American Marwaris, a sorrel stallion called Nazruddin, will be honored as this year's BreyerFest Celebration Horse. BreyerFest attendees who purchase 3-day tickets will receive a limited edition Nazruddin model.
Indian equestrian sports will also be in the spotlight at this year's BreyerFest. Expect to see demos of tent-pegging, one of the lesser-known international sports that originated in India. Polo also has its origins in India and will be included in the celebration.
As always, BreyerFest will feature clinics, demos and presentations for horse fans of all ages. This year's exhibitors will include:
Aussie trainer Guy McLean, two-time winner of Road to the Horse
Dally and Spanky, the Jack Russell Terrier and Mini Horse who have become stars on the internet and are now taking their show on the road with owner/trainer Francesca Carson.
The High-Flying Haflingers, an all-Haflinger drill team that incorporates jumping into their routines.
Early bird tickets are available now through April 15 and offer the lowest price for three-day admission to the event. Plus, early bird tickets come with an entry in a raffle to win an exclusive Sokkar Icelandic Horse model.
BreyerFest takes place July 14-16. Find out more about the event and purchase tickets at www.breyerhorses.com.
---
Leslie Potter is a writer and photographer based in Lexington, Kentucky. www.lesliepotterphoto.com