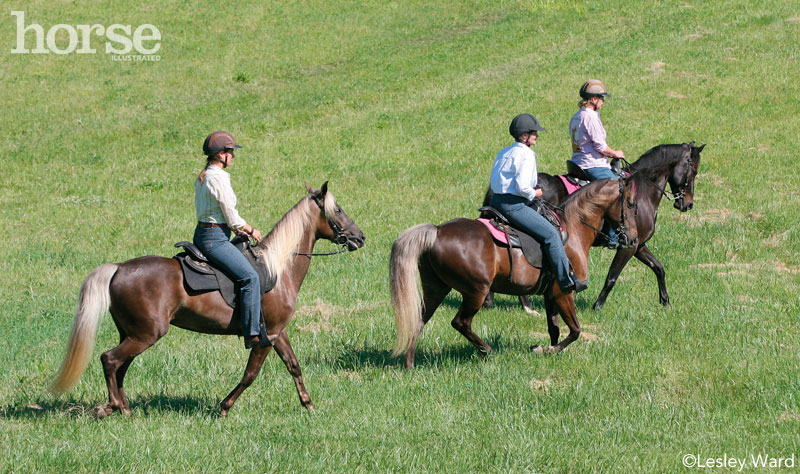 Gaited horses often have the endurance, sure-footedness, and yes, the smooth gaits required to be excel as trail horses. If you've got a gaited horse in your barn, there's a new incentive to get out and try one of the competitive trail sports.
Friends of Sound Horses (FOSH) is an organization devoted to promoting sound gaited horses in a variety of venues. This year, FOSH has introduced an Instagram-based contest to get more riders competing in trail events and sharing their enjoyment and success with the world on social media.
The contest is simple. Take a photo of you and your horse at a qualified competitive trail ride or endurance event (more on that below.) Share the photo on Instagram using the hashtag #FOSHDistanceContest as well as a hashtag with the name of the ride where the photo was taken. You can also hashtag your horse's breed. One entry from each ride will be counted.
All photos must be posted by the end of the day on December 31, 2017. The rider with the most photo submissions will win a cash prize of $100. Second and third place will win $75 and $50, respectively. All winners will receive a free membership to FOSH and its Gaited Distance Recognition Program in 2018. Post three or more photos (from three different rides) and you'll receive a FOSH logo hat.
Which Rides Count?
For this contest, endurance rides sanctioned through the American Endurance Ride Conference and North American Trail Ride Conference or any competitive trail ride with a veterinarian in attendance will count.
Endurance rides are typically 25 to 100 miles. Mandatory vet checks throughout the course ensure that horses are fit to continue. In endurance riding, "to finish is to win," although awards are typically given to the first horse-and-rider pair to complete the ride and pass the final vet check, and to the horse judged to be the best conditioned horse to complete the ride.

Competitive Trail Riding is not a race, but a judged event. Horses are judged on their condition, soundness, manners and way of going on the trail. Riders are judged on their horsemanship while handling their horse and preparing to ride and on the trail and through certain trail-related obstacles.
Find out more about the contest and FOSH's sport and trail horse programs at www.foshgaitedsporthorse.com.
---
Leslie Potter is a writer and photographer based in Lexington, Kentucky. www.lesliepotterphoto.com