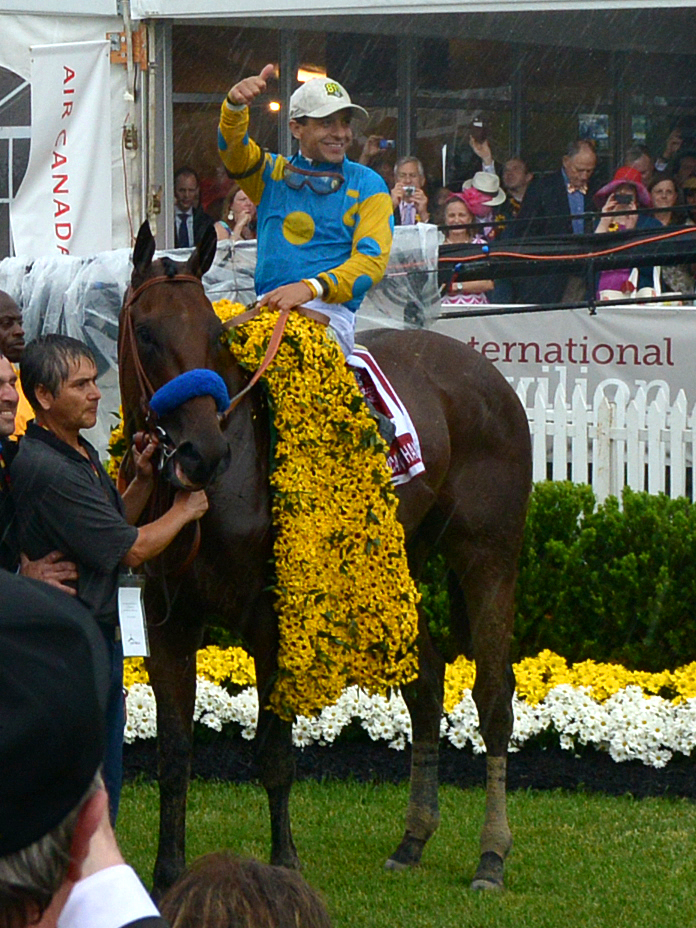 By Maryland GovPics (2015 Preakness Stakes) [CC BY 2.0], via Wikimedia Commons
It's been a little over a year since 2015 Triple Crown winner American Pharoah ran his final race. After winning the Breeder's Cup Classic that same year, Pharoah was retired to a very lucrative career as a stud, siring what many well-heeled mare owners hope will be a new generation of superstars in his own image.
Now in his second year at stud, Pharoah will be taking a business trip to the other side of the globe. He'll be spending the latter part of 2017 in Australia, taking advantage of the Southern Hemisphere's opposite breeding season.
American Pharoah currently lives and stands at Coolmore's Ashford Stud in Versailles, Kentucky. Coolmore is headquartered in Ireland and also has a breeding farm in Australia, and that downunder location will be the stallion's destination.
"We have been overwhelmed by interest from Australasian breeders in American Pharoah ever since he retired to stud in Kentucky" said Coolmore Australia's Tom Magnier. "It's well recognized that he is a once-in-a-lifetime horse and the opportunity to bring him to Australia is an irresistible one."
Top international racehorses and show horses travel overseas for major competitions somewhat routinely, but in other horse breeds, traveling for stud duty is unnecessary since shipping semen is cheaper and safer. However, The Jockey Club and other Thoroughbred registries prohibit artificial insemination; all registered Thoroughbreds are produced by live cover. There are a variety of stated reasons for this. One is to preserve genetic diversity in the breed where allowing AI could lead to just a few popular stallions becoming overly dominant. Another is to preserve the financial value of breedings and of Thoroughbred foals.
Pharoah's stud fee in the U.S. is listed at "private," but several sources have reported it as $200,000. His Australian stud fee for 2017 will be $66,000 (approximately $50,500 US).
According to Coolmore's website, Pharoah will return home to Kentucky in time for the northern hemisphere's 2018 breeding season.
Visitors are currently able to see American Pharoah at his Ashford Stud home in Kentucky through Horse Country Tours. Find out more at www.visithorsecountry.com.
---
Leslie Potter is a writer and photographer based in Lexington, Kentucky. www.lesliepotterphoto.com