Even in years with no Summer Olympics or World Equestrian Games, the top international riders and horses have a highly prestigious goal to work toward. The FEI World Cup Finals bring together the best equestrians from around the globe every year, and in 2017, the finals for dressage and jumping are being held in America's heartland.
Omaha, Nebraska, is hosting its first-ever World Cup Finals this week. Competition starts today, March 30 with the first Dressage Grand Prix at 2 p.m. CDT and the showjumping speed class at 7 p.m. Dressage runs through Saturday, April 1, and jumping concludes on April 2.
If you're local to Omaha, tickets for most sessions are still available. Walk-up tickets are available at the CenturyLink box office throughout the duration of the show. Find out more at www.omahaworldcup2017.com/tickets.
For equestrian fans in the rest of the world, the competition will be livestreamed online at www.feitv.org. A paid FEI TV subscription is required.
Dressage
Three members of the 2016 U.S. Olympic dressage team will be representing their country again at this World Cup Final.
Laura Graves and Verdades, who finished fourth individually and won team bronze at the Olympics, are a top contender this year. The pair competed at the 2015 FEI World Cup Final in Las Vegas. This will be their second Finals appearance.
Laura Graves and Verdades. Photo: Arnd Bronkhorst/FEI
Kasey Perry-Glass and the Danish Warmblood gelding Goerklintgaards Dublet were also a part of the bronze-medal team at Rio last summer. This will be their first time at a World Cup Final.
Steffen Peters was on the Olympic team with Legolas, but he'll be competing for this year's World Cup with Rosamunde, a 10-year-old Rheinlander mare. Peters is one of only two Americans to have won a Dressage World Cup Final which he did in 2009 with Ravel. (Debbie McDonald and Brentina are the other members of this small club, having won the title in 2003.)
Other top contenders for this year's final include: Great Britain's Carl Hester with his most recent Olympic mount, Nip Tuck; Germany's Isabell Werth, arguably the most successful dressage rider currently competing, with Weihegold OLD; and Edward Gal of the Netherlands, best known for his record-breaking time with Moorland's Totilas, riding Glock's Voice this week in Omaha.
Show Jumping
The U.S. has eight riders competing in the show jumping final this week, including some pairs that will be recognizable to even casual fans of the sport.
McLain Ward and HH Azur, who wowed the crowds in Rio last summer with Azur's athletic jumping style. Ward is no stranger to the World Cup Finals, but the win has eluded him over the years. His best result to date was a second place finish with the great Sapphire in 2009.
Laura Kraut is making her seventh World Cup Final attempt, this time with the Holsteiner mare, Zeremonie. This horse-and-rider pair were alternates for the 2016 Olympic team.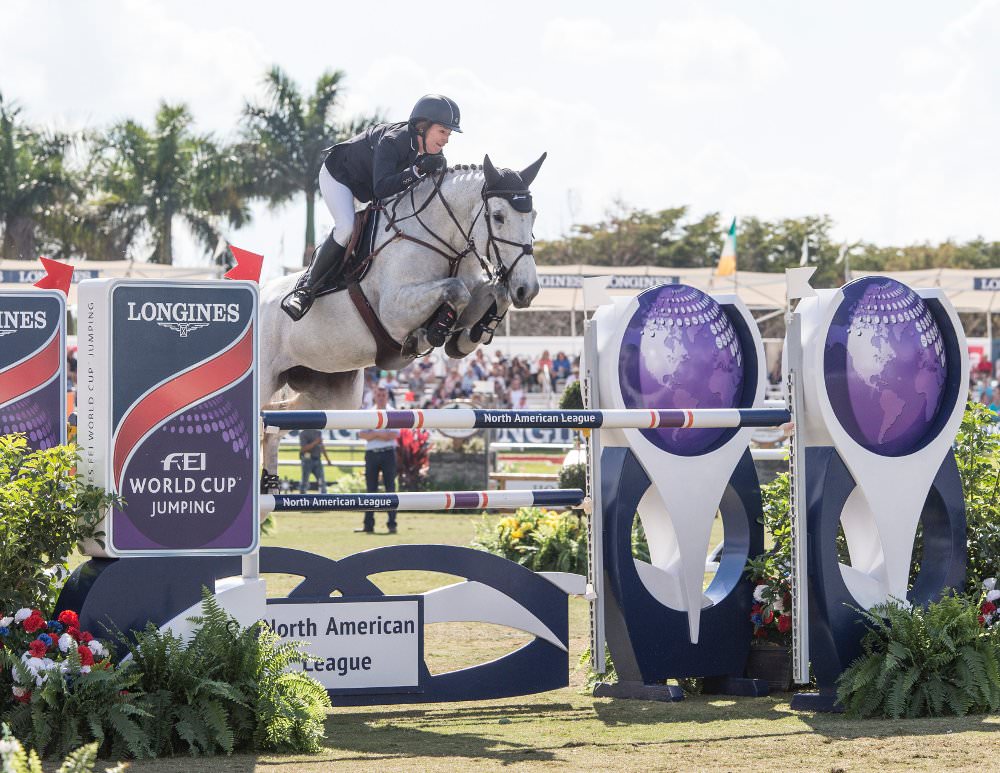 Laura Kraut and Zeremonie. Photo Debra Jamroz/FEI
Todd Minikus and Babalou 41 earned their entry into the Finals just a few weeks ago at the Live Oak International in Florida. This will be Minikus's eighth time competing at the Finals and his Oldenburg mare's second appearance there.
The rest of the U.S. contingent includes: Audrey Coulter and Capital Colnardo; Charlie Jacobs and Cassinja S.; Jamie Barge and Luebbo; Karl Cook and Tembla; and Jenni McAllister and LEGIS Touch the Sun.
Among the many tough competitors from around the globe in Omaha this week, there's one who is arguably the rider to beat. Steve Guerdat of Switzerland won the Final in 2015 and 2016 with two different horses. He's back this year with yet another horse, an 11-year-old mare named Bianca.
Follow news and results from the FEI World Cup Finals for show jumping and dressage with US Equestrian on social media: Facebook, Twitter, Instagram, and at @USequestrian on Snapchat.
---
Leslie Potter is a writer and photographer based in Lexington, Kentucky. www.lesliepotterphoto.com