Leslie Berndl and Sweetwater's Zorah Belle, shown here at the 2016 Kentucky Classic CDE, were last year's Single Pony champions at Live Oak International CDE. They're back to defend their title this year.
Snow and ice are set to take over much of the country through the weekend, from the northern plains through the Midwest and into the northeast and Mid-Atlantic. It's a good time to go to Florida.
The Live Oak International is currently taking place in sunny Ocala, Florida, where the high temperatures will be in the mid-70s and low-80s through Sunday. While much of the country will be stocking up on bread and milk and taking the heavy sweaters back out of the closet, the best horses and drivers in the carriage driving world will be tackling America's premiere combined driving event.
Combined driving is a sport modeled after three-day eventing and consists of three phases: driven dressage, marathon, and obstacle. The dressage phase kicked off today, March 9, and will continue tomorrow. On Saturday, the marathon phase takes place over a cross-country course. Drivers will navigate through hazards that require tight turns and careful route planning at high speed to be successful. The competition concludes on Sunday with the obstacles phase, where competitors drive through a course of cones in the arena.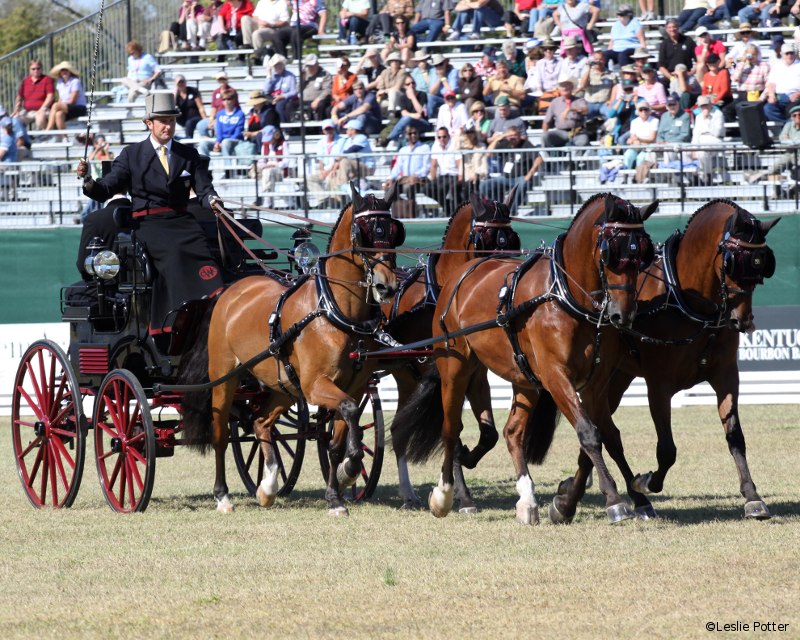 Chester Weber, whose family owns the farm that hosts Live Oak, is shown here competing in the dressage phase of combined driving at the 2010 Alltech FEI World Equestrian Games.
A wide variety of horses are represented at Live Oak, from ponies to warmbloods. Drivers will compete in divisions including single horse or pony, pairs, and four-in-hand. Live Oak is home to four US Equestrian Combined Driving National Championships: Single Pony; Pair Pony; Pair Horse; and Four-in-Hand Horse.
For the past several years, Live Oak has also hosted a show jumping competition, which includes classes on Friday and Saturday and culminates in the $100,000 Longines FEI World Cup Jumping Qualifier Grand Prix on Sunday at 1:30 p.m.
If all of this sounds enticing, but you can't get to Ocala this weekend, you can do the next best thing. Make some hot chocolate, find your warmest blanket, and watch the action live from Florida via the USEF Network. Click here to view USEF Network's Live Oak coverage. Not all of the competition will be live streamed, but currently all of the competition taking place in the Competition Arena is scheduled for broadcast. View the schedule here. Sunday's World Cup qualifier will be broadcast exclusively on FEI TV, which requires a subscription.
Find out more at liveoakinternational.com, and watch for updates from US Equestrian on their Facebook page.
---
Leslie Potter is a writer and photographer based in Lexington, Kentucky. www.lesliepotterphoto.com