It's hard to say what inspired Mildred the Shetland Pony to join in the Trafford 10k, a road race held south of Manchester, England. Maybe finishing a race was on her bucket list. Perhaps the runners looked like they were going somewhere good (or running away from something terrifying.)
Whatever her reason for joining in, she certainly made an impression.
The Manchester Evening News reports that 12-year-old Mildred had escaped from her field and galloped along with the two-legged runners for about 2 kilometers before she was caught by race officials.
Mildred's caretaker, Nikki Butterworth, explained that the clever gray pony escaped from her field as the racers ran past the farm. It's not the first time the pony has escaped from her field, although in the past she's kept her antics within the farm property, going around and stealing feed from her barnmates.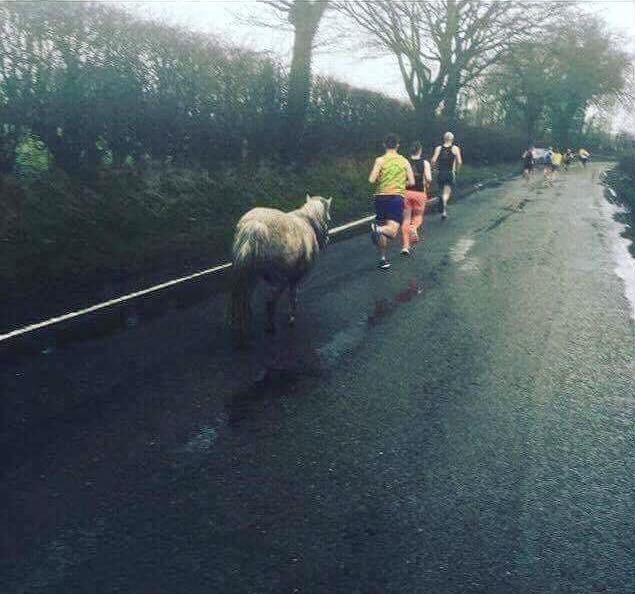 In running parlance, to "bandit" a race is to run without registering or paying for it. Not only did Mildred bandit the race, but she cheated the course a bit. The pony joined the 10-kilometer race at the 7k mark and was stopped just shy of the finish around the 9k point. For these reasons, she is unlikely to receive her finisher's medal.
Better luck next year, Mildred.
While Mildred's adventure was unconventional, she might want to set her sights on a different race where horses and humans test their racing endurance against each other. The Man vs. Horse Marathon takes place in June over a 22-mile course in the town of Llanwrtyd Wells in Wales. The terrain is challenging, but more horse-friendly than the paved course of the Trafford 10k. Horses tend to dominate the race; humans have only won twice since the event's inception in 1980.
---
Leslie Potter is a writer and photographer based in Lexington, Kentucky. www.lesliepotterphoto.com