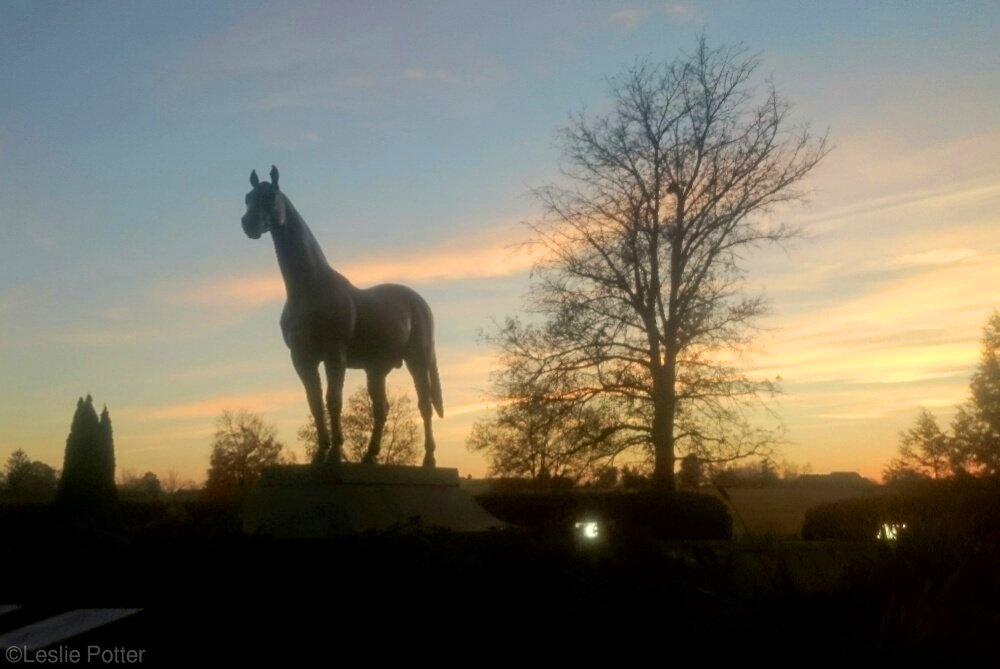 The Man o' War statue at the Kentucky Horse Park
A horse considered to be the greatest racehorse in history was foaled on March 29, 2017 at Nursery Stud near Lexington, Kentucky. Fans are celebrating the great Man o' War's 100th birthday today by looking back at the stallion's life.
The Life of Man o' War
Man o' War was a bright chestnut with a star whose color earned him the moniker "Big Red." He was bred by August Belmont II, who went overseas with the Army during World War I shortly after the colt was born. Belmont's wife, Eleanor, named the colt in honor of her husband. He was sold, along with the rest of the Belmonts' stable, when they decided to liquidate their foal crop in 1918.
Man o' War was purchased by Samuel D. Riddle of Maryland who put him in training with Louis Feustel, a former trainer for August Belmont's racing operation. The horse's racing career spanned just two years: 1919 and 1920. In that short time, he had a remarkable record of 20 wins in 21 starts.
He was a well-bred Thoroughbred sired by Fair Play out of a mare called Mahubah. He came from the farm of a respected breeder. Man o' War was no scrappy underdog. But he was tough on his trainers and exercise riders and was prone to dangerous behavior toward his human handlers. According to The National Museum of Racing, Riddle described his famous stallion's earliest training this way:
"He fought like a tiger. He screamed with rage and fought us so hard that it took several days before he could be handled with safety."

But once the colt's energy was channeled toward the track, he became an immediate sensation, winning his first race by six lengths in front of appreciative fans at Belmont Park. He went on to win his next five races, but his perfect record was infamously broken by a horse called Upset in the Sanford Memorial at Saratoga Race Course.
Upset
The only loss of Man o' War's career took place on August 13, 1919. He lost by just half a length to Upset, but the race remains controversial to this day. There were no starting gates in that era, and the horses lined up along a strip of webbing across the track called the barrier. Man o' War was antsy at the barrier and had five false starts that day, according to the National Museum of Racing. When the starter finally did spring the barrier, Man o' War was circling. Reports vary on where exactly the horse was facing—some said he was sideways and others claimed he was backwards. In any case, he started the Sanford at a disadvantage and he and jockey Johnny Loftus struggled to find a place in the pack. The fact that he finished just a half length behind Upset is considered further proof of Man o' War's superior ability.
Contrary to popular belief, this incident in the 1919 Sanford Memorial is not the source of the term "upset" to mean an unexpected loss in a sports event. The term was already in use by that time; the fact that Man o' War's only upset was to Upset is just an odd coincidence.
Sir Barton
Riddle opted to skip the Kentucky Derby, reportedly because he believed the distance to be too long for three-year-olds so early in the season. Instead, Man o' War started what would become his undefeated season at the Preakness Stakes with jockey Clarence Kummer. He later went on to win the Belmont by a staggering 20 lengths. By the end of the season, no one wanted to race their horse against the undefeatable Big Red. With one exception.
Sir Barton lives in the Thoroughbred history books as the first winner of the Triple Crown in 1919, although at that time it wasn't referred to as such. Still, it was a remarkable achievement and Sir Barton was thought to be the only horse with the ability to win against Man o' War. The two greats went head-to-head in a match race in October of 1920, but in the end it was no contest. Man o' War won handily, and that victory was the end of his career on the track.
Man o' War Off the Track
Man o' War spent nearly all of the rest of his life in Kentucky at Riddle's Faraway Farm where he was cared for by his adoring groom, Will Harbut. Visitors came from around the world to see Man o' War in the flesh and listen to Harbut tell stories about the horse's life.
During his years at stud, Man o' War sired 62 stakes winners from 381 foals. Among his notable offspring are Triple Crown winner War Admiral, 1929 Kentucky Derby winner Clyde van Dusen, 1938 Grand National steeplechase winner Battleship, and Hard Tack, sire of Seabiscuit.
Man o' War's Gravesite
Man o' War died at the age of 30 in November of 1947. His death came less than a month after that of his longtime groom, Will Harbut.
The horse was buried at Faraway Farm and his resting place was marked with a 3,000-pound bronze statue that had been created by sculptor Herbert Haseltine. In 1976 his remains were exhumed and moved—along with the larger-than-life statue—to the Kentucky Horse Park where the statue remains a prominent landmark. As part of a yearlong celebration of Man o' War's life, the park has restored the aging sculpture to a rich bronze finish befitting Big Red.
Find out more about the Kentucky Horse Park's Man o' War celebration at kyhorsepark.com.
---
Leslie Potter is a writer and photographer based in Lexington, Kentucky. www.lesliepotterphoto.com