California horse trainer Leah Feliz took a Clydesdale horse named Daniel for an evening trail ride last June. But a bad step off a narrow section of trail almost turned into a tragedy.
According to CBS San Francisco, Daniel lost his footing, and he and Feliz tumbled into a steep ravine. Feliz landed on the rocky creek bed at the bottom, fracturing her leg. Daniel got caught in some trees on the way down—a precarious position for a full-sized Clydesdale.
Feliz was rescued and taken to a hospital immediately, but getting Daniel out of his predicament was a much bigger challenge. Even for experienced large animal rescue operations, Daniel's 2,200-pound body and his location on the steep side of the ravine made for a difficult rescue.
Alameda County firefighters worked for more than five hours to free Daniel from the trees and then rescued him from the ravine. But the fight wasn't over for the big horse yet. He spent weeks recovering from his injuries at the University of California at Davis Large Animal Veterinary Hospital.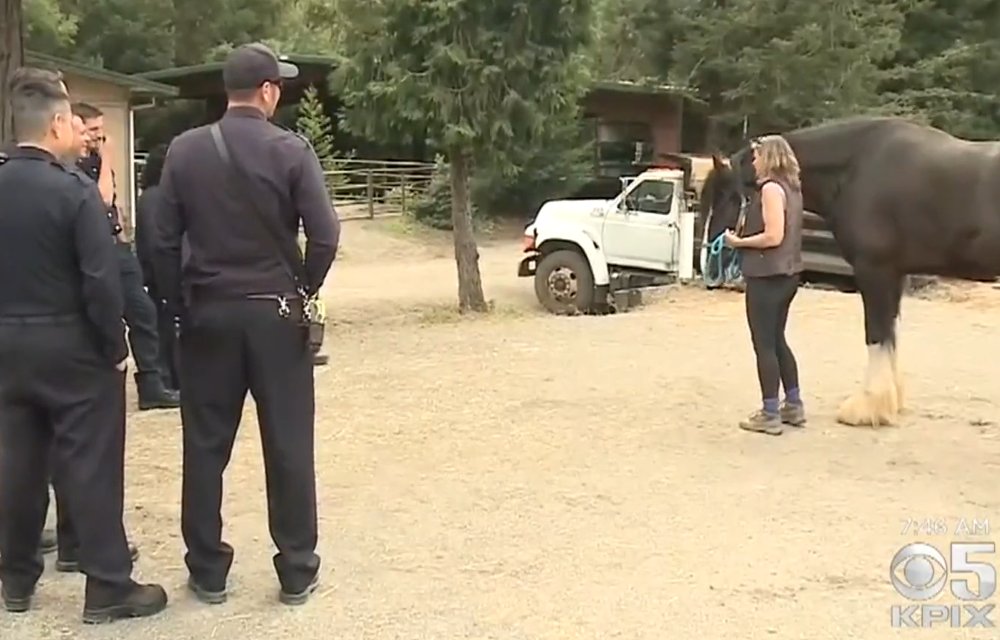 Today, Feliz and Daniel are both doing well, and Daniel is being regularly ridden again. The pair had a chance to thank the firefighters and veterinarians who made their recovery possible with a luncheon at Daniel's home, Rancho de los Amigos in Castro Valley, California, last Saturday.
"Seeing them all here is actually a little bit of an emotional thing for me," said Feliz. "It was a really frightening thing to think that this horse might not make it, [while] I was going through my own recovery."
"It was a little touch-and-go there for a while with him due to the fact that he did have an injured leg," said Ryan Davis of the Alameda County fire department. "We were just hoping for the best, and obviously today is a great day."
---
Leslie Potter is a writer and photographer based in Lexington, Kentucky. www.lesliepotterphoto.com