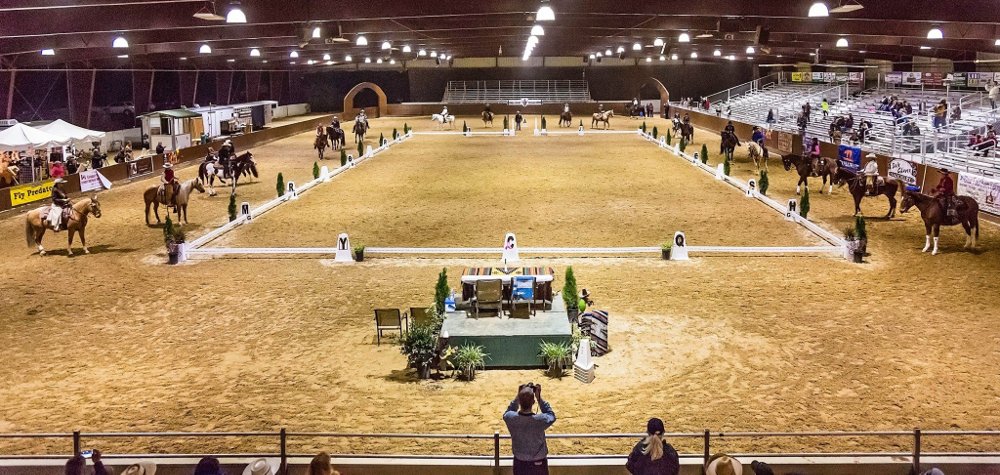 Photo courtesy Cowboy Dressage World
So you hear all these people talking about how much they like Cowboy Dressage. You see all the information is free on the website cowboydressage.com and you want to give it a try. But what about a court? No worries! You don't need a fancy schmancy dressage court, there are plenty of ways to build one at home. You need 20 markers with letters.
DIY Marker Ideas:
Cardboard boxes filled with sand
Bales of Shavings
5 Gallon Buckets
Cones
Barrels
Stumps of trees or cut wood from a fallen tree
Letter Ideas:
Use a Sharpie pen
Duct tape can make your letters
Spray paint and stencils can make great letters too
There are inexpensive vinyl letters on amazon that do the trick in a jiffy.
Photo courtesy Cowboy Dressage World
The Cowboy Dressage Challenge tests require some additional elements within the court. Tap here to view scoresheets and diagrams of the different tests.
Want to go big or go home and build your own Challenge Court? Here you go!
Use schedule 40 PVC/DWV or PVC pipe 3″ in diameter.
You'll need 112 feet with 8 – 45 degree fittings and 4 – 90 degree & 2 – tees to make the E walker poles. Add caps if you like, 18 of them total. Cut all pipe to about 5 feet in length. PVC/DWV pipe is lighter in weight and has no enlarged end (couplers) built in. Pvc pipe does, so if you PVC you'll cut your pipes about 4′ 10″ to remove the coupler. Here is how to set it up just download the PDF at cowboydressage.com
Meet Court Specialist Wyatt Paxton at the World Gathering Show, June 23-25 at the Murieta Equestrian Center to learn more on how to build or buy one from the source.