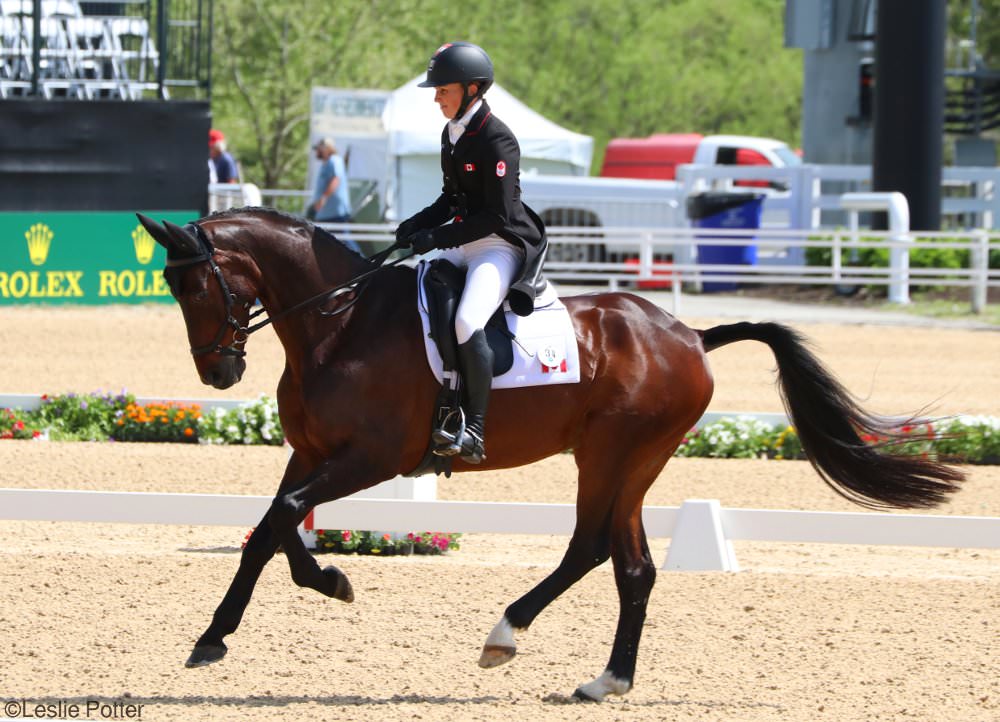 Jessica Phoenix and Pavarotti
Before today, no one had ever ridden the new FEI 4* eventing dressage test in competition. So while the field at this year's Rolex Kentucky Three-Day Event is a combination of veterans and newbies, all of the riders were trying something new today.
Jessica Phoenix of Canada is one of the veteran competitors. She's also one of the busiest at this year's Rolex with three horses in contention. Phoenix rode early in the day with her first mount, A Little Romance, but had some costly errors that kept them back in the standings. But when she returned for the final test of the day, this time with Pavarotti, it was a different story.
"He's definitely been in this ring before, and it helped," said Phoenix. "He felt so relaxed going down the runway, and he felt confident and happy in the ring. It was a pleasure to ride him."
The judges rewarded Pavarotti and Phoenix with the best score of the day, and they take just 43.1 penalties into the cross-country phase.
Lauren Kieffer and Vermiculus
Less than a point behind the leaders is Lauren Kieffer and Vermiculus. Kieffer is another Rolex veteran, but her two veteran horses are sitting this one out in favor of next week's Badminton Horse Trials in England. Instead, Kieffer is here with an equine Rolex rookie named Vermiculus. The Anglo-Arabian gelding has been in Kieffer's stable since he was an unstarted three-year-old; she's brought him up the ranks and he made his 4* debut in a big way.
"It's his first four-star, so he's greener, and he's known for being cheeky in the dressage," said Kieffer. "But he's come out and been better and more mature this year, though I didn't expect him to be that good in the ring!"
Maxime Livio and Qalao Des Mers
Maxime Livio made the journey to Kentucky from Saumur, France, for his first Rolex experience. His horse, a Selle Francais gelding named Qalao Des Mers, was a favorite to place in the top of the dressage standings. The horse's enthusiasm got the better of him, though, and he broke into the canter out of the extended trots in both directions. However, the rest of the ride was at such a high level that Livio held on to the top three scores through the end of the first day.
"He's a terrific cross-country horse: very fast and very courageous," Livio said of Qalao Des Mers. "My only problem to manage him so that he doesn't want to go too fast or jump too high. I have to ask him to stay quiet and listen to me. I'm very lucky to have such a horse."
Dressage continues tomorrow with the second half of the field, including 2015 and 2016 reigning Rolex champions, Michael Jung and fischerRocana FST.
Tap here to view all of our Rolex 2017 coverage. To watch the livestream visit usefnetwork.com.
View photos of the rest of the top ten horse-and-rider pairs from day one of dressage below.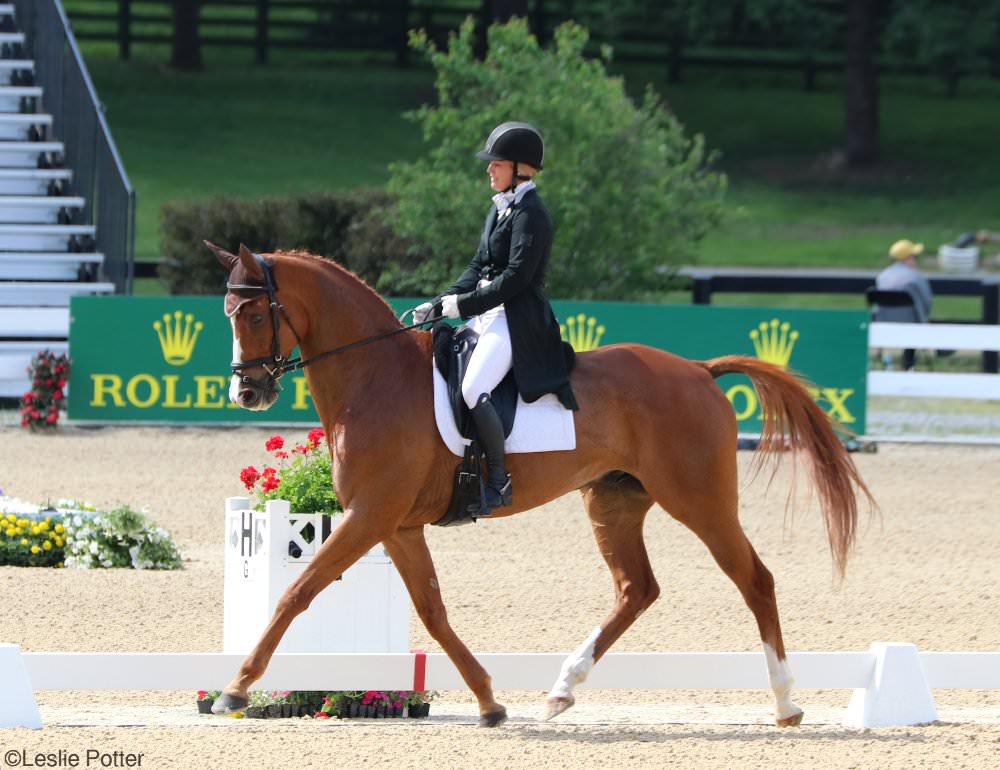 Katie Ruppel and Houdini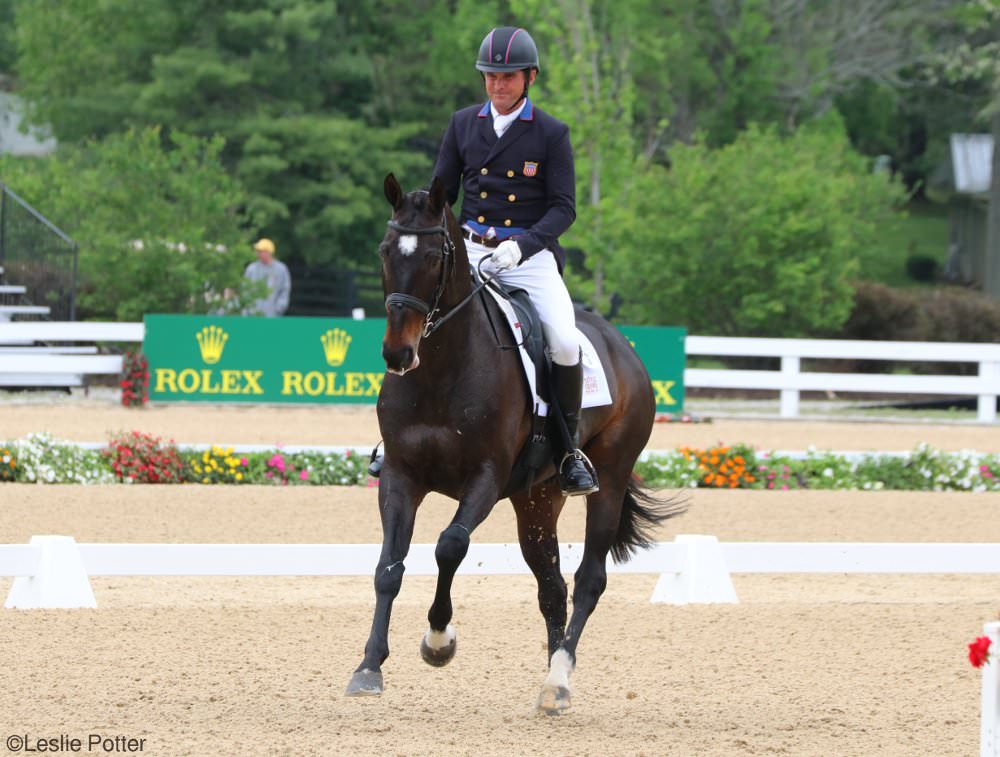 Phillip Dutton and I'm Sew Ready
Jenny Caras and Fernhill Fortitude
Boyd Martin and Cracker Jack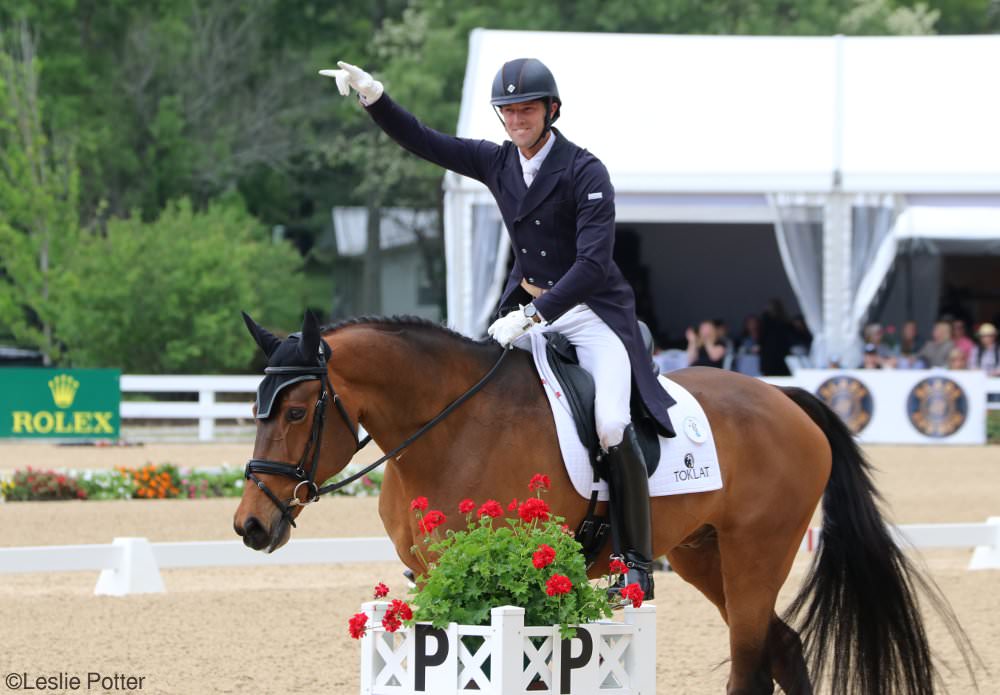 William Coleman and Obos O'Reilly
Selena O'Hanlon and Foxwood High
Courtney Cooper and Who's a Star
---
Leslie Potter is a writer and photographer based in Lexington, Kentucky. www.lesliepotterphoto.com