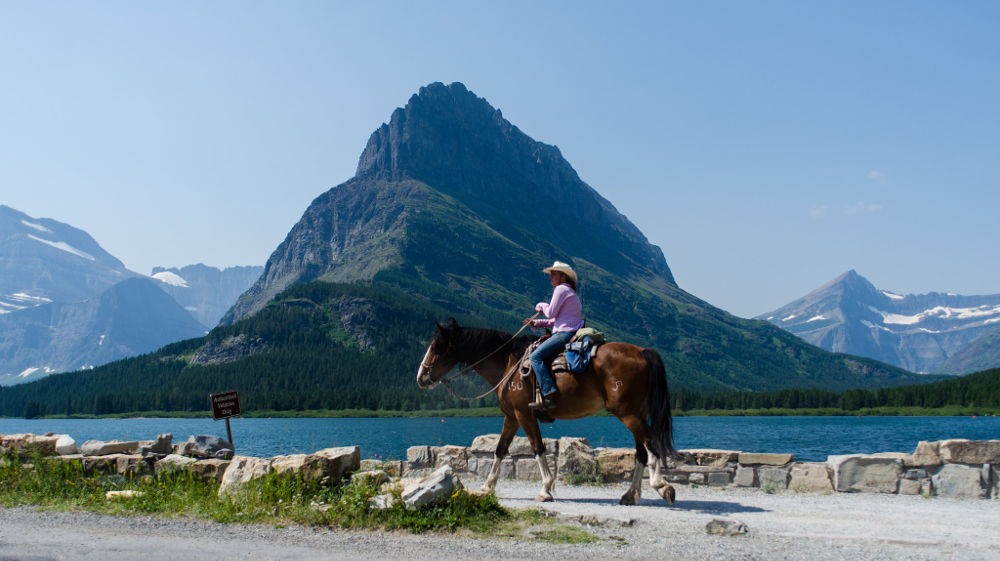 Horseback Guide
(Glacier National Park) by Jeff Hitchcock on flickr/
CC BY 2.0
National Park Week is being recognized this year from April 15 through 23, celebrating the more than 400 parks that are part of the National Park System. Some of America's National Parks allow visitors to bring their horses and ride on designated trails. We've compiled a few of them below.
This is just a partial list of horse-friendly parks, so your favorite may not be featured here. To find your closest National Parks, visit
www.nps.gov/findapark/index.htm
. Each park's individual website will provide information on whether horses are allowed and what the fees and regulations are for riders.
Always confirm that your chosen trails are available before embarking on your National Park trail riding trip. Because these parks offer a wide array of outdoor activities and because they are often protected habitats and ecosystems, trail closures do occur during certain times to preserve the land.
There are 260 miles of trails available for equestrians, and ample accommodations for horses and their people. Two stables within the park and several area stables give horses a place to stay safely overnight, and there are designated backcountry campsites for adventurers with horses and/or pack animals.
The coastal playground on Mt. Desert Island offers 45 miles of carriage roads open to horses along with several other trails and paths. Horse owners can stable at the park's Wildwood Stables. Wildwood Stables is also home to a carriage company that provides tours of the park's carriage roads so you can enjoy an equestrian outing around the park even if you don't have your own horse with you.
Horse riding in the Shenandoah National Park
by david_jones on flickr/
CC BY 2.0
Bring your own horse and explore more than 180 miles of horse-permitted trails that range from relatively easy to challenging and technical. There is also an official concessionaire that will provide horses and guides for rides that go up to two and a half hours.
The most-visited National Park in the country allows horses on approximately 550 miles of its vast network of hiking trails. There are five drive-in horse camps that offer access to backcountry horse trails. Guided rides, hayrides and carriage rides are also available through official concessioners within the park.
Horses are allowed on most of this massive park's trails, although the NPS website notes that some of the conditions in Yosemite's mountains are challenging for horses and riders unaccustomed to the elevation and sometimes tricky footing. Nevertheless, there are a lot of options for riding and for accommodation. There are stock camps available as well as overnight boarding facilities within the park.
Trail Ride
by Yellowstone National Park on flickr/Public Domain
This iconic western park allows horses on some trails and certain backcountry campsites. If you need some guidance, there are stock outfitters who can guide your group in the backcountry. Yellowstone also has a trail riding concession through Xanterra Parks & Resorts which provides one- or two-hour trail rides on their horses.
This largely unspoiled wilderness does offer trails that are open to horses and pack animals, although it may be better suited to more experienced trail riders. There are corrals and barns available for overnight use as well as stock camps and existing hitchracks and highlines.
Horses and stock animals are allowed on most of the trails and dirt roads within the park, though horseback riding may be limited during the late spring/early summer when the snow melts and the trails are wet. Corrals and camping facilities are available. Guided rides are also available through a concession service.
---
Leslie Potter is a writer and photographer based in Lexington, Kentucky. www.lesliepotterphoto.com