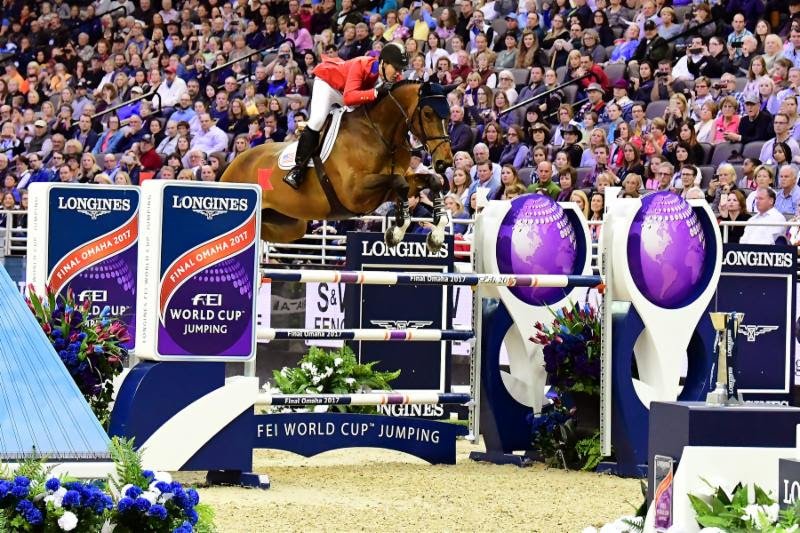 McLain Ward and HH Azur. Photo: Lili Weik
It took 17 attempts, but McLain Ward of the U.S. finally has his World Cup. The lifelong show jumper has plenty of impressive accomplishments on his resume, including two Olympic team gold medals, but the FEI World Cup had always eluded him, until this year. With show jumping's World Cup Final held in the U.S., Ward had the advantage of a home crowd cheering him on. He also has an incredible equine partner in HH Azur, known at the barn as Annie.
"It's amazing," said Ward. "To win the World Cup anywhere is a dream come true and to win here at home with this amazing crowd is something I have been dreaming about since I was a little kid….I said to Annie, 'I need a little help tonight' and she gave it to me."
Ward and Annie were flawless together, finishing the entire World Cup Finals competition on zero faults.
Isabell Werth and Weihegold OLD. Photo: Susan Stickle
On the dressage side, it was Germany's Isabell Werth taking home the FEI World Cup. Werth, who last year became the rider to win the most Olympic medals in equestrian history, adds this year's championship to her two previous World Cup Final wins.
Werth won this World Cup with her current top mount, Weihegold OLD. In their freestyle on Saturday, they cracked the 90% barrier with an incredible score of 90.704%.
"I am really proud of Weihegold; she did really great," said Werth. "She was so focused. I think she knew that it could be her day today. Laura pushed us to show our best and it worked. It was a fantastic atmosphere, a fantastic competition, and a fantastic prize giving ceremony."
The Laura that Werth referred to is American rider Laura Graves, who came in second with her longtime partner, Verdades.
"I didn't realize how badly I wanted to win…To be honest, I was a little disappointed to know that I came in second, but coming second to Isabell, who's number one in the world, still feels an awful lot like winning. It was also my first time on a podium as an individual, so that is super special."
The 2018 and 2019 FEI World Cup Finals for show jumping and dressage will take place in Paris, France, and Gothenburg, Sweden, respectively, before returning to the U.S. with Las Vegas as the host city in 2020.
Find out more about the Omaha World Cup Finals at www.omahaworldcup2017.com.
---
Leslie Potter is a writer and photographer based in Lexington, Kentucky. www.lesliepotterphoto.com