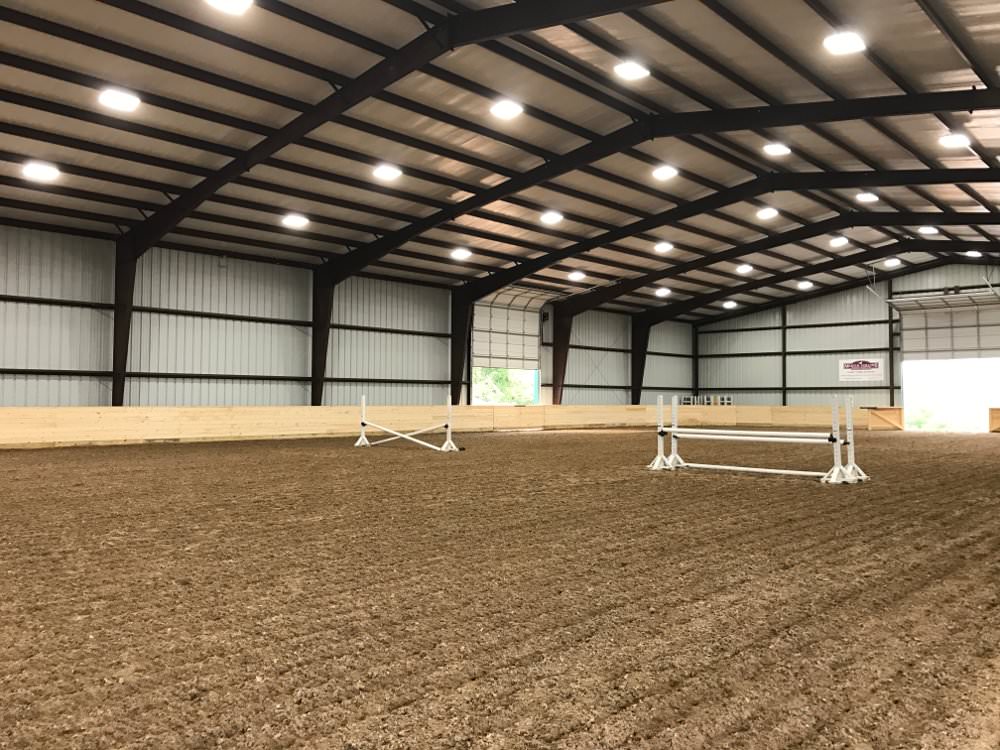 For the second year in a row, New Vocations held a joint open house/fundraiser at its newest facility, Mereworth Farm, located in Lexington, Ky. Nestled in the heart of rolling bluegrass pastures, the farm was donated to help with Thoroughbred aftercare as directed after the passing of its owner, Susan Donaldson.
New Vocations quickly rose to the challenge of transforming a relatively blank slate of land into a world-class facility where Thoroughbreds could be rehabilitated, retrained, and rehomed. At last year's open house held just after its grand opening on April 15, 2016, there was one barn and an outdoor ring under construction. Now there is an office, two barns, an outdoor ring with full course of jumps, and a nearly complete indoor arena.
As the nation's oldest and largest racehorse adoption program, over 6,500 horses have been rehomed through New Vocations' various locations since 1992. In just the last year at Mereworth, 120 ex-racehorses found new homes.
The evening included special demonstrations, including local eventing star Dorothy Crowell and her 7-year-old OTTB, registered under the name Tom Swan. He now competes under the name This is Going to Be Fun, or "B" for short. In just over a year, B went from track fit to a long-format three day event at Training level.
Dorothy's love for Thoroughbreds and their big hearts was apparent. She said there was no other breed she would want to be on leaving the start box at the Rolex Kentucky Three-Day Event, the highest level event in the sport.
Valerie Ashker and Dorothy Crowell at New Vocations.
Next up to speak was Valerie Ashker, who talked about her 2016 coast-to-coast ride with her two Thoroughbreds, who are 17 and 7 years old. The ride took 6 months and 10 days to complete. Valerie glowed as she raved about her horses, saying the worst part of the ride was when it was over.
She likes to start all her off-track babies with three months of trail riding before they ever see an arena so that they go forward off her leg and take in all the sights and sounds. It seems to work well, as she has sourced many prospects off the track for the country's best eventers, including her daughter, Laine Ashker, who recently retired her OTTB Anthony Patch after numerous successes at four-star events.
Lindsay Partridge at New Vocations.
Finally, Lindsey Partridge came out to talk about working with Thoroughbreds that are new off the track. She is the winner of the Retired Racehorse Makeover trail division in 2015 and 2016, as well as the freestyle division in 2016.
She showed how she introduces a new horse to riding over a large tarp, which had the added difficulty of blowing due to massive winds blowing during the program. Through it all, Lindsay rode in a bitless bridle and kept the horse very calm, explaining how she rewards her horses for showing effort, doesn't punish, and even uses cookies as positive reinforcement during training.
Are you considering adopting an off-track Thoroughbred (or Standardbred)? New Vocations has locations in New York, Pennsylvania, Kentucky, and three in Ohio. Visit www.newvocations.org to fill out an application and browse the adoption listings.
---
Holly Caccamise is managing editor of Horse Illustrated magazine.