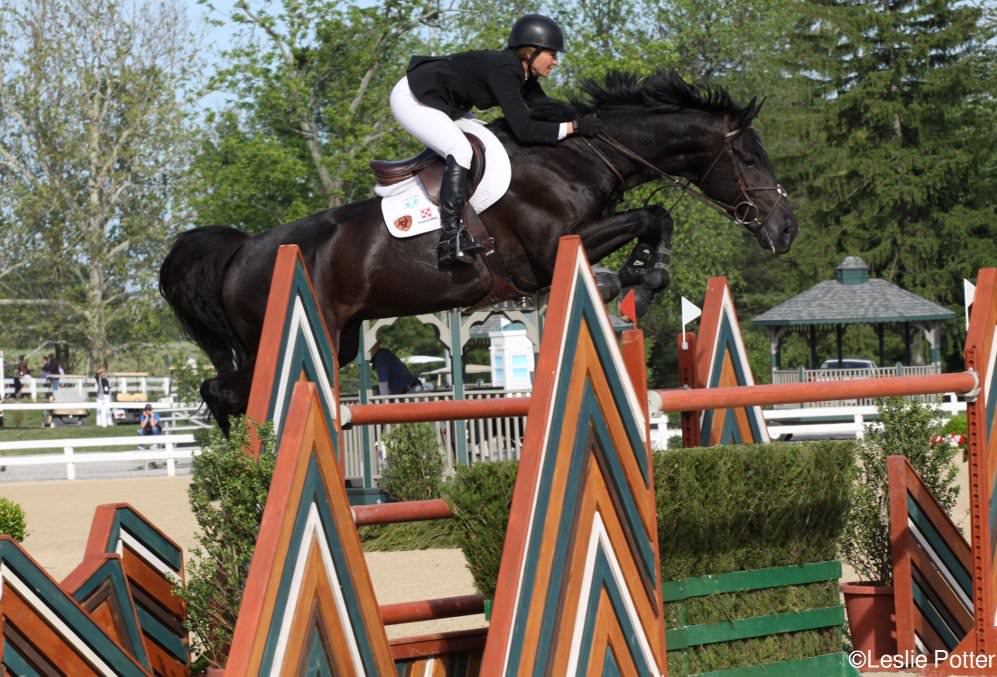 Beezie Madden and Cortes 'C' compete in the grand prix at the Lexington Classic in 2012.
For years, fans of the sport of show jumping have watched Beezie Madden and Cortes 'C' compete and win around the globe. But those days have come to an end with the official announcement of the retirement of Cortes 'C', per a post on John Madden Sales' Facebook page last Thursday.

Cortes and Madden were part of the U.S. Olympic Show Jumping team that won team silver in Rio de Janeiro last summer. However, Madden had to pull Cortes out of competition partway through due to a tendon injury. While a team of veterinarians have helped the gelding heal, his owner, Abigail Wexner, and the Maddens' team have decided to let him retire from competition.
Cortes 'C' has been a distinctive presence on the show jumping circuit for a variety of reasons. Known around the barn as Tiny, he is anything but. At over 17 hands, his long, leggy build helped him clear the big jumps while also making his ability to maneuver the more technical courses that much more impressive. He is also known for his odd jumping style in which he crosses his front legs over the top of the fences. Although unorthodox, the pose never seemed to hinder his performance.
"It's just what he's comfortable with," Madden told HorseChannel.com contributor Kitson Jazynka in 2014 when asked about his crossed legs. "Honestly, he feels like he has an excellent front end when I ride him. It doesn't bother me and it doesn't seem to bother him."
In addition to being part of the 2016 Olympic team, Tiny and Beezie were the highest placing American pair in show jumping at the 2014 FEI World Equestrian Games in France where they took team and individual bronze. He also earned the "Best Horse" title in the final round at that WEG by going clear with all four of the top riders. With Tiny, Madden became the first woman to win the Longines King George V Gold Cup at England's historic Hickstead horse show in 2014 (the more than 100-year-old class was restricted to male riders only until 2008.) For good measure, Madden and Tiny went back and won it again in 2015.
One of the most-watched displays of Tiny's athleticism (and Madden's strategic and courageous riding) is from the jump off of the 2014 National Horse Show Grand Prix. The giant horse seemed to defy gravity to make a bold move over the final fence from a long spot, a risky move that paid off for the pair by narrowly giving them the fastest finish.
That performance, along with many others, helped Tiny win 2014 USEF Horse of the Year honors, an award that is decided in part by fan voting.
Cortes 'C', now 15 years old, will stay with the Maddens at their Cazenovia, New York, facility through his retirement.
---
Leslie Potter is a writer and photographer based in Lexington, Kentucky. www.lesliepotterphoto.com