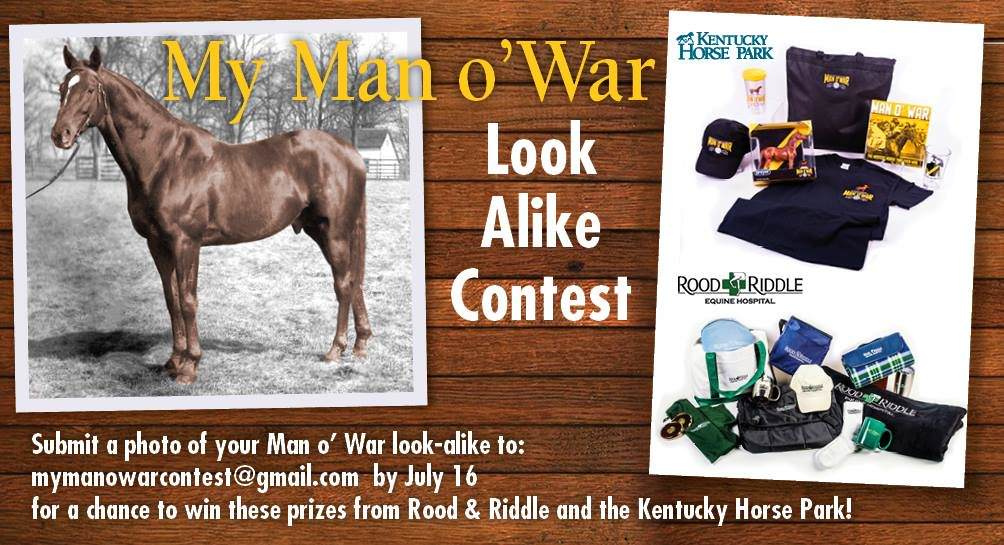 Does your horse resemble the great Man o' War? If so, you could be in contention for a contest in honor of Man o' War's 100th birthday this year.
The Kentucky Horse Park and Rood & Riddle Equine Hospital of Lexington, Kentucky, are sponsoring the "My Man o' War" contest this summer. To enter, submit a photo of your horse that most closely resembles Man o' War in
the photo posted on Rood and Riddle's Facebook page
.
Don't have a Thoroughbred stallion? No problem. The contest is open to stallions, geldings, and mares of any breed who bear some resemblance to the original Big Red and who are posed for their photo similarly to how Man o' War appears in his portrait.
The winner will receive gift baskets from the Kentucky Horse Park and Rood & Riddle. The winning horse will be showcased when their photo is displayed on the jumbotron at the horse park's Rolex Stadium before the $50,000 Rood & Riddle Grand Prix on July 29.
What makes a convincing Man o' War lookalike? It certainly helps to share the stallion's famous red coat, often described as being tinged with a golden hue. According to americanclassicpedigrees.com, the stallion was just over 16.2 hands at the withers but 17 hands at the highest point of his hindquarters. He was sturdily built with strong legs and a wide chest. His conformation wasn't textbook perfect—he had prominent withers and a slight swayback, especially as he aged. He had a slight Roman nose and a star with a stripe that went about halfway down his face. He had no white on his legs. He was known for posing in a high-headed stance.
If you think there's a Man o' War lookalike in your barn, submit your photo to mymanowarcontest@gmail.com by July 16. Read more about the contest on Rood & Riddle's Facebook page.
---
Leslie Potter is a writer and photographer based in Lexington, Kentucky. www.lesliepotterphoto.com