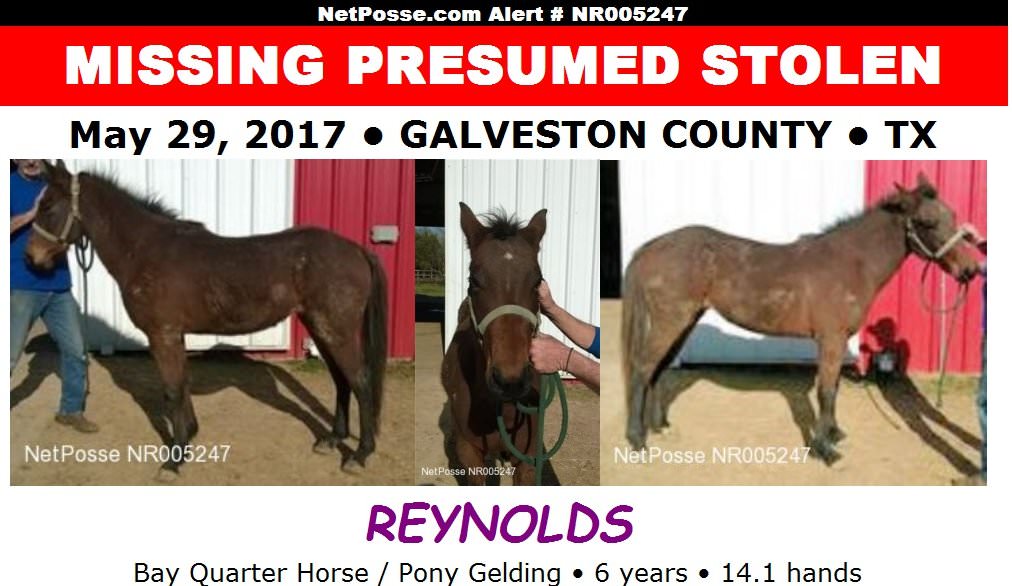 UPDATE 6/2/17: Reynolds has been found! He was located in a field in the town of Hitchcock and was said to be dehydrated, but otherwise healthy, according to an update from KHOU.
Original article continues below:
Reynolds is a 6-year-old, 14.1-hand pony who has spent the past two years of his life at Habitat for Horses in La Marque, Texas. As with the other horses there, his caretakers hope to find him the right adopters who will give him a forever home.
But right now, Reynolds' fate is uncertain.
On Monday, workers at the rescue were checking on the herd when they noticed that he was missing. Ranch manager Denise Robinson discovered that several strands of the wire fence had been cut clean through, leading her to believe that Reynolds wasn't just missing. Someone had deliberately broken through the fence and taken him.
Robinson told local TV station KHOU that Reynolds friendly nature could have made him an easy target for a thief.
"He's super sweet, loves people, and we just want him back," she said.
The other 45 horses in the pasture were unharmed.
Habitat for Horses has offered a $1,000 reward for the safe return of Reynolds. A NetPosse.com report says that Reynolds is bay, 14.1 hands with no leg markings and a very small star.
Anyone with information about the theft or Reynolds whereabouts should contact LaMarque Police Department at 409-938-9269 or s.jackson@cityoflamarque.org.

---
Leslie Potter is a writer and photographer based in Lexington, Kentucky. www.lesliepotterphoto.com