UPDATE 7/6/2017: Pistol has been returned safely. Owner Hailey Hayes posted the following update on Facebook:
Just got back from a undisclosed location in LA. Pistol and the other two horses are safe, sound, unharmed, and home! Their a little shaken, but that's to be expected. They were sold to individuals as rescues… SMH. Always ask for a bill of sell when purchasing a horse or any animal.

The people who stole my baby and the other two are still out there. Looking for more horses to steel from their owners. We have to put an end to him and his sick games! We can't allow him to go around and take horses as he pleases.

As over the moon I am that Pistol is home, I'm also still scared. And I won't be able to sleep peacefully until this thief is put behind bars for what he's done. Half the fight is over, we got the horses back, but now we have to find this person who thinks steeling innocent horses is ok.

Thank you everyone who shared, commented, and sent prayers. But most importantly I want to thank my mom. For not resting until Pistol was back home where he belongs.
Original article follows below.
Fifteen-year-old Hailey Hayes is going through a horse owner's worst nightmare.
On Monday night, her half-Arabian, Pistol, was stolen from his paddock at Junior Stables in North Beaumont, Texas. According to a post by Hayes in a Facebook group for local horse owners, three other horses were stolen from the stables at the same time.
"I just want him back. He's not just a horse, he's my baby," Hayes told KFDM. "He's not just a pet. He can't be replaced. Nothing's going to make this better except to bring him back."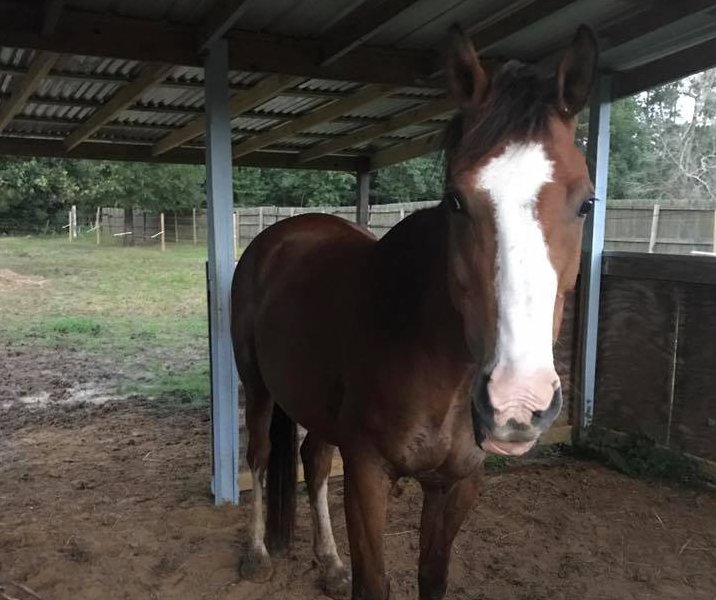 Photo: Hailey Hayes/Facebook
Pistol is more than a companion and riding horse for Hayes. He helps her with a medical condition that affects her eyesight and causes muscle spasms. The exercise she gets from caring for Pistol every day helps alleviate some of the symptoms and prevents her muscles from locking up.
Hayes was first diagnosed with the condition at 18 months and has been hospitalized more than a dozen times because of it. With each attack, she loses more of her eyesight. In severe cases, she's had to relearn how to walk and talk, according to KFDM. Working with Pistol helps stave off these attacks.
There is some good news. A horse believed to be Pistol along with two others was spotted in a trailer in Baton Rouge, Louisiana. The trailer was stopped twice due to a lack of tags, but the drivers were let go both times because the officers didn't know at the time that the horses were stolen.
Hayes' family has offered a $1,000 for the safe return of Pistol.
---
Leslie Potter is a writer and photographer based in Lexington, Kentucky. www.lesliepotterphoto.com