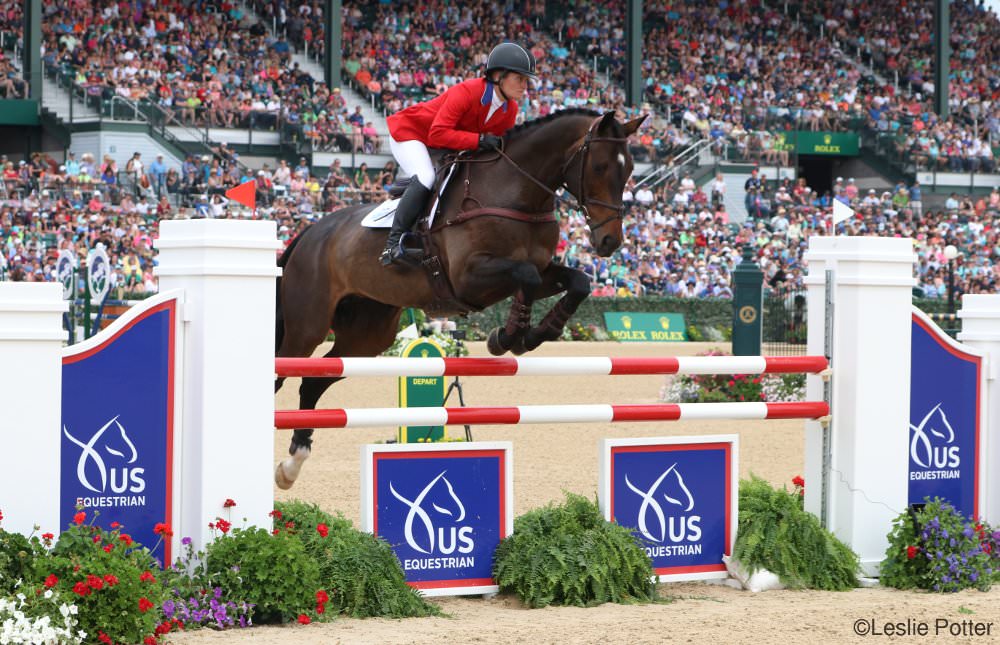 Hannah Sue Burnett and Under Suspection in the stadium jumping phase of the 2017 Rolex Kentucky Three-Day Event. Photo: Leslie Potter
In late April of every year, North American eventing fans make their way to Lexington, Kentucky, for the western hemisphere's only 4* three-day event. In 2018, attendees of the event will also have the opportunity to watch some high-level show jumping with a CSI3* $225,000 Invitational Grand Prix at the Kentucky Three-Day Event.
The new addition is a partnership between Equestrian Events, Inc. (EEI), which produces the Kentucky Three-Day Event, and Split Rock Jumping Tour, which currently hosts jumper shows in Kentucky and Ohio.
The Grand Prix will take place in the Rolex Stadium at the Kentucky Horse Park following the completion of cross-country on Saturday afternoon. There will also be a 1.45m FEI ranking class in the stadium on Friday after the eventers complete their dressage phase.
The announcement comes amid other changes in the Kentucky Three-Day Event, most notably the end of the longtime title sponsorship from luxury watchmaker Rolex. Additionally, Kentucky's status as the only 4* three-day event in America may have an expiration date on it. Fair Hill International in Maryland has earned a recommendation from U.S. Equestrian to host a CCI4* of its own beginning in 2019. Fair Hill currently hosts a CCI2* and CCI3* in mid-October and would add the 4* to this autumn event.
Kentucky has hosted other equestrian sports alongside its three-day event in the recent past. For several years, the Kentucky Reining Cup and Freestyle Reining World Championship were held during Rolex weekend at the Kentucky Horse Park's Alltech Arena. The Kentucky Reining Cup was last held in 2015.
Split Rock Jumping Tour in Lexington, Kentucky. Photo: Leslie Potter
Split Rock Jumping Tour has been producing European-style horse shows for three seasons and aims to raise the profile of the sport as a spectator event in the U.S.
"The Kentucky Three-Day Event is well established as one of the world's premier equestrian events," said Split Rock Jumping Tour founder and CEO Derek Braun. "We are so excited to join forces with EEI and do what we can to put on a show jumping event of the same magnitude. This will be a huge boost for the sport of show jumping in America to capitalize on the incredible atmosphere that the Kentucky three-day event has established."
The 2018 Kentucky Three-Day Event will take place at the Kentucky Horse Park April 26-29. Tickets will go on sale in November. Find out more at kentuckythreedayevent.com and splitrockjumpingtour.com.
---
Leslie Potter is a writer and photographer based in Lexington, Kentucky. www.lesliepotterphoto.com