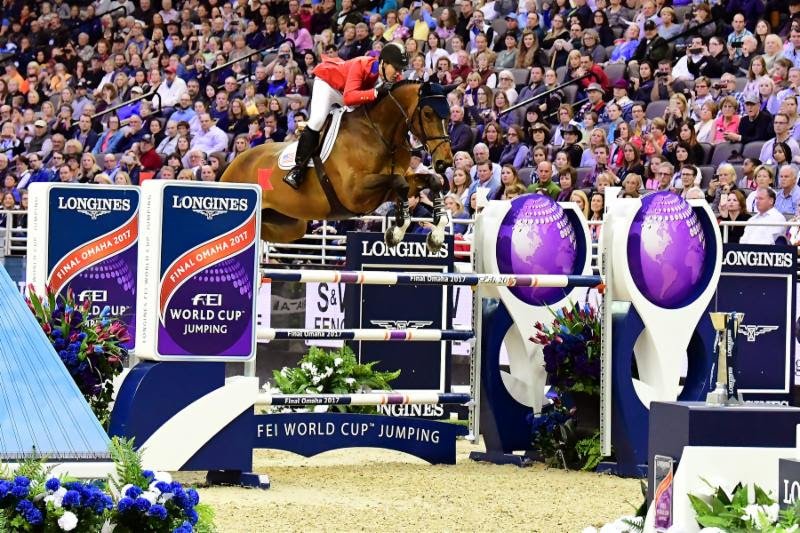 McLain Ward and HH Azur. Ward's longtime groom, Lee McKeever, is one of the nominees in the Best Groom category for the 2017 FEI Awards. Photo: Lili Weik
The Fédération Equestre Internationale (FEI) has opened the public voting for all the shortlisted nominees of the FEI awards 2017.
For the first time since the creation of the awards in 2009, the public can cast a vote for their heroes and impact who they think deserves to win. A billing packed with champions and those who go above and beyond, the 20 nominees have been shortlisted across five categories for their outstanding contributions and dedication to the sport. The nominees showcase some of the most successful achievements and talent within the Equestrian community.
The FEI received hundreds of nominations from around the globe over the twelve week nomination period. The calibre of entries for this year's awards was exceptional. Now it's over to the public to choose their favorites from the final shortlist of candidates for the five categories:
Best Athlete
Longines Rising Star
Best Groom
Against All Odds
FEI Solidarity
Tap here to vote at FEI.org from now until October 1, 2017. The public vote determines 50% of the total vote. The other 50% will be decided by a star-studded expert judging panel.
The winner of each of the five categories will be announced at the FEI Awards 2017 gala presented by Longines in Montevideo (URU) on November 21, 2017, in front of more than 350 distinguished guests, including top sporting legends, equestrian fans, FEI partners and stakeholders representing the 134 National Equestrian Federations. The awards will be broadcast live onFEI platforms, providing a valuable opportunity to celebrate the best of the best of Equestrian worldwide.
Follow along with all of the festivities of the FEI Awards 2017 on the FEI social media channels. More information on the nominees will also become available in the upcoming days on fei.org.
Who will walk away with one of these prestigious titles at this years 'Equestrian Oscars'? Get voting for your favorites now!