The 2017 Challenge concluded September 30th and after results tabulation, the Time to Ride team is thrilled to congratulate this year's winning stables, clubs and businesses. The grassroots contest distributes thousands in cash and prize rewards to horse professionals who introduce new enthusiasts to horse activities, expanding access to horses while growing their own businesses.
First launched in 2014, the 2017 Challenge resulted in over 22,000 new horse-human interactions, bringing the four-year total to over 117,000.
"Our amazing hosts created a record number of events—1,008—throughout the summer period," shared Christie Schulte, Marketing Manager. "Their tireless outreach efforts are promoting and growing equestrian sports, and expanding access to the wonderful benefits of being around horses."
Phase I rewards the top ten hosts in three divisions, small, medium, and large, while Phase II rewards the top ten hosts in two individual categories. Wild Card and 100 for 100 winners also take home cash and prizes, making for a total of over sixty ways to win!
Winning first place in the large division is Rolling Hills Ranch in Port Deposit, Maryland. As a full service equine facility, they offer riding lessons in dressage, jumping and eventing along with boarding and birthday parties. Also housed at Rolling Hills is their Freedom Hills Therapeutic Riding Program, a Premier Program with the Professional Association for Therapeutic Horsemanship (PATH). As first place winners of Phase I, having introduced 2,866 new horse enthusiasts to equines, they will receive $5,000, as well as an additional $3,000 for placing third for most experiences in Phase II.
Renee Dixon, owner of Rolling Hills Ranch, thanks the Time to Ride Challenge for causing her to "think outside the box," she says. This year Rolling Hills held events at their local Chick-Fil-A which, she says, "helped to push the envelope…Chick-Fil-A wants us to come back at least twice next year. [They are] going to advertise on their tables for us and put a quarter page ad on every tray advertising Christmas with the Ponies and Family Day on the Farm." In total, Chick-Fil-A will be distributing about 1,500 flyers for Rolling Hills Ranch per day!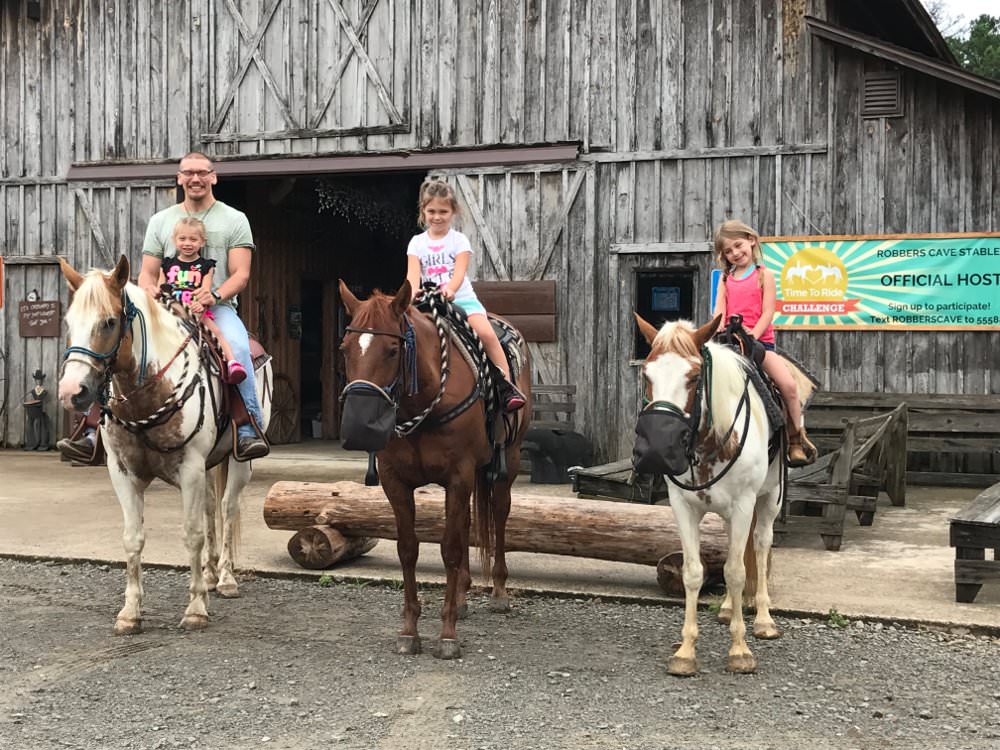 Participants at Robbers Cave Stables' Time to Ride event
The medium division champion based in Wilburton, Oklahoma is Robbers Cave Stables. A full service dude ranch offering rides, camping trips and a petting zoo, they connected 1,073 new people with horses this summer. Robbers Cave will receive $5,000 in cash for its first-place win. Misty Cook, owner and operator of the facility tells us how participating in the Challenge has continued to remind her of the need for continuous outreach in the equine industry.
"We learned there are people who have no experience whatsoever," says Cook. "We take [horse experience] for granted. It's humbling because we get to do what we love to do every day. There's always someone out there that doesn't know about horses."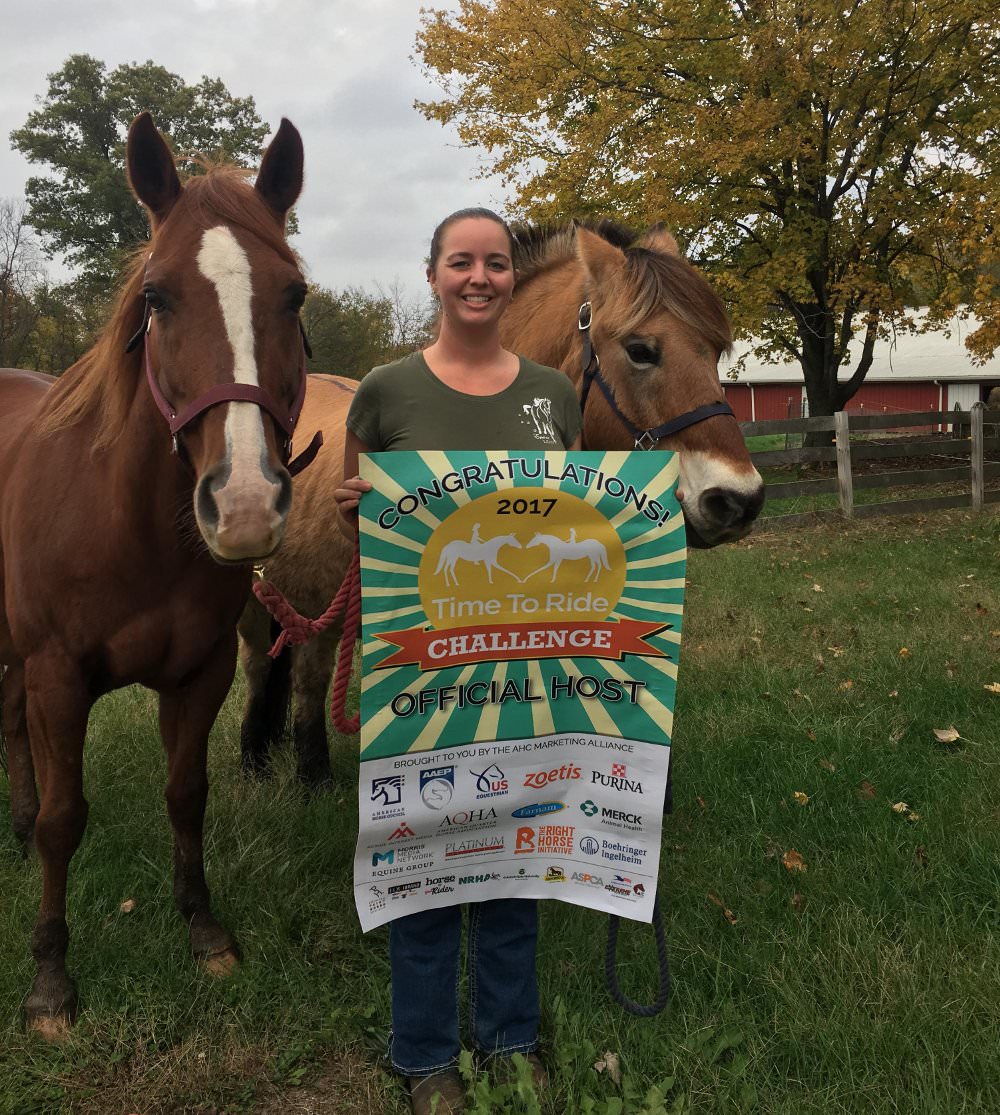 Debi O'Brien, owner of Equine Lead, LCC
Atop the small division, Equine LEAD, owned and operated by Debi O'Brien of Olney, Illinois will be taking home $5,000, as well as an additional $500 for placing eighth in the most experiences category of Phase II. Debi has learned all she knows regarding marketing and public relations from her experience in the Challenge.
"The Challenge has helped me to learn how to market myself and my business better," says O'Brien. "It's helped me to actually build a brand!"
Her brand is definitely growing, particularly in the minds of the 949 new people she helped introduce to horses this summer. She recalls the growth she has experienced as a result of participating in the Challenge: "I went from handing out flyers and posting them everywhere around town to paying for Facebook ads! It's been a way better use of time and money and provided a better return." Time to Ride congratulates Debi and the entire Equine LEAD team.
In 2017, the brand-new Phase II rewards competing hosts for inviting new enthusiasts back for lengthier hands-on horse experiences, with the goal of helping new riders become regularly involved in horse activities.
"The goal of the Challenge has always been to introduce new people to horses, and start them on a path to becoming regularly involved. Phase II is our way of rewarding hosts who are successfully creating meaningful, repeated horse experiences for newcomers," said Schulte. Phase II awards money in two ways: hosts who have the highest total number of follow-up experiences and hosts who have the highest conversion rate of returning Phase I newcomers, allowing stables of all sizes to compete on a level playing field. In total, 1,844 lessons were given over the course of the summer by Time to Ride Challenge hosts.
Oak Crest Farm of Harwood, Maryland took top honors in total number of Phase II follow-up experiences with 213 people from Phase I returning for a riding lesson, trail ride or ground work with a horse. Tina Emmerich, a seasoned lesson instructor, has done her fair share of trial and error when it comes to doing outreach for new clients. This year, with the new phase of the Challenge in mind, she made sure to reflect back on her lessons learned.
"You have to put yourself out there and be inventive in ways to encourage people to come back," says Emmerich. "For the people that came back, we offered a discounted rate for lessons." These discounts were in addition to the free riding opportunity they received at the first event they attended. She continues on to say that "most of our advertising is word of mouth. We encouraged a lot of people to bring their friends."
Andrea Karp, owner of Ringside Equestrian Center, LLC
Ringside Equestrian Center, LLC of New Hudson, Michigan earns the title of highest conversion rate in the Challenge's Phase II by providing more in-depth riding experiences to over 92% of their Phase I newcomers. Ringside's Andrea Karp and David Silver are in the business of "providing opportunities for individuals who wouldn't have ordinarily had the chance…and breaking down the barriers of getting kids from the city out to horses," says David. Their commitment to getting kids on horses shows in their high conversion rate, but more importantly in the city of Detroit, Michigan.
"Working with Detroit-based schools and nonprofits was key into tapping into the pool of horse camp participants," says Silver. "Those partnerships were key to scaling our programs. It takes a lot of time to nurture the partnerships and find the right fit." Time to Ride congratulates Ringside for their hard work and dedication to the cause.
"Overall, we're thrilled with the results of the 2017 Challenge. Beyond the numbers, the true impact is in the stories we hear of thriving businesses and people who develop a new love for horses," Schulte stated. "Increasing access to horses and expanding participation in our industry is the overarching mission of Time to Ride, and the Challenge continues to be an impactful way to move the needle."
For a complete table of winners, please visit www.timetoride.com/news. To view photos from 2017 Challenge events, view the Facebook album. For more information, please contact info@timetoride.com or 512-591-7811.