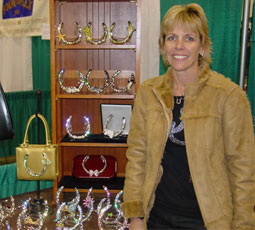 Boy, talk about taking the idea of recycling to new heights! Denise Mitchell, wife of famed Thoroughbred race horse trainer Mike Mitchell, has spent years on the backstretch of California's large tracks. She couldn't help but notice the constant presence of the farrier, especially since race horses typically have their racing plates changed every few weeks. That, of course, led to the observation that a whole lot of lightweight aluminum horse shoes get tossed aside. Being a sort of arty, crafty type of gal, Mitchell got an idea: Why not make something pretty and useful out of the cast-off shoes?

It was this notion that motivated her to start Bling Horseshoes (www.fillyboutique.com) and offer polished, bejeweled shoes that were once worn on the feet of speedy Thoroughbreds. According to Mitchell, once the nails, dirt and grime have been removed from the worn shoes, they're simply polished and buffed until they shine like newly minted silver. Then they're decorated with Swarovski crystals, enameled charms, letters and other sorts of mementos that lend a seasonal or personal touch to the already lucky symbol of the horseshoe.

"It's just one of those ideas that evolved," Mitchell says. She motions to a wall of decorated shoes, some with seasonal themes, others with floral motifs. "They've been mounted on plaques and used as trophies or they can just hang on a wall as décor."

Mitchell collects the discarded shoes every few days at the track. She sets aside a pink bucket at the farrier sheds as a sort of donation site.

"The racetrack farriers have become my new best friends," she laughs.

Not all of the blinged shoes end up as trophies or adornments on stylish leather purses. "I have a stash of extra-special shoes from famous horses that I save. Those I use for things like silent auctions to raise money for charities and horse rescue sites," she says.

And isn't that a perfect ending for a recycled horseshoe?