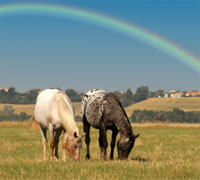 There's an old horseman's saying that, "a good horse is a good color," meaning that qualities like a horse's work ethic, athletic talent and disposition are what matter most, not the color of its coat. But let's be honest. Most of us have a favorite color and if we can find a suitable horse that happens to be that special hue then it's even more desirable.
There's nothing wrong with favoring a certain color of horse. Entire registries owe their existence to the allure of remarkably marked or colored horses. Without breeders and riders who passionately prefer certain colors, the world of horses would be a nearly monochromatic scene of solid bay and chestnut… not that there's anything wrong with a horse in a plain brown wrapper. They have their fans, too!
Fortunately, horses come in a palette of colors. What is your favorite? Did you always dream of owning or riding a horse of a certain color? If you own a horse now, was coat color a deciding factor in your purchase? Or if you're in the process of horse shopping, where does coat color rank on your list of priorities? Don't be bashful about revealing your penchant for golden palominos, steel blue grullas, flashy pintos, dotted Appaloosas, tawny buckskins, striking dapple grays or any other distinctive color. And if you are indeed a lover of the classic brown bay or regal red chestnut, share your feelings as well.
Finally, if you bonded with a horse of a different color, one that you never thought would appeal to your sense of style, but you ended up believing it was the most beautiful color in the horse world, let your fellow horse lovers know about your experience. Who knows? You may convince them to appreciate even more shades of the horse color spectrum.
Just click on Submit a Comment below and write away. Some of the responses may appear in Horse Illustrated.
New: Top HI Spy answers may be eligible for a prize! If you'd like your response to be considered for the top answer, please include your email address in the email field of the comment form (your email address will not be publicly displayed.)
See more HI Spy questions >>