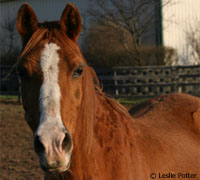 Look into the eyes of a young horse and you'll probably notice a bright, curious expression. Greenies have so much to learn about life and they have no idea of what awaits them. When you look into the eyes of an aged, older horse, however, their wisdom is apparent. Equine senior citizens have seen a great deal. Some spent a stint on the racetrack. Others have resumes that include decades on the show circuit or multiple seasons working tirelessly on a ranch. These life experiences make an older horse valuable. They have years of training, an asset to novice or nervous riders. Yet even equestrians with advanced riding skills appreciate an older horse. Sometimes it's wonderful to hop on and simply enjoy a pleasant ride on a finely schooled horse.
Older horses have other endearing qualities. They tend to have well-developed personalities that make them memorable characters. Their quirky mannerisms can make them the favorite of the stable. Though they might be a little bit creaky in their joints they still have a spring in their step when it's time to go for a ride, head for a turnout or dunk their muzzle into a bucket of carrots.
Most horse lovers have enjoyed at least one relationship with a senior horse. For this installment of HI Spy we want to know the important role an older horse has played in your life. Did you take lessons on a show ring veteran who found a second career as a school horse? Was your first horse an elderly equine that patiently introduced you to the world of horses? Do you recall a gentle old soul who gave you back your confidence? Is your lifelong four-legged partner enjoying his or her golden years in your care? Share your favorite story that will let everyone know the benefits of being friends with an older horse. Just click Submit a Comment below. Some of the responses may appear in Horse Illustrated.
See more HI Spy questions >>