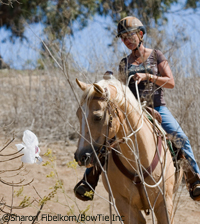 Forget the lions, tigers and bears. Oh my! More often it's the trash cans, motorcycles and street signs that make our otherwise brave trail horses shiver in their shoes. Though there are a handful of truly bombproof horses out there—or so the legend goes—almost every horse will spook at something on the trail. Whether it's the sneaky dog that lies in wait and then leaps at the fence like a rabid coyote, or the gardener wielding a weedwhacker, our horses have their phobias. Sometimes a horse is cruising down the bridle path only to be surprised by an artifact (empty pizza box, anyone?) that sends him whirling in the opposite direction. Other more contemplative horses become transfixed by mysterious objects.
"I consider my Thoroughbred gelding, Rusty, to be pretty brave," says Schuyler Jones, who cruises the trails about once a week to give her jumper a break from arena work. "Traffic doesn't bother him. Neither do other farm animals, even the sort of odd ones like llamas and potbellied pigs. But heaven forbid we ride past a house that's been landscaped with decorative boulders. Rusty just comes to a complete standstill. He's never actually bolted off or anything like that. But he just locks up, like he cannot figure out what those giant, misshapen objects are or why they're sitting on someone's lawn. After a couple of minutes, I can finally get him going again. But then he's scoping out every front yard for a while, to see if there are any granite monsters lurking about."
We'd like to know what hypnotizes your horse on the trails. Is it questionable choices in lawn ornamentation? Or does your horse snort and scoot when it comes to crossing water or a busy street? We want to know the one thing that always seems to send your horse into flight mode when you're out on the trail. To contribute, just click on Submit a Comment below. Some of the best responses will be featured in an upcoming issue of Horse Illustrated.
See more HI Spy Questions >>