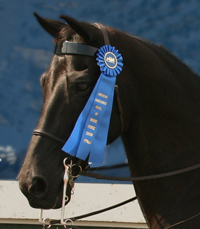 "Oh, there's always some point in the day when my friends and I will look at each other and ask ourselves, 'Are we having fun yet?' It's usually after one of us has gone off course or blown a lead in a flat class or a horse has sneezed all over our show clothes," says Jackie Price. She and her barn buddies compete in hunters and English flat classes, though they've been known to venture into all-around events like trail and showmanship at local shows. "Even though we always say we can't wait for the show day to end so we can pull off our boots and take a hot bath, we keep showing, which I guess means we're crazy."
Are horse show competitors crazy? Or do they simply love the perks of performing? While there are plenty of things to groan about when it comes to showing, no one can deny the benefits. After working hard in lessons and schooling sessions, riders get to test their skills against their peers. A ribbon is the tangible reward for hours spent perfecting position, timing and finesse. And then there's the camaraderie. Longtime friendships are built from spending afternoons at the backgate, memorizing patterns and commiserating over rounds that went wrong. Champion horses, those magnificent animals that continue to win season after season, become four-legged heroes, regardless of who owns or rides them. Those are just some of the glories of going for a blue ribbon.
Whether you compete in dressage or gymkhana games, jumpers or western pleasure, showmanship or three-day eventing, we'd like to hear what keeps you coming back to competition. We know that entry fees are high, the food at the concession stand is often icky, show clothing is expensive and the days are long. So why do you grab more horse show fliers off the bulletin board at the feed store, or hunt through a horseman's newsletter looking for another competition? Click on Submit a Comment below and share your secret fascination with competing. Some of the responses will be selected to appear in an upcoming issue of Horse Illustrated.
See more HI Spy questions >>