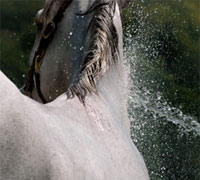 By now you've probably stashed away your horse's heavyweight blankets and your insulated riding boots. The trees are budding, the flowers are blooming, and the perfect, warm spring days are upon us.
Of course, this just means that the sweltering days of summer are right around the corner.
Long, summer days provide ample warmth and daylight hours for extended trail rides or training sessions. In most parts of North America, the summer months are prime competition season when riders want their horses to be in peak condition. At the same time, heat and humidity can pose more of a threat to your horse's health and well-being than even the most miserable winter conditions. Enjoying summer's weather while still ensuring the health of your horse and yourself takes careful planning.
What do you do to make sure your horse doesn't get overheated in the middle of a long trail ride? What's your secret for dealing with hot, dusty arenas during mid-July training sessions? And it's not just about the horses. We want to know how you keep yourself cool and comfortable at the barn, on the trail or at a show. Share your tips with other HorseChannel.com visitors by clicking "Submit a Comment" below. Some of the answers may appear in a future issue of Horse Illustrated.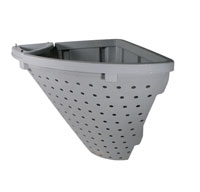 This month, one selected response will win a Fresh Aire TM Cone Hay Feeder from Tarter Farm and Ranch Equipment! This feeder holds up to 4 flakes of hay and allows your horse to feed the natural way, reaching down instead of reaching up. Corner mounted; bolts to the corner of any stall or attaches to a paddock fence. Retail value: $247. Please include your e-mail address if you would like to be considered for the monthly prize (e-mail addresses will not be displayed publicly.)
See more HI Spy Questions >>